Why Homestead Sprint Cup finale won't be a no-passing zone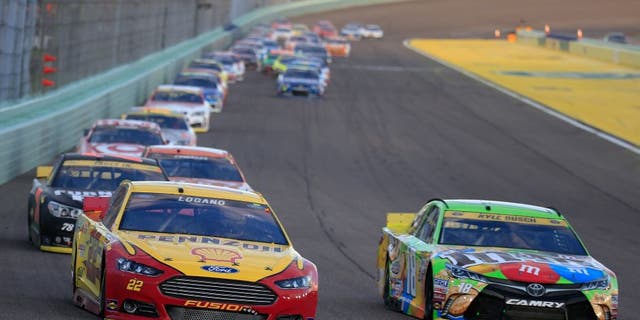 None of the four NASCAR Sprint Cup Series championship contenders qualified better than ninth for Sunday's Ford EcoBoost 400 at Homestead-Miami Speedway, but they shouldn't have trouble getting to the front.
"I'm sure none of us are going to stay back there very long when this race starts," said Joey Logano, who will start 13th. "We're all going to have to move up forward and possibly have to win this race. It's come down to that the last few years, and I would expect the same once again."
With eight non-Chase drivers all starting up front, that could pose a problem on most Sundays.
But in terms of driver etiquette, a championship race is a little different than normal races.
In 2011 at Homestead, Tony Stewart had several issues during the race and to come from the back of the field twice, making a total of 118 passes en route to winning the race and the championship.
Stewart said that in the 2011 championship race, drivers were aware that Stewart and Carl Edwards were racing for a title and as a result showed the two title combatants some additional courtesy that might not be extended in a regular race.
Kyle Busch, last year's champion, said that was also the case last year and he expects to be the case this year, too. Yes, the eight cars who qualified ahead of Busch and the other Chase drivers all want to win and all will race hard, but Busch doesn't expect them to hold up the Chasers.
"I think you'll get a little bit more respect out of those guys," Busch said. "When to comes down towards the end and you're going for a win, those guys are racing for a win just as much as you are or a good finish let's say.
"But I think overall from the experience that I had last year, you know, guys were running hard, but they were also just kind of minding their business around you a little bit more," said Busch.
Still, it's a narrow margin and no one will be giving anything away in the race.
"Instead of coming off the corner and only cutting you an inch, they might give you four," Busch said. "It's still a pretty good time of hard racing out there and being able to push it all the way to the max but yet making sure that you're aware of your surroundings."
"Came here to try to win, same as everybody else," said Kevin Harvick, the 2014 champion who will start on the pole for the Ford EcoBoost 400. "No participation trophies."