Why hiring Jeff Hornacek is the best Knicks move in years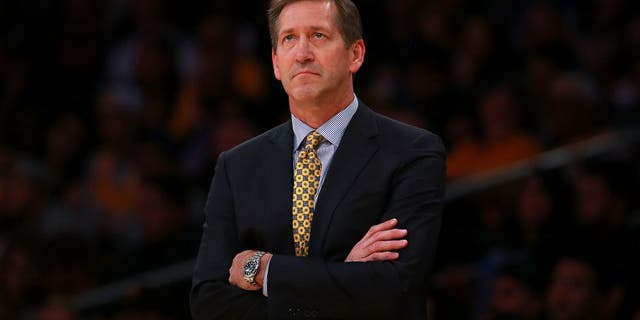 NEWYou can now listen to Fox News articles!
Maybe things won't work out for the New York Knicks. Maybe Jeff Hornacek isn't the right man to take Derek Fisher's place as their next full-time head coach.
But before we take a look at this surprising hire, Hornacek's credentials and fit in Madison Square Garden, let's first acknowledge that, regardless of how Phil Jackson, Steve Mills and James Dolan arrived at their final decision, handing the keys to Kurt Rambis would've been a disaster.
No disrespect to Hornacek, but it didn't matter who they hired so long as it wasn't Rambis, whose career .284 winning percentage as a head coach so accurately reflects his understanding of modern basketball and where the NBA is headed.
Someone could write an entire book about how terrible hiring him would've been; nearly any alternative would be cause for celebration, but, well, now that Hornacek is the choice, does his hiring actually feel worth celebrating?
There is no answer right now. Hornacek has just 213 career games under his belt as a head coach, and he's lost 11 more than he won. This Knicks roster looks nothing like those Hornacek led as head coach of the Phoenix Suns before they fired him in February, and it's unclear how the Triangle Offense still fits into the equation.
Did Jackson want Rambis and get denied by Dolan? Or were various reports of the 13-time NBA champion's interest in Rambis misinformed all along? Did Jackson hire Hornacek because he is the best all-around candidate (from a list of interviewees that include former Cleveland Cavaliers head coach David Blatt and former Indiana Pacers head coach Frank Vogel) and doesn't want or need him to run the Triangle Offense?
That's what TV analyst and former Knicks head coach Jeff Van Gundy seems to think (via ESPN and Sirius XM Radio):
"The things I've heard is that he's not going to be required to run the triangle, which is smart from the standpoint that he's never taught it before. So you don't want to come in trying [something] that you've never played in or taught. I'm interested in that. But I think it's an inspired choice."
Let's assume Van Gundy is right: Jackson is a fan of Hornacek's work and wants to bring in someone who embraces the three-point line and an up-tempo style. If that's the case, maybe this could work after all!
In Hornacek's very first year as an NBA head coach (2014), the Suns won 48 games with a roster most expected to rot well below .500. They launched the fourth-most threes in the league (a 41.2 percent increase in volume from the previous season) and ranked eighth in pace.
The next season, they played even faster and maintained their three-point barrage, but Hornacek had an understandably difficult time trying to integrate Isaiah Thomas with Eric Bledsoe and Goran Dragic in Phoenix's backcourt.
The team's front office did Hornacek no favors by then trading Dragic and Thomas away and replacing them with a lesser player in Brandon Knight. Injuries and general bad vibes submarined Phoenix's 2016 season before it could pick up any steam, and Hornacek was fired before the All-Star break.
The Knicks ranked 23rd in three-point attempts and 26th in pace last season. Their offense was brutal and they hardly ever sought out easy opportunities in transition. Some of that was due to their aging personnel, particularly in a backcourt that lacked any real athleticism.
Hornacek can't play fast with Jose Calderson as his starting point guard. But second-year guard Jerian Grant may be ready for an increased role, and the Knicks have enough cap space to afford a better option in free agency (Rajon Rondo or old pal Jeremy Lin could do the trick).
Either way, hiring Hornacek is a step in the right direction, even if we can't say for sure whether or not it'll fail.