Who owns A's? Verlander, of course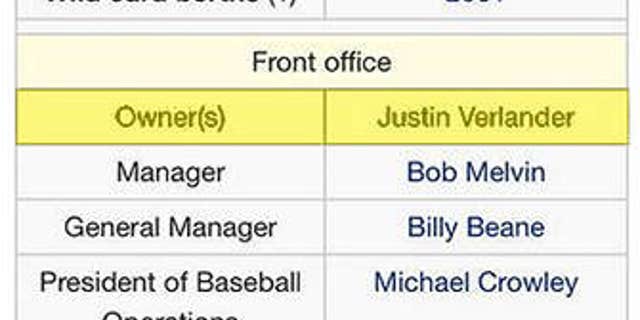 After a season of sewage leaks in their stadium , controversial home run calls , outrageous calls by umpires and another elimination at the hands of the Tigers , you would think the Oakland A's are at least worthy of proper time to mourn what could have been.
And then this happened.
Shortly after Detroit ace Justin Verlander flirted with a no-hitter and eliminated the A's in Oakland in Game 5 of the ALDS for the second consecutive season, somebody posted on the Athletics' Wikipedia page that Justin Verlander owns the A's (we highlighted the line).
The entry has since been corrected, but look at Verlander's career numbers at Oakland in the postseason:
Starts: 4
IP: 29 1/3
ER: 4
ERA: 1.23
K: 38
BB: 4
W-L: 4-0
Maybe they should change that Wikipedia page back.