USWNT outmuscle Canada in Olympic Qualifier final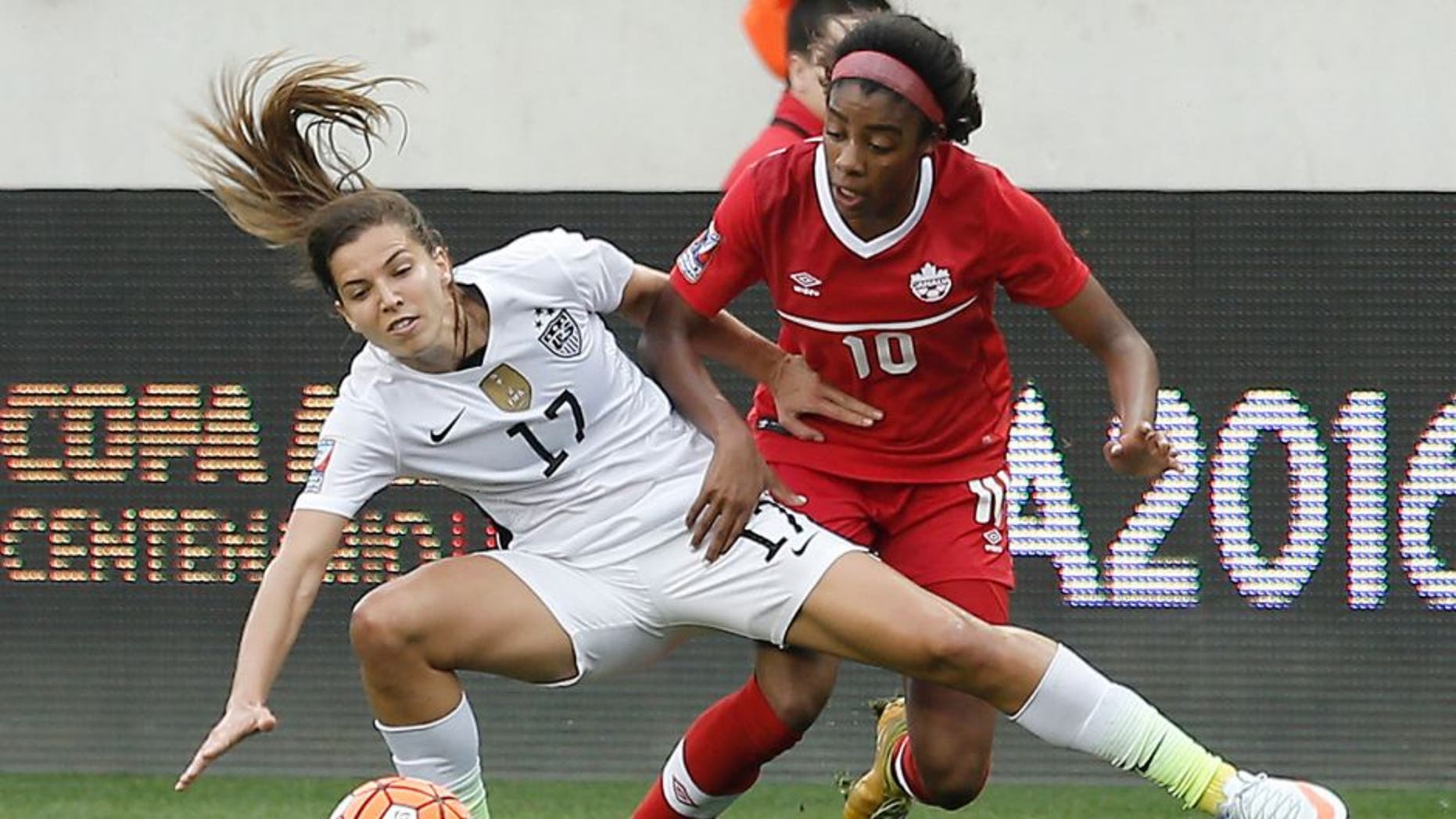 So much for a bloodbath. Or bragging rights. In the end, the U.S. walked away with a 2-0 win over Canada at the CONCACAF Olympic Qualifying Championship final.
The match was more noteworthy for continued amazing story of teenager Mallory Pugh's emergence and the solidification of U.S. women's national team roster that is light-years leaner and faster than the squad that won the 2015 Women's World Cup.
With both the U.S. and Canada having already booked their tickets to the 2016 Rio Olympics with semifinal victories, their meeting in the CONCACAF Olympic Qualifying Championship final did not produce the fireworks that might have been expected. Canada veterans Christine Sinclair, Diane Matheson, Sophie Schmidt and goalkeeper Erin McLeod did not start, and the U.S. needed an entire half to get untracked before finally breaking through.
Lindsey Horan put the U.S. on the board in the 53rd minute. The 21-year-old center midfielder headed a 40-yard pass from center back Becky Sauerbrunn to open the scoring in dramatic fashion. It was Horan's second goal for the U.S. national team. It was also a very fitting connection, given that Sauerbrunn's assist came in what was her 100th career cap.
The 30-year-old St. Louis native and U.S. co-captain (along with Carli Lloyd) has been a stalwart for the U.S. defense, and has never scored a goal and had only two previous career assists. The St. Louis native joked earlier this week that it took her about three years to get her first three national team caps, but since being installed as center back, Sauerbrunn has been a study in nearly flawless perfectionism.
The U.S. went up 2-0 in the 61st minute. Pugh, who has creatively dominated the left side in all six matches she has played so far for the U.S., added her third assist when she dribbled the ball deep into left side of Canada's penalty box before deftly passing all the way across to Tobin Heath. There were other U.S. attackers coming up for the play, but Pugh seemed to see that Heath, as almost a trailer, had the best angle.
For the second consecutive game, U.S. coach Jill Ellis used the same line-up. It was notable for two reasons. Kelley O'Hara has now started twice ahead of Ali Krieger. It wasn't clear if Krieger is battling an injury, but O'Hara has looked like a very good fit, given the pace at which this team is playing. And Ellis wants more speed and pace from the U.S. side going forward, since that's where the international game is now.
But more significant is the rocket emergence of Pugh. The 16-year-old high school senior got her second consecutive start ahead of Crystal Dunn, which is interesting in that Dunn scored a record-tying five goals against Puerto Rico in the final match of group play. Ellis is clearly eager to give Pugh as much experience in high-caliber matches as possible.
However, given Pugh's speed and technical ability and comfort, this is starting to become more than just an experience-enhancer. It's starting to look as if Pugh gives the U.S. incredible spark at the wide midfield position. She's really unlike any other player that's come out of the pipeline for U.S. Soccer. Ellis has been tracking Pugh for years and at the rate at which the Colorado teen's going, she could be looking at a roster spot for the 2016 Rio Olympics.
Heck, the kid actually made so many moves and burned so much grass that she wound up breaking her shoe. In the 85th minute, Pugh tried to collect a pass down the sideline from O'Hara, but she kept tripping and falling, leaving O'Hara to just start laughing. It turned out Pugh's cleat sole was flapping loose, and she had to run over and get it taped.
As for the Canada vs. U.S. rivalry, it turns out the pre-match jabbering was much ado not nothing. Hope Solo was prepared for a bloodbath, but the match dynamics were more lamb than lion. Not that there wasn't some pushing and shoving along the way.
In the 14th minute, Melissa Tancredi tracked Julie Johnston back into the U.S. penalty box following a long pass. As the two went for the ball, Tancredi tangled Johnston's feet and the U.S. center back went down hard and hit her head. It looked worse than it was and Johnston was back up and on duty without delay.
The referee decided to make sure things didn't get out of hand. In the 19th minute, Josee Belanger was given a yellow card for her from-behind hit on Lindsey Horan, which dropped the U.S. midfielder to the ground.
Other than the hard tackles, the opening minutes featured some pretty wide-open play for both sides. U.S. goalkeeper was not tested with shots early, however she did face some aggressive runs from Canadian forwards Nichelle Prince and Tancredi.
Next up for the the USWNT is the newly-formed four-team She Believes tournament. The U.S. will face off against Germany, France and England from March 3-9.