Urban Meyer rips new NCAA rule: 'That's the most ignorant thing I've ever heard'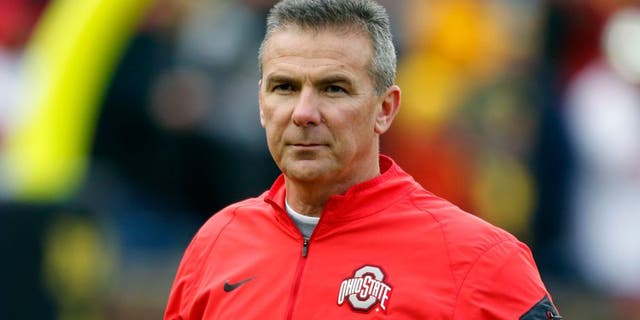 Last week a slew of new NCAA rules were passed, and while a ban on satellite camps was the one that got the nation's attention, there is another that has Urban Meyer even more fired up: The NCAA's decision to essentially allow unlimited texting between coaches and student-athletes. The rule has been in place in men's basketball for a while but is new to football.
In his first public comments since the rules were passed last week, Meyer didn't hold back on the NCAA, with some of the strongest quotes we've seen from the Ohio State coach in a long time. Courtesy of Cleveland.com:
"Someone told me they passed a texting rule," Meyer said. "That's the most ignorant thing I've ever heard because they can't police the coaches."
...
"How does the student athlete feel about this rule? Do you really want text messages from 100 universities on your phone when you come out of school? The ones I know, 'What? No I don't want to hear from these schools.' Well, now you're going to get them."
It's a strong stance for Meyer, and frankly a little bit surprising considering he is known as one of the most aggressive recruiters in college football. Remember, this was the same guy who basically told other Big Ten coaches to step up their recruiting game when he arrived in Columbus a few years ago. At the same time, Meyer does have some valid points, including the potential chaos this new rule will create for the student-athletes.
As for the satellite camps ban, Meyer had an opinion on that, too, specifically the damage it can do to both players looking for scholarships and the small schools that routinely recruited from Power 5 camps.
"The biggest thing that I didn't realize was part of it is that now the MAC Schools can't come here," Meyer said. "Probably hundreds of scholarships have come out of here to those young players and I know my son is getting recruited a little bit, and it's like, what camps do you send them to?"
"But now Bowling Green didn't get a chance to watch them play. It's no hit – When I was at Bowling Green, I'd come to Ohio State's camp because you get to see all these great players. So I didn't realize that was part of the conversation. I wish they would revisit part of it."
Based on the reaction across the country, Meyer isn't the only one who wishes they'd revisit the rule.