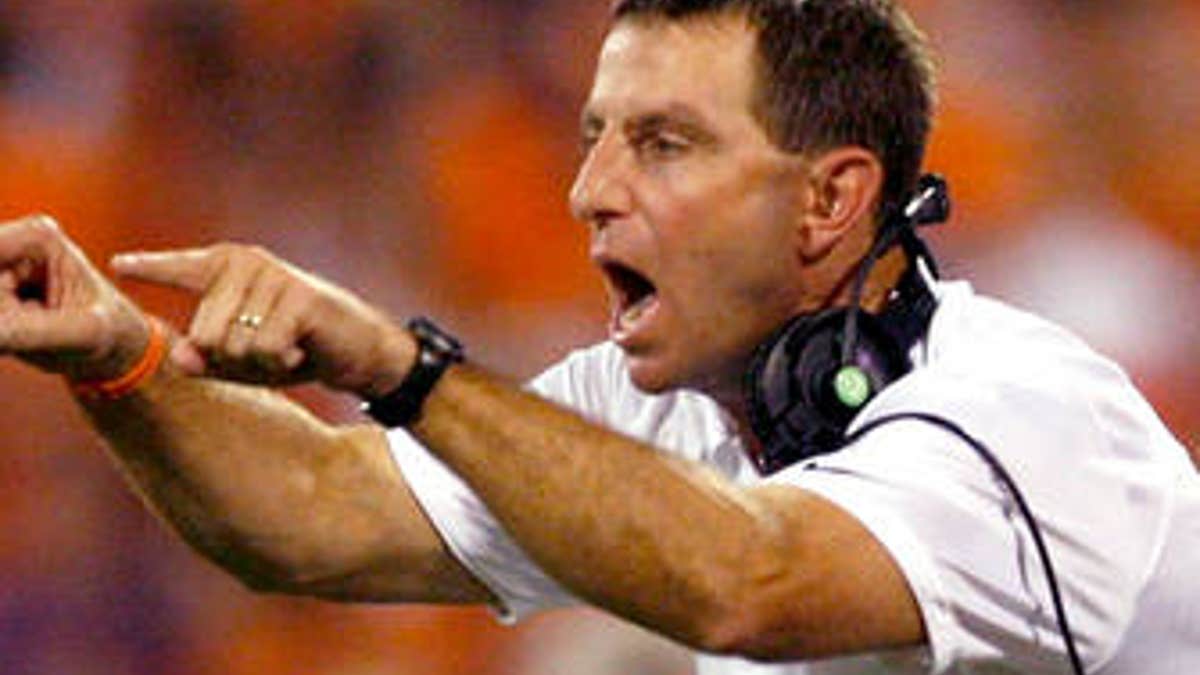 Clemson-Georgia, Johnny Football, upsets and links for everything you need to know from Week 1 of the college football season.
SATURDAY NIGHT IN DEATH VALLEY
When the moment arrived, we remembered why Death Valley was supposed to be college football's center Saturday evening. It wasn't for most of the day.
The center had shifted west, to a baking Texas town hungry to get its Heisman back. He did come back, after a one-half suspension. He did pierce Rice for three touchdown passes in little more than a quarter, and he augmented those touchdown passes with gestures and taunts, earning an unsportsmanlike conduct penalty and the newly sharpened wrath of Internet pundits.
Yes, whatever Johnny Manziel does now is news, particularly when it involves pantomiming the act for which he was recently suspended. And so Twitter exploded, and for a while, we were all consumed.
But five hours later, as Dabo Swinney prepared to lead his players in a charge down from Howard's Rock and into a nighttime fight with No. 5 Georgia, into a season that bears a tangible championship burden for No. 8 Clemson, some of that Johnny mania had faded. Not all, but some.
Because it was then that we remembered Week 1 meant more than just Manziel. Clemson-Georgia was always the best game on the docket. For months, you could feel its weight on paper. You couldn't help feel the magnitude. Here, watch this and try:
For me, as a fan, Clemson's 38-35 victory over Georgia was by far the pinnacle of college football's first week, not Manziel.
It's too early, of course, to make any proclamations about WHAT THIS MEANS for Clemson or Georgia – there's simply far too much season to play. But there was plenty to take away and enjoy from this game.
Here are the five things I enjoyed most about Clemson-Georgia, in no particular order:
1. Georgia running back Todd Gurley
Gurley ran for 154 yards on 12 carries – a sickening 12.8 average – and two touchdowns.
On a night when quarterback Aaron Murray wasn't his best – he did complete 20-of-29 passes for 323 yards but didn't record a touchdown pass and threw one interception – Gurley carried Georgia by doing things like this:
Keith Marshall, the second head of the Bulldogs' running attack, was held to 43 yards on 16 carries, which would have been a bigger story if Gurley wasn't able to return from a first-quarter thigh strain that he suffered on his 75-yard touchdown run above. "I was surprised he came back in," Georgia coach Mark Richt told reporters after the game.
2. Tweets about Todd Gurley
Presented without comment:
Gurley is taking out for blood in this game — Smart Football (@smartfootball) September 1, 2013
Todd Gurley is a man — Mark Schlabach (@Mark_Schlabach) September 1, 2013
So my math would say that = 100% awesome. RT @MoveTheSticks Todd Gurley is 50% Jamal Lewis and 50% Marshawn Lynch. — Bruce Feldman (@BFeldmanCBS) September 1, 2013
I saw Todd Gurley in HS. the opposing coach retired after the game. — Powell Latimer (@Powell_Warchant) September 1, 2013
3. Boyd-to-Watkins
We've missed this a little bit, haven't we?
After a huge freshman year, Clemson WR Sammy Watkins regressed as a sophomore. He missed the season's first two games as discipline for an offseason arrest, and he wasn't the same guy physically. Meanwhile, Tigers QB Tajh Boyd began relying on DeAndre Hopkins more, and the Boyd-to-Watkins connection suffered. Something tangible had changed.
"Last year, [Boyd] didn't look at me that much," Watkins told the News & Observer's Rick Bonnell (http://www.newsobserver.com/2013/08/30/3151652/clemson-receiver-sammy-watkins.html). "DeAndre was on that hot streak. Now I need to be that leader."
Call Saturday a reintroduction between Boyd and Watkins. Boyd completed 18-of-30 passes for 230 yards and three TDs (zero picks), and Watkins hauled in six of those balls for 127 yards and a score. Analysis: College football is more fun when Boyd and Watkins are connecting.
4. Clemson's run game
We know Boyd is a threat when he gets moving out of the pocket, and he added 42 yards and two TDs on the ground against Georgia. But how about senior Roderick McDowell?
Stuck behind Andre Ellington last season, McDowell ran for only 450 yards. With Ellington now an Arizona Cardinal, opportunity opened for McDowell, and he took advantage against Georgia, rushing for 132 yards on 22 carries.
The Tigers will always been seen as a live-by-the-air team – at least as long as they have a QB the quality of Boyd – but the development of McDowell would be a welcomed dynamic.
Almost 30 percent of his carries against Georgia came in the fourth quarter as Clemson entered the period with a lead, and it was McDowell's 36-yard run that put the Tigers inside the Georgia 10 with an opportunity to make it a two-score game (which they did, as Boyd hit Stanton Seckinger for a 9-yard TD). Behind one of the ACC's better offensive lines, did Dabo find another safety valve for Boyd?
5. Dabo's quest to change the Clemson narrative
We're still in the habit of talking about Clemson's past and Clemson's potential and, the way Swinney sees it, not enough about what Clemson has accomplished. Now, Swinney wants that to change. Fair enough.
In the buildup to the Georgia game, Swinney was inevitably asked many times about what a win against the Bulldogs would mean for Clemson. Part of those questions and the underlying suggestion that there's still much for Clemson to prove, that it hasn't quite earned its place in the conversation with elite SEC teams.
Dabo is tired of that. "It's about time people start talking about what we've done here and not what we're going to do," he said on ESPN's College GameDay Saturday morning. Well, if Clemson avoids an ACC trap game and gets into a BCS bowl this season – and wins it – that's exactly what will happen.
A FEW THOUGHTS ON JOHNNY
There has been an undeniable fatigue around Johnny Manziel in recent weeks, and understandably so. I felt it. Rational minds can handle only so much pomp and conjecture before it grows tiring.
That fatigue was evident in the backlash Manziel faced when he made his debut against Rice and seemingly mocked the entire autograph "scandal" by fake signing an autograph to an opposing player. Here's the video:
Of course, what followed was a stream of columns about his immaturity and selfishness and terrible decisions. The fake autograph gesture was plastered on blogs across the Internet within minutes, becoming only the latest piece of kindling in all this. As this was spreading, I felt an odd sensation. Suddenly, I wanted more of Manziel, not less. It was like hitting a runner's high on mile eight.
Why? I suppose it's because we're no longer captured in the summer doldrums, in that tiring web of Manziel's latest party or appearance. We're FINALLY playing football, and watching Johnny Manziel play football produces waves of utter joy. On a field, he's captivating in a way that no other story in this sport is.
In recent weeks, it became incredibly easy to shun all Manziel media. It was easy to change the channel or not click on the link, because what more could we say about autographs and oversleeping and cash payments? What more was there to add to that conversation?
That's no longer our world. When Manziel took the field against Rice, you watched, if only because Manziel has reached a level of our popular culture where you can't afford NOT to watch. We should not be weary and cranky now at the sight of Manziel. He's playing football again, and watching Johnny Football scamper around, through men much larger and imposing than him, with no real idea of where this play will lead, is one of the greatest thrills college football can provide.
Two weeks 'til 'Bama.
IT'S AN FCS KIND OF PARTY
Opening week saw seven FCS teams beat FBS teams. They are: North Dakota State (over Kansas State), Eastern Washington (over No. 25 Oregon State), McNesse State (over South Florida), Towson (over UConn), Southern Utah (over South Alabama), Samford (over Georgia State) and Northern Iowa (over Iowa State).
According to STATS Research, that beat the previous record for most FCS wins over FBS teams in a single week, which was five in 2003. Two other nuggets from STATS:
1) Cal State Northridge scored 63 points against Boise State in 1997, the most points scored by an FCS against an FBS opponent.
2) Eastern Washington is the third FCS school to beat a ranked team since 2000, joining Appalachian State and James Madison.
And, hey, if you know your FCS football – or just get really lucky – you also have a chance to end up with some lunch money, like this guy:
@WagerMinds pic.twitter.com/nISLviiA4w — The ZOO (@1FJTRAVELER) September 1, 2013
THE BUZZER
Five completely non-football related things that happened Saturday.
1) Notre Dame had a little trouble spelling 'Fighting Irish' on its own souvenir cups at Notre Dame Stadium .
2) Before Tennessee football games, there's a pregame prayer over the PA system at Neyland stadium. And for Butch Jones' Rocky Top debut, that prayer included a specific message to the Lord thanking him for the new coach .
3) The brother of Oklahoma State quarterback Clint Chelf was pretty heated about Clint's playing time against Mississippi State, so he decided cursing at his brother's head coach on Twitter was an appropriate way to handle the matter.
4) In Alabama, they start 'em young on Jim Beam.
5) This is really cool: There was another Seau wearing No. 55 on a San Diego football field this weekend (Junior's nephew, who plays for San Diego State).
NOTES FROM THE NATION
An assortment of links from around college football.
SEC
• Florida's offense set the tone and limped to the finish , writes Edgar Thompson.
• Kevin Sumlin sent a message to trash-talking Johnny Manziel, writes Kevin Sherrington.
• Brandon Allen led Arkansas to a season-opening win , writes Matt Jones.
• Alabama's Christion Jones set records in a win over Virginia Tech, writes Michael Casagrande.
• Tennessee's defense was dominant but has room to grow , writes Evan Woodbery.
• Far from flawless, Auburn still found a way , writes Joel A. Erickson.
ACC
• Tajh Boyd's five TDs lifted Clemson over Georgia , writes Aaron Brenner.
• Mark Bradley has three observations from Georgia Tech's win over Elon.
• Villanova started fast and then faded against Boston College, writes Marc Narducci.
• The Terrapins cruised in their season-opener , writes Alex Prewitt.
• NC State won Dave Doeren's debut but lost its quarterback , writes Joe Giglio.
• Virginia pushed all the right buttons against BYU, writes Ed Miller.
• Duke opened with an easy victory over NC Central , writes Chip Alexander.
PAC 12
• A trio of 100-yard rushers made it a historic afternoon for Oregon , writes Rob Moseley.
• Washington matched the grandeur of its new stadium , writes Jerry Brewer.
• Eastern Washington was no secret to Oregon State , writes Kevin Hampton.
BIG 12
• Saturday was a rude awakening for West Virginia , writes Dave Hickman.
• Oklahoma State got satisfaction from beating an SEC team , writes John Helsley.
TCU hanged tough but couldn't beat LSU .
BIG TEN
• It was a fast start and a messy ending for Ohio State , writes Doug Lesmerises.
• The Badgers pulled away from the Minutemen after sluggish start , writes Jeff Potrykus.
• Penn State's Christian Hackenberg must be given freedom , writes David Jones.
• Illinois averted a debacle against Southern Illinois, writes Vaugh McClure.
• Iowa's loss to Northern Illinois is inexcusable , writes Bryce Miller.
OTHERS
• Cincinnati quarterbacks answered the late bell , writes Paul Daugherty.
• Air Force cruised past Colgate but lost its QB , writes Irv Moss.
• Tommy Rees led the way for Notre Dame , writes Brian Hamilton.
• From the AP: Eastern Michigan opened the season by beating Howard .
• McNeese State handed USF a humbling a loss , writes Greg Auman.