Tottenham show title credentials, down rivals City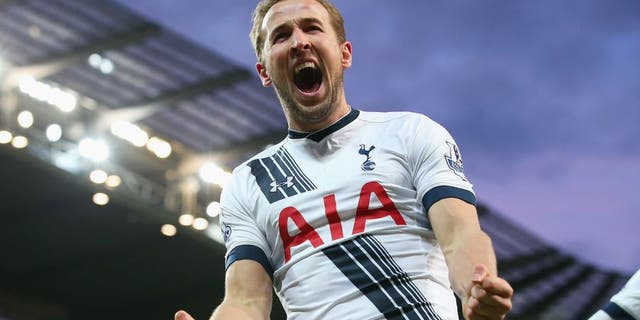 In this most unpredictable of league seasons, everybody keeps waiting for a decisive moment, the point at which somebody makes a decisive surge. There are still 12 games remaining and nothing that has happened this season has been predictable, but this, perhaps, will come to be regarded as the day when Tottenham Hotspur began to make a telling move as they beat Manchester City 2-1.
Its first goal, a 52nd-minute penalty from Harry Kane, was controversial, but after Kelechi Iheanacho had come off the bench to equalize, Christian Eriksen's 83rd-minute winner had the sense of profundity. It wasn't just that it won the game, lifting Tottenham level with Arsenal, two points behind the leaders Leicester City and four clear of Manchester City, it was that it took its winning run to five and suggested that a team that had a habit of drawing games it had dominated earlier in the season has discovered a way to win them.
A second home defeat in a row, meanwhile, can only have plunged City into gloom. All season it's been waiting for Vincent Kompany to return from injury. His leadership is undeniably significant, but he is not an infallible panacea. In his eight previous starts this season, City had conceded only once; here it let in two and questions may be asked about the captain's positioning for the winner.
How ever that is cast, though, and however debatable the penalty, Spurs were the better side. Mauricio Pochettino's side dominated the midfield, and looked generally livelier and more incisive. Possession stats don't always tell the full story, but neither is it inconsequential that Spurs had so much of the ball in the first half here.
It had been an intriguing rather than thrilling first half, Spurs' pace and mobility in midfield, to no great surprise, threatening to expose City's ponderousness and allowing them to dominate possession. The extent of Spurs' advantage was seen in the frequency with which Danny Rose, the Spurs left-back, got forward to pressurize Pablo Zabaleta, something that highlighted the lack of defensive cover offered by David Silva who was forced out to the right by Manuel Pellegrini's decision to go with Fernando, Fernandinho and Yaya Toure in the center.
Actual chances, though, were few and far between and it was notable how frustrated Pochettino became at the Spurs' use of their possession. There was a Silva volley that Rose charged down, blocking with his chest, but it was Spurs who were the more dangerous., although the only save they drew out of Joe Hart came after 28 minutes, as Son Heung-Min flicked a Rose pass to Christian Eriksen, whose clipped effort from 20 yards was beaten away by Hart diving to his left.
The pattern looked to be repeating early in the second half before the game was transformed by a penalty call after 52 minutes. Rose again got into a good position on the left. He crossed, Raheem Sterling jumped to try to block and turned his back as he did so, his movement sending his left arm out as a counterweight. The ball hit Sterling as he crossed the corner of the box, but it seemed to make contact somewhere around his left shoulder-blade, perhaps then flicking his triceps.
Had it hit the arm full on, he could hardly have complained -- it was away from his body, in "an unnatural position" as the law demands. But it didn't. If there was contact with the arm it was via a deflection off the torso and the call thus seemed incredibly harsh. Mark Clattenburg, the referee, gave it, though, and Kane, waiting for Hart to commit, knocked in a clever penalty.
Yaya Toure, in one of his now familiar displays of five parts meandering for one part brilliance, smacked a free-kick against the bar soon after but it seemed short of ideas. The bench, populated as it was by defenders and youngsters, offered little encouragement beyond Iheanacho who was introduced after 65 minutes for Fernando.
Seven minutes later, Gael Clichy exchanged passes with Silva in advancing down the left before crossing low for the Nigerian 19-year-old to slam into the roof of the net. It seemed then that it was City in the ascendant, but to his great credit, Pochettino brought on Erik Lamela for Dele Alli when he could easily have taken a more defensive option. His reward came with even minutes to go.
Toure, lumbering into traffic, lost possession on half-way, Lamela seized on the ball and surged through the space where Fernando might have been had he not been taken off. The interface between the back of midfield and the center of defence has been a problem for City for much of the past two seasons. The Argentinian slipped a pass through for Eriksen, played onside by Kompany, and he finished calmly.
City almost visibly deflated. There was one late chance as Hugo Lloris punched the ball away as Nicolas Otamendi closed in and Silva fired the loose ball over, but City looked a defeated side. Not for the first time, it seemed it lacks the hunger for a title fight this season. Spurs, so often flatterers to deceive in the past, perhaps at last do have that edge.