Tom Brady's pitch nearly convinced Kevin Durant to sign with Celtics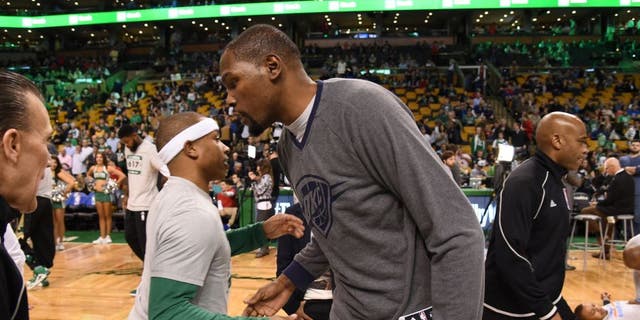 NEWYou can now listen to Fox News articles!
Tom Brady is beloved in Boston and for good reason. But the New England Patriots iconic quarterback almost added to his legend without even stepping on the football field.
Kevin Durant revealed Monday that Brady's presence during the Boston Celtics' free-agent pitch nearly convinced the former Oklahoma City Thunder star to come to Beantown.
"I was ready to just say, 'All right. Let's go. I'm ready to go,' seeing Tom Brady there," Durant said, via the Boston Herald. "Just seeing someone so successful at his craft and just a great ambassador for the game of football and the city of Boston, it was just great to be in the presence of greatness.
"But at the same time, I knew I couldn't let that distract me. But he was great. It was great to see him."
Durant eventually joined the Warriors on a two-year deal. The Celtics had to settle for former Hawks big man Al Horford this offseason. But Boston has to hope that its continued improvement will lure a superstar next summer.