Time to give the Giants defense the credit it deserves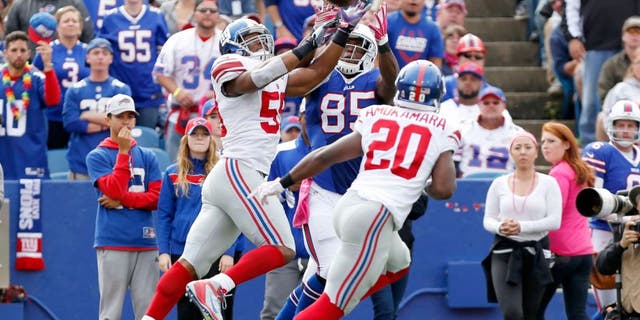 NEWYou can now listen to Fox News articles!
There was a lot of talk out of the New York Giants' locker room on Sunday about how it's time for the team's defense to start getting credit. The Giants allowed the second-fewest points in the league this weekend in their 24-10 victory at Buffalo, and it came against a Bills team that had scored 27 or more in its first three games.
The Giants forced two key turnovers, one of which was a terrific interception by second-year linebacker Devon Kennard to set up the team's first touchdown. They also held the Bills to just 55 yards rushing.
The Giants' defense is not an incredibly talented unit. It got even less talented when Jason Pierre-Paul blew off pieces of his hand in July. The absence of Pierre-Paul and fellow defensive end Robert Ayers is killing their pass rush, yet they're still playing good defense.
That's a credit to coordinator Steve Spagnuolo, who is attempting to rebuild his reputation as a very good coach. Spagnuolo went 10-38 in three seasons as head coach of the Rams and then spent one season with the Saints during their Bountygate scandal in which any defensive coordinator would've struggled.
Now back with the Giants, Spagnuolo has this defense playing well above its heads. Even in losses to the Cowboys and Falcons, the unit played well, save for some late plays that proved to be the difference. And for all those saying his success in his previous stint as the Giants' coordinator was due merely to outstanding talent and a ridiculous pass rush, he's showing so far this year he can get a defense to play well without either.