Tim Boetsch makes bold prediction for his fight with 'Jacare' Souza at UFC 208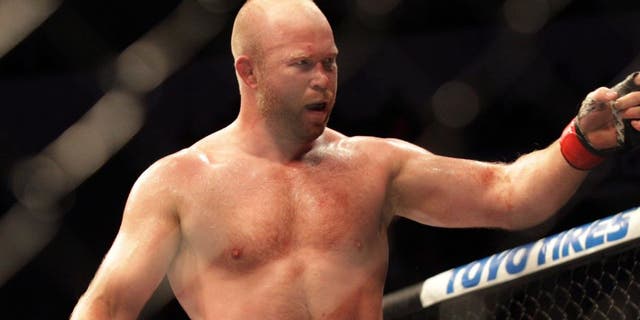 When Tim Boetsch got a message from the UFC matchmaker offering him a fight against Ronaldo "Jacare" Souza it didn't take him long at all to accept.
Boetsch had originally told the UFC he didn't want to fight again until at least March and was approaching an upcoming vacation he had planned with his wife. But when the opportunity came along to fight the No. 3 ranked middleweight in the world, Boetsch didn't blink and immediately told the UFC he was on board.
"This sounds like the perfect short notice, heavy odds 'Barbarian' fight that's going to put me exactly where I want to be," Boetsch told FOX Sports on Wednesday in Brooklyn. "Within a matter minutes, I told my wife you're going to have to go by yourself (on vacation) or get a friend to go because I've got a fight and she totally agreed that I'd regret it because it's perfect for me.
"Jacare's a tough guy, maybe the toughest in the division and I feel like a win over him streamlines my shot at the title. That's what I want and it's going to be hard to deny me when I knock him out. The time is perfect. I feel better now than I ever have. I feel sharper now than I've ever been and I feel like I'm ready to get in there and get that title."
Now there's no denying that Boetsch is stepping into deep waters by facing one of the best middleweights in the world on shorter notice, but he's never shied away from a tough matchup before and he's not about to start now.
In fact, Boetsch believes the only reason he got the opportunity to face "Jacare" is because other top ranked fighters in the division wanted no part of him when the UFC came calling with the same offer he accepted.
"I typically do best when I'm a huge underdog and certainly if you put your money on me, you're going to make a lot on fight night. I don't have a problem with that. I accept that. He's got the higher ranking for a reason. He should probably have the title right now. I know (Michael) Bisping doesn't want to fight him. I don't want to speak for other people but I have this fight for a reason," Boetsch explained. "It doesn't really make sense on paper for him to even take this fight and I was a little concerned when his contract didn't signed right away and then I realized the time difference in Brazil. He was probably sleeping when the call came through.
"I'm grateful he took the fight. It shows how classy he is as a fighter and it shows that he really is a fighter. He's willing to put all his prestige on the line to fight a guy lower in the rankings than himself so I have a lot of respect for him. I'm very appreciative he took the fight but that being said, unfortunately for him it is going to bump him back down in the rankings. I'm going to move up, he's going to move down."
In terms of the matchup, Boetsch would appear to play the part of the striker while "Jacare" is undoubtedly one of the best grapplers in the world with a laundry list of Brazilian jiu-jitsu accomplishments on his resume.
In recent years, "Jacare" has worked tirelessly to bring his striking up to par with his grappling and he's happily traded shots with other opponents in most of his fights in the UFC.
That's exactly what Boetsch is betting on "Jacare" to do Saturday night when they step into the Octagon together and the No. 3 ranked middleweight tries to send a message to the rest of the division with a devastating knockout.
"I'm smiling right now because I know that's what he's going to do," Boetsch said. "He's going to come out and try to put an exclamation point on 'this is why I'm the next guy in line'. He's going to come out and try to take my head off with that right hand and he's done it. Anybody can run into a punch. Not saying it's out of the realm of possibility, but I do believe that's where I'm going to have the advantage and that I'm going to hurt him real bad early in the fight when he comes across the Octagon at me trying to take me out in those early seconds of the fight.
"That's when his game plan is going to change back to what he's great at. He's going to try to drag me to the ground and submit me…if he's still conscious."
None of the odds against Boetsch seem to bother him and if anything he embraces the chance to pull off the upset in very dramatic fashion, especially if his prediction for the fight comes true.
"I know it's going to be a knockout. And I believe it's going to be in the first round," Boetsch stated. "I'm going to get my hand raised."