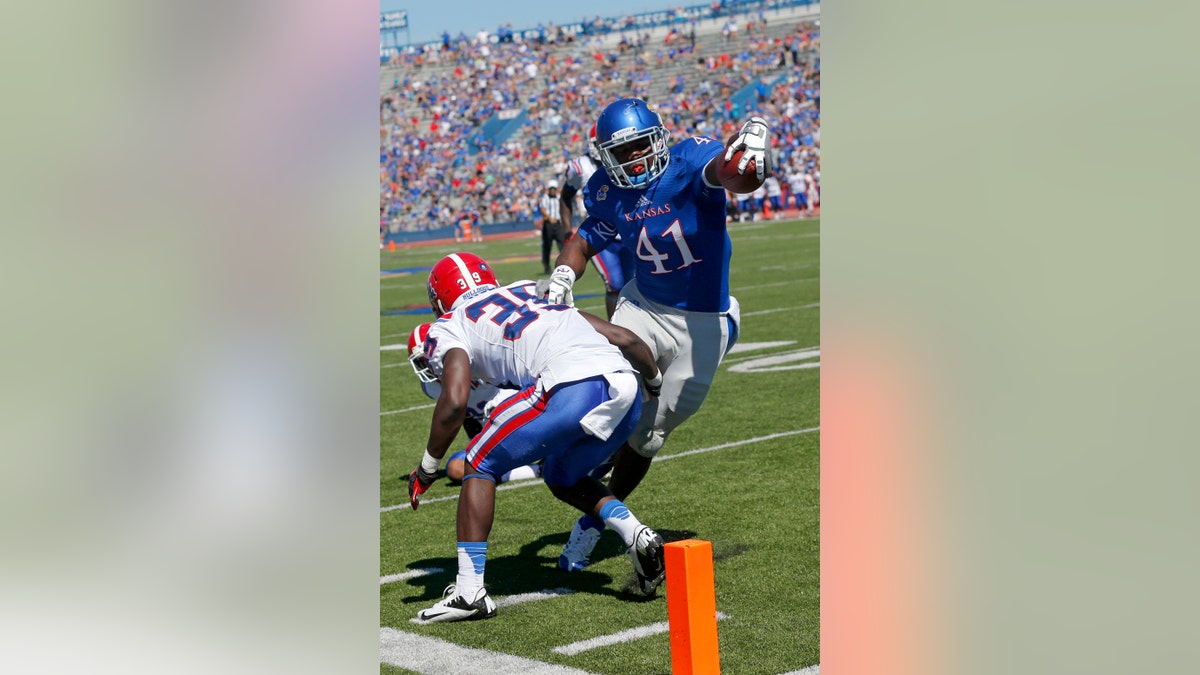 LAWRENCE, Kan. – Things hadn't gone right for Jimmay Mundine all game, and he felt responsible.
Rice had just defeated Kansas to extend the Jayhawks' road losing streak to 20 games. If Mundine had held onto two crucial passes, including one that appeared to be a certain touchdown in the fourth quarter, the streak might have come to a merciful end.
So if anyone had the right to be frustrated with Mundine, it was the man who threw those passes, Kansas quarterback Jake Heaps. Instead, Heaps told his tight end to be ready.
"He definitely talked to me and let me know that he's going to come back to me," Mundine recalled. "He still believed that I can make plays and I can help the offense. It showed with him throwing me the ball and giving me the opportunity to make something happen for the team."
The following week against Louisiana Tech, Heaps found Mundine for a tying touchdown in the fourth quarter of what turned into a victory for Kansas — the first of several sparks the tight end has given to the struggling Jayhawks' passing game this season. The play wasn't designed specifically for Mundine, he simply happened to be open in the flat.
Still, after being demoted to second string earlier that week, Mundine knew the touchdown proved that he could still contribute.
"For me it wasn't really just to get back at them, to say, 'Oh, I can show you that I can do this,'" Mundine explained. "They told me to go out there and run this play. I went out there, I did my job and I got the ball and I ran it for the touchdown."
It wasn't he last one, either. He caught another touchdown pass the next week against Texas Tech. Then another one against TCU, and another last Saturday against Oklahoma. That's touchdown catches in four straight games heading into Saturday's game against No. 6 Baylor.
"Jimmay has been a guy that has been pointed at for a lot of struggles, but Jimmay is also a guy that, he's a vital part of this football team," Heaps said. "He's a guy that everybody looks at and is really a positive influence on this football team."
In fact, he's become just about the only reliable guy in the Kansas passing game.
Heaps threw for a season-high 279 yards against Louisiana Tech, but that number has dwindled each of the past three games, plummeting to a measly 16 yards in a loss to the Sooners.
That's made it difficult for Mundine to produce. While he has four touchdown catches, he also has just 11 receptions — and that's second to Tony Pierson among all pass-catchers.
"After those first couple of games, where he had a little case of the drops, he's put that behind him," Kansas coach Charlie Weis said. "He's gotten better not only in the pass game but he's gotten better as a blocker here for the last month or so."
Not surprisingly, Mundine moved back to the top of the depth chart. But the man who briefly replaced him, Trent Smiley, isn't upset — turns out the tight ends are best of friends.
They've known each other since high school, Mundine said, and he still teases Smiley about badly beating him twice before they joined the Jayhawks.
Even though they competed back then, and they're competing for the same position now, they don't view each other as rivals because they aren't the same type of player. Smiley is a better blocker while Mundine is a better receiver.
"He's too good of a football player not to be on the field," Smiley said. "It would be incredibly selfish of me to not want him to be on the team."