Tigers prove they'll spend big, but can they win big in AL Central?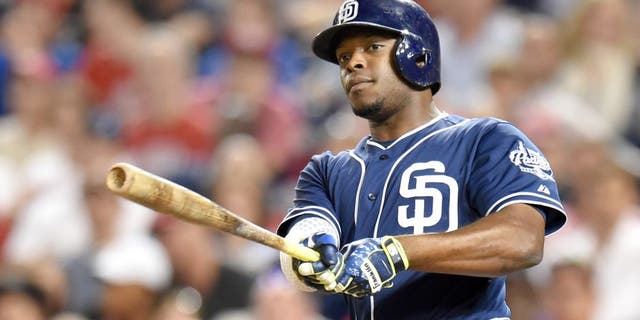 As late as Monday afternoon, many in the baseball industry expected the Detroit Tigers to sign Yoenis Cespedes.
Right concept. Wrong outfielder.
Instead, on Monday night the Tigers agreed to a six-year, $132.75 million contract with Justin Upton, following discussions first reported by FOX Sports MLB Insider Ken Rosenthal.
The Key Takeaways
● By signing Upton after adding Jordan Zimmermann in late November, the Tigers are the second franchise in Major League Baseball history to spend $100 million or more on two free agents in a single offseason. The New York Yankees, who have done so twice, are the other.
That's a telling bit of history, after some baseball observers had questioned during a disappointing 2015 season whether Tigers owner Mike Ilitch had lost his willingness to spend. Apparently, the 86-year-old Ilitch hasn't changed at all; if anything, perhaps he's even more driven to win his first World Series ring. And thus the Tigers continue outspending their market size and revenue base by a greater proportion than any other team in the sport.
The other side of that reality: The Tigers are poised to exceed the $189 million luxury-tax threshold for the first time in 2016, and their payroll commitments for 2017 already exceed $160 million, according to data maintained by spotrac.com.
● Upton, the No. 1 overall pick in 2005, ranks seventh in WAR within his historic draft class, according to Baseball-Reference.com, behind Troy Tulowitzki, Ryan Braun, Andrew McCutchen, Ryan Zimmerman, Alex Gordon, and Jacoby Ellsbury.
As good as Upton's career has been -- three All-Star appearances, a fourth-place MVP finish in 2011 -- there's a sense that, at age 28, he's capable of more. In Detroit, he'll have the chance to achieve that potential while working alongside a hitting master, Miguel Cabrera, the likes of which he never had as a teammate over nine seasons in the National League.
Cabrera's presence is part of the reason Upton will notice a better overall offensive environment in Detroit and the American League. Over the last three seasons, Upton's teams in Atlanta and San Diego finished with 688, 573, and 650 runs, respectively. The Tigers should have little trouble surpassing those marks, with Ian Kinsler as a table-setter, J.D. Martinez continuing his ascent, and Victor Martinez healthier than at virtually any point of 2015.
● The Tigers gave up a draft pick and corresponding signing-bonus allotment in order to sign Upton, but the marginal cost wasn't especially high. As Rosenthal pointed out Monday night, the Tigers' first-round draft pick (ninth overall) is protected. They surrendered their second-round selection when they signed Zimmermann; so, the cost for Upton is a third-round pick.
● With the addition of Upton, the Tigers' lineup has become increasingly unbalanced toward the right side. That's not necessarily a problem, but it could become one against certain right-handed pitchers -- while placing even more pressure on Victor Martinez to become at least 75 or 80 percent of his 2014 self.
Unless Anthony Gose wins the center field job away from Cameron Maybin, the Tigers could start eight right-handed batters against right-handed pitchers on a regular basis, with Victor Martinez (a switch hitter) the lone lefty.
Detroit went 53-70 against right-handed starters in 2015. Cabrera, J.D. Martinez, and Kinsler are the only returning Tigers (minimum 300 at-bats) who posted an OPS of at least .725 against right-handers last year.
Thanks to Ilitch, the Tigers have a much more formidable lineup than they did 24 hours ago -- or in September, for that matter. But it's premature to call them favorites to finish ahead of the defending World Series champions in the American League Central.