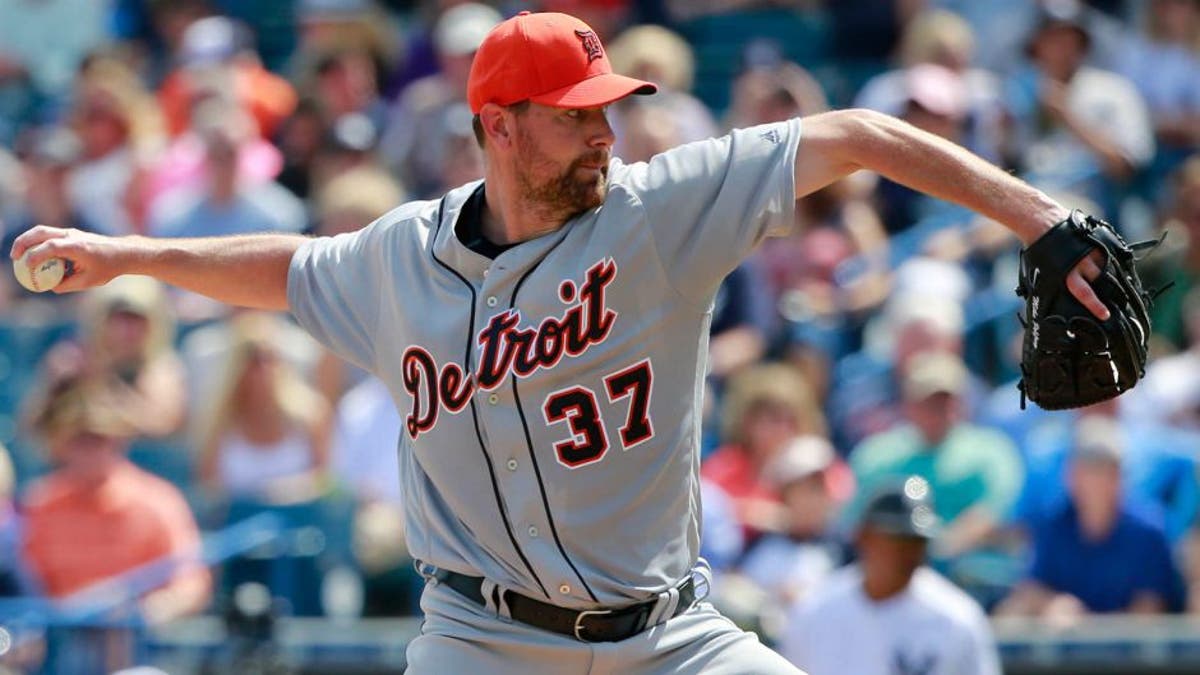 TAMPA, Fla. (AP) -- Mark Teixeira went 0 for 1 and walked in his first game since missing the final month last season with a broken right shin, and the New York Yankees rallied from a seven-run deficit to beat a Detroit Tigers' split squad 10-9 Wednesday in their spring training opener.
Teixeira fouled off a pitch on Aug. 17 and the Yankees first baseman still felt pain during three at-bats the following week. An MRI on Sept. 11 discovered a fracture, ending his season.
"Really nice, good to see him," Yankees manager Joe Girardi said.
Mike Pelfrey struck out two over three hitless innings for the Tigers. The 32-year old right-hander agreed to a $16 million, two-year contract in December after spending the previous three seasons with Minnesota.
"It was fun to get back out there and compete," Pelfrey said. "I just tried to work on fastball command. Sinker, slider, that was it."
Bryan Holaday hit a grand slam during a five-run second off Luis Severino, who allowed five runs in 1 1/3 innings.
Teixeira, who turns 36 in April and is in the final season of a $180 million, eight-year contract, hit a second-inning grounder and walked in the fourth. He played four innings at first base.
Starlin Castro, acquired from the Chicago Cubs, had two hits in three at-bats and also made a nifty play at second base on a grounder up the middle in his first game with the Yankees.
STARTING TIME
Tigers: Pelfrey went 6-11 with a 4.26 ERA last year.
Yankees: Severino is looking to secure a rotation spot after going 5-3 with a 2.89 ERA over 11 starts in his first major league season last year.
TANAKA TIME
Yankees RHP Masahiro Tanaka, who had a removed from his throwing elbow in October, threw 30 pitches over two innings in his first simulated game. With pitching coach Larry Rothschild calling balls and strikes, Tanaka struck out five of six batters.
Michael Pineda also went two innings in the sim game, allowing two hits in two scoreless innings. He made 23 pitches.
TRAINER'S ROOM
Tigers: Cameron Maybin departed with a bruised left wrist after getting it by a Severino pitch in the second. He was the designated hitter due to a sore shoulder.
Yankees: LF Brett Gardner (bruised left wrist) hit for the first time in an indoor cage and said he will do it again Thursday. Girardi said Gardner won't be in a game until around March 15. ... RHP Nathan Eovaldi (mild groin tightness) will throw off a mound Thursday.
NEW ADDITION
The Yankees added a free agent, agreeing to a minor league contract with OF Chris Denorfia, who will report to big league camp.
UP NEXT
Tigers: LHP Daniel Norris is scheduled to start Thursday against Atlanta LHP Sean Newcomb.
Yankees: DH Alex Rodriguez is expected to play for the first time Thursday against a Philadelphia split-squad. RHP Ivan Nova, who could be the odd-man out in the rotation competition, will face LHP Adam Morgan.