The Early Look: Breaking Down Demetrious Johnson vs. Henry Cejudo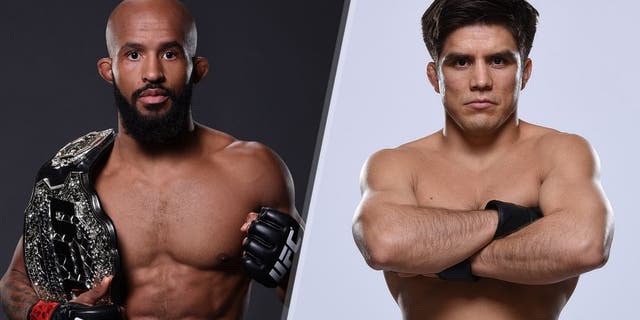 So, we've got a new flyweight world title contender, and he happens to be a great one. Former Olympic wrestling gold medalist Henry Cejudo has earned a shot at the belt with a 10-0 record, and four straight wins in the UFC.
More interesting than that, however, is that he is a real threat to dominant champion Demetrious Johnson. While "Mighty Mouse" should certainly be considered the favorite in this coming showdown because of all he's accomplished and experienced, the Olympic champ could very well give Johnson some new problems to deal with in their bout.
There's training camps and a whole lot of work between now and the fight, but here's our quick Early Look at the 125-pound title fight based on some key areas.
Athleticism:
Johnson is as quick as any athlete in the world and probably faster than anyone in the UFC. That's true when he's shuffling from side to side or darting in and out on his feet with strikes.
It's also true when he changes levels, slips strikes and takes dwon opponents, or passes guard and snatches up lightning quick submission holds. Johnson also really hasn't seemed to struggle with any opponent's strength, either, even when he fought at 135 pounds.
Physically, he's as at the top of the heap.
Henry Cejudo may be the first guy to come close to matching Johnson's physical tools. Johnson is an inspiring tail of factory-worker turned world champion, who became the best in the world while juggling shifts, family and work.
Cejudo's life-story is also one of overcoming adversity but he prepared for world-class athletic commission since he was a child. My guess is that he's got a bit more in him than we've so far seen from him inside the Octagon.
Psychology:
This area is tough to call. As an international tournament combat athlete, Cejudo is as strong, mentally, as it gets.
He knows how to keep driving, block out physical pain and work past disappointment to keep winning. He was a very young Olympian and so had to compete as a boy among men.
That's more than physical, it's mental. There is no reason to doubt that Cejudo has the focus it takes to become a world champion in MMA.
Johnson has much more high-level MMA competition experience, however. He's dealt with the bright lights, media attention and cage killers for years and years.
It doesn't appear as though anything can destabilize the champ, psychologically, at this point. Within fights, he is a master of making adjustments when opponents frustrate him as well.
Wrestling:
No one within 30 pounds of him in the UFC would likely have a chance against Cejudo in a straight wrestling match of any type. In terms of MMA wrestling, though, by which I mean his ability to use the cage, time level changes off his own punches or in reaction to their strikes, Johnson is as good as it gets.
It will be interesting to see who will get the better of wrestling exchanges, here. I bet it will come down to who scrambles better, once contact is made.
I suspect Johnson will have the timing to score takedowns, but I bet Cejudo will scramble up very well, if not instantly. The question may end up being will he expose his neck or a limb enough in the process for Johnson to use his superior submission skills.
Striking:
Cejudo is a wrestler but has a lot of confidence in his boxing. He should.
I don't think Johnson will stay in the pocket for very long to get into punch fire-fights, here. He will use his footwork to be unpredictable and hard to peg down.
Cejudo will have to make sure not to over-reach with his punches if he gets impatient. Johnson will want to score with leg kicks, but will have to take care that they don't get snatched up and turned into takedowns.
Conditioning:
There's no real reason to doubt Cejudo's ability to stay at a good pace for five rounds, but Johnson is the only one here who we've seen master five-round bouts time and again.
In fact, Johnson often gets stronger and sharper as fights go on, or at least more effective, late in the fight. He's fought some very good challengers and more than a few of them were able to hang with him, early on.
It was in the championship rounds that Johnson separated himself, oftentimes. When opponents fade, Johnson capitalizes.
Overall Pick:
I like Cejudo a lot. Without knowing the details of his training regimen, it's tough to say just how ready he'll be to fight Johnson. He does have the boxing, athleticism, and wrestling skills to really threaten the champion, however.
Johnson is simply the more proven entity in MMA at this point, however. We know he'll show up ready to go for five rounds, hard, and that he is capable of mixing it up in an almost peerless way.
So, Demetrious Johnson is the Early Look pick, here.