Texas A&M Wins First NCAA Title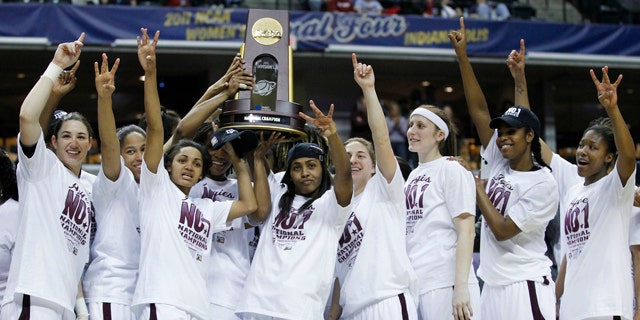 INDIANAPOLIS -- Scoring at will, grabbing boards and making a key steal, Danielle Adams saved her best game for the biggest stage and gave Texas A&M its first national championship.
Adams scored 22 of her 30 points in a dominating second half and answered the Fighting Irish basket for basket Tuesday night to help the Aggies bring a title to the former all-male military academy with a thrilling 76-70 victory over Notre Dame.
"I knew they couldn't stop me inside so that's what I did, I took it inside," said Adams, who became the school's first All-American just a week ago.
No one was happier than Gary Blair, the outspoken A&M coach who hadn't been in the Final Four since 1998 when he was with Arkansas. Blair bluntly said it was a good thing that top powers like Connecticut, Tennessee and Stanford weren't in the title game.
"We don't give up," Blair said. "We might not play the prettiest game in the world but it's good for women's basketball to see a Texas A&M and a Notre Dame in this game."
And then his Aggies went out and proved him right in front of a pro-Irish crowd.
Tyra White added 18 points for A&M, including a huge 3-pointer as the shot clock buzzer sounded to put the Aggies up 73-68 with 1:07 left. She and her teammates then staved off a final, frantic push by the Fighting Irish and their sensational young star guard, Skylar Diggins.
The Aggies are a national championship newcomer and bullied their way through the tournament to get to the top. Like Notre Dame, they vanquished their conference rival on the way, beating Baylor in the Dallas regional final after losing to the Lady Bears three times during the season.
Adams, who struggled badly against Baylor, was up to the task and then some against Notre Dame, scoring the second-most points ever in a championship game (Sheryl Swoopes had 47 in 1993).
"We did not find an answer for her," Notre Dame coach Muffet McGraw said. "We had a plan. We just weren't able to stop her. ... She's just a great player. She's got a big body and we couldn't get around her."
Both teams reached the championship by knocking off two No. 1 seeds. Notre Dame eliminated Tennessee in the regional final, then swept past Connecticut in Sunday night's national semifinals, the first time one team has taken down those two women's basketball icons in the same tournament.
A&M also had two impressive wins to get here. After beating Baylor, the Aggies edged Stanford on Sunday night.
It was the first title game without a No. 1 seed since 1994 and only the second overall. It also was the first final without either Connecticut or Tennessee since Maryland beat Duke in overtime for the 2006 championship.
And it turned out to be a good one.
After a back-and-forth first half, and with the Aggies trailing 48-43 early in the second half, Adams simply took over.
The 6-foot-1 center scored 10 of the next 13 points for the Aggies to give them a 56-53 lead midway through the second half. Texas A&M then extended the advantage to 64-57 behind the two Sydneys -- Carter and Colson.
But Notre Dame wouldn't give up, battling back behind Diggins and Devereaux Peters. The Irish scored nine of the next 11 points to tie the game at 66 on Diggins' jumper with 3:56 left.
Blair went right to Adams on the next two possessions and she delivered, hitting back-to-back layups. Adams hit nine of her first 10 shots in the second half.
After Peters' putback cut it to 70-68, White hit the huge 3. Diggins had two free throws with 40.7 seconds left, and the Irish had one last chance after a turnover by the Aggies with 29 seconds remaining.
McGraw called her final timeout, but Diggins turned it over in front of the bench. White hit two free throws to seal the win.
Diggins finished with 23 points and Peters added 21 and 11 rebounds for Notre Dame (31-8).
Diggins, fighting back tears, said the Irish couldn't handle A&M's pressure.
"We turned it over too much. I don't know if it was nerves or what," she said. "We just didn't handle the pressure."
Indeed, the night belonged to the Aggies.
It hasn't been easy changing attitudes at a university that began as an all-male military school. Some alumni opposed the decision to begin admitting women in 1963, and school administrators didn't always see the advantage of funding men's and women's sports equally when Title IX passed in 1972.
By 1994, A&M had earned its first NCAA tournament bid and immediately reached the regional semifinals, but the program's reputation remained stagnant until Blair arrived in 2003.
The man with the sharp tongue, quick wit and deep Southern drawl found himself at home recruiting Texas' best players, and teaming up with others in the athletic department to sell the school.
Winning the title Tuesday night will certainly help.
The Aggies (33-5) have been riding a relentless defense that didn't allow more than 50 points until Stanford scored 62 in the semifinals. Fortunately for the Aggies, a lay-up with 3.3 seconds left was enough to lift them over the top-seeded Cardinal.
Notre Dame was trying to win its first national championship since 2001. The Irish had an impressive tournament run led by Diggins. She led the Irish in their back-to-back victories over two Tennessee and Connecticut.
And with the Lady Vols and Huskies both gone -- only the fifth time since 1995 that neither was in the title game -- Diggins and the Irish tried to seize the moment and take out the Aggies.
But Diggins and Peters weren't enough in a matchup of No. 2 seeds.
This was the only the second time no top seed made the title game and the first since No. 3 seed North Carolina beat No. 4 Louisiana Tech in 1994.
The Irish were trying to become the first team to win in their home state since Stanford won in Los Angeles in 1992. There definitely was a home feel for Notre Dame with two-thirds of the 17,473 people in the arena wearing green and gold.
So much was made this season of UConn's record winning streak and their quest for a third straight national championship that would have cemented Maya Moore's place as the top women's player ever.
Diggins and the Irish ruined those plans in the semifinals, beating the Huskies for the first time in four meetings this season. They fell short of the ultimate prize Tuesday night.