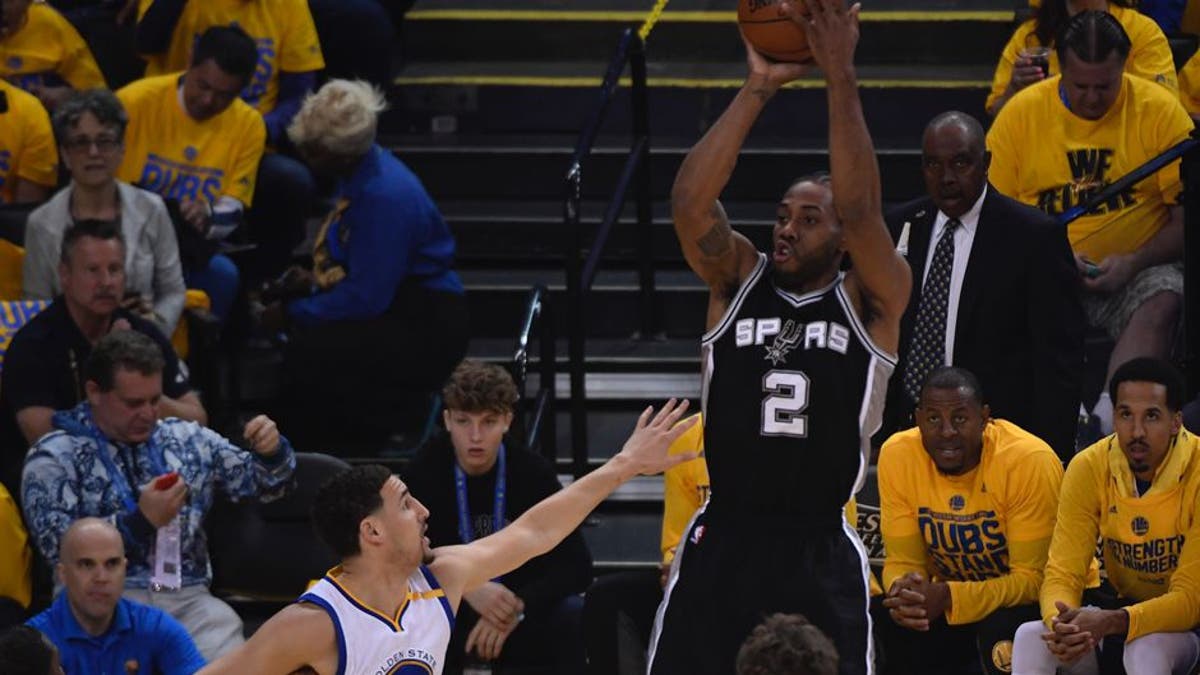 OAKLAND, Calif. -- San Antonio Spurs coach Gregg Popovich shifted the attention of the Western Conference finals away from his team's problems Monday and squarely onto what he labeled the unsportsmanlike means by which the Golden State Warriors grabbed an early lead in the best-of-seven series.
While disclosing that Kawhi Leonard would be held out of Game 2 on Tuesday night, Popovich blasted Warriors center Zaza Pachulia for contact on the Spurs star that the coach compared to manslaughter.
"This is (baloney). It can't be, 'Oh, this was inadvertent; he didn't have intent,'" Popovich said less than 24 hours after Pachulia, attempting to defend a 3-pointer, stepped underneath Leonard and caused an ankle injury that will keep the Most Valuable Player candidate out of Game 2, and perhaps longer.
Leonard underwent an MRI on his left ankle/foot Monday. It came back negative, which keeps the door open for him to return when the series shifts to San Antonio on Saturday.
"Who gives a (darn) what his intent was?" Popovich continued. "Have you ever heard of manslaughter? You still go to jail, I think, when you're texting and you end up killing somebody, but may have not intended to do that.
"All I care is what I saw. All I care about is what happened. And the history there exacerbates the whole situation and makes me very, very angry."
Popovich went on to cite three examples of unsportsmanlike acts Pachulia, formerly of the Dallas Mavericks, performed on his players.
One involved former Spurs big man David West, who is currently one of Pachulia's teammates on the Warriors.
West sidestepped the issue when asked about it at practice Monday, labeling Pachulia a guy who plays "hard."
If the goal of the accusation was to get people talking about anything other than the historic collapse of the Spurs in Game 1, Popovich succeeded. The only Warrior who wouldn't get sucked in was Draymond Green, but even his silence on the issue raised additional questions when he was perceived not to have had his teammate's back.
Warriors coach Mike Brown went as far as to accuse San Antonio's LaMarcus Aldridge of similar tactics against Stephen Curry on Sunday.
You never would have known the Warriors were riding the incredible high of having erased a 20-point halftime deficit with the third-biggest comeback in NBA playoff history.
"So, Game 2?" Green queried at one point, attempting to change the subject.
Playing brilliantly on both ends of the floor, the Spurs led the series opener 78-55 after Leonard had made his two free throws following the Pachulia foul with 7:53 left in the third quarter.
Leonard never played again, and a team that had scorched the Warriors for 78 points in 28 minutes was held to 33 in the final 20.
Spurs veteran Manu Ginobili was brutally honest afterward, fearing his team had just lost Game 2 as well.
"It's the toughest part," he said when asked to project the Spurs' ability to bounce back. "It's very hard to react from a game like this. I always prefer to lose by 20 … in which case the home team relaxes a little bit, feels good about themselves, and we are hurt, we are angry. (But) the opposite happened.
"We played an outstanding game for a half and a little bit. Then they came back. They overplayed us. They were more aggressive. They made more shots. So if it wasn't bad enough, we lost our best player that was struggling already with a bad ankle. So it's hard to see the positives, even though we were 20-something up. A very bad outcome of the game."
The status of Warriors super-sub Andre Iguodala for Game 2 remained up in the air Monday after he underwent an MRI on his sore left knee.
Iguodala sat out the second half on Sunday, although Brown insisted afterward it was more of a coach's decision than a necessity.