Tenacious Landeskog breaks Swede stereotype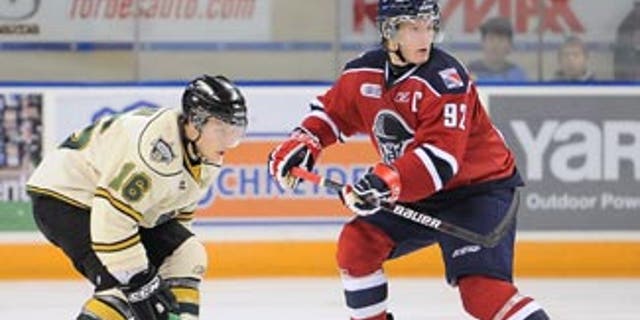 TORONTO -- Gabriel Landeskog of the Ontario Hockey League's Kitchener Rangers isn't your typical swift-skating Swede.
He comes with a lunch pail, packs plenty of power and knows the English language as well, if not better, than most Europeans playing professionally today.
Off the ice, the 6-foot-1/2, 207-pound native of Stockholm oozes confidence -- his blonde hair and stern grin provide a glimpse of what could be a very marketable asset, too.
On the ice, the stout left winger backs it up with a feistiness reminiscent of two of the game's grittiest Swedes in Henrik Zetterberg and Johan Franzen of the Detroit Red Wings. He also admired the way one of the country's most decorated players -- Peter Forsberg -- went about his business on the ice. Heck, he's even gone on record as saying he doesn't want to be considered a "soft European player."
"I think it all started when we were allowed to hit (in Sweden) at age 13," Landeskog said. "My dad used to play and he was a big physical defenseman and he gave me advice. He said, 'It's not bad to play physical and it's an asset to your game.' I started young and came along with it and have been using (that physical approach) to my advantage now."
Tony Landeskog, Gabriel's father, starred in the Swedish Elite League as a defender for Hammarby from 1977-85.
But will Landeskog's no-nonsense, in-your-face approach land him a roster spot in the NHL next season? Now that his season has ended, the draft is certainly on his mind.
"Last year, I watched (former Kitchener Ranger) Jeff Skinner and how he reacted and handled himself around all this kind of stuff," Landeskog said. "I guess I'm a little bit more under the spotlight now than the year before. It's exciting though; I watched Taylor and Tyler soak it all in and they stress to just enjoy it."
It certainly appears that Landeskog is on the fast-track to NHL greatness, particularly as the No. 2-rated skater on NHL Central Scouting's final list for the top domestic players eligible for the 2011 Entry Draft in St. Paul, Minn., on June 24-25. Most scouts peg Landeskog as the most NHL-ready of the entire class.
The Edmonton Oilers, Colorado Avalanche and Florida Panthers own the top three picks in the upcoming draft.
"He's more mature than the other top picks right now and he could probably step in and play sooner than the other picks depending on which team takes him," Central Scouting's Peter Sullivan told NHL.com. "He reminds me a lot of former Kitchener Ranger (and current Philadelphia Flyers captain) Mike Richards. He sticks up for his teammates, he's strong at both ends of the rink and he competes as hard, if not harder, than anybody. He's got all the assets that you need to be a team leader; that's what you'd want your No. 1 pick to be."
Landeskog was named captain this season -- his second in the OHL. While there's pressure wearing the "C", he still produced 36 goals, 30 assists, a plus-27 rating and 61 penalty minutes. In Kitchener's seven-game setback to the Plymouth Whalers in the opening round of the OHL playoffs, he had 6 goals, 10 points and a plus-1 rating.
"Landeskog's game is developed for up and down the wing, disciplined and doing the little things right," Central Scouting's B.J. MacDonald said. "He'll fit in nicely because he does his job and I think that's the difference between Gabriel and Ryan Nugent-Hopkins -- Hopkins will be more prolific down the road while Landeskog will be more steady, tough, the grind-it-out type, at the next level.
"That's the one edge Landeskog has this year -- his size and physicality. He uses that to maneuver and manipulate the opposition he plays against, but he'll have to learn to do that against players just as big and strong and smart as he is at the next level, so it'll be interesting to see how he tackles that."
Prior to being named Kitchener's Rookie of the Year and becoming a member of the OHL's All-Rookie First Team in 2009-10 after producing 24 goals and 46 points in 61 games, he was the youngest player to suite up for Djurgarden in the Swedish Elite League at 16 years, 90 days.
It was an eye-opening experience for Landeskog, who felt primed for the challenge. When asked his feelings on being dropped a notch by Central Scouting after being regarded as the top guy on the mid-term ratings in January, Landeskog shrugged.
"Honestly, I wasn't really expecting anything less because (Ryan) Nugent-Hopkins has had a great season, especially in the second half," Landeskog said. "He's been really on fire, so I'm happy for him (receiving the No. 1 rating). It'll be an honor for me to be picked whatever team wants me. That would be an honor. I don't think it matters where you go or what number you're taken at, it's still going to be a very exciting time."
But Landeskog, 18, who openly admits he wasn't a very good hockey player at a younger age, has developed a knack for this game. He competed for Sweden at the 2009 World Under-18 Championships, Under-20 Four Nations Tournament in Finland and one game of the World Junior Championship in Buffalo, N.J., before suffering a tournament-ending ankle sprain.
"I try and pattern my game like Jerome Iginla (of Calgary) and Mike Richards (of Philadelphia)," Landeskog told NHL.com. "They're kind of my role models. I look a lot like how they play, and I want to be a leader like they are for their teams."
MacDonald believes Landeskog has those qualities.
"He's the type of player coaches and general managers love because you know what you're getting with him," he said. "You know you'll have that skill level and product for at least 15 years. You hear a lot of scouts say he has a pro-style game and they're right. In saying that, they mean that when you get to the NHL level, everyone on the ice does their job properly so when five guys are together, everything works. If one guy doesn't do his job properly, than it sort of falls apart … it's that fine a line."
Follow Mike Morreale on Twitter at: @mike_morrreale