Still Standing: Aroldis Chapman Back In Reds' Dugout After Taking Line Drive To Face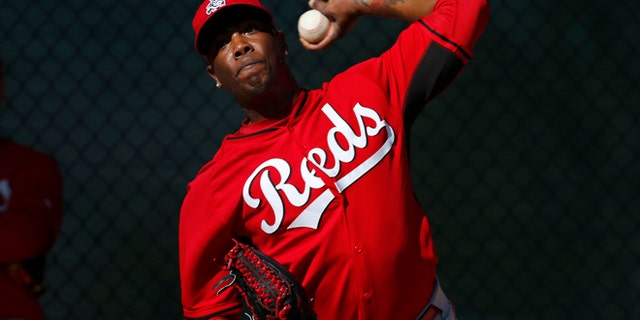 GOODYEAR, Ariz. (AP) – Aroldis Chapman, with two black eyes — and a big smile — returned to the Cincinnati Reds' clubhouse Sunday, four days after being hit in the face by a line drive.
"I feel a lot better than I thought I would," Chapman said, wearing a hat with the brim pulled down cover the surgical staples.
The 26-year old left-hander had surgery Thursday to repair a broken bone above his left eye at Banner Good Samaritan Medical Center in Phoenix. A night earlier, he was hit by a ball off the bat of Kansas City's Salvador Perez.
Chapman knew immediately after impact that he was going to be fine in spite of the pain.
"You don't have time to think about it but even when I was on the ground, I didn't have any bad thoughts in my mind about what I was going through," said Chapman through an interpreter. "It didn't bother me until they told me that it would be two months before I could pitch. That was what made me mad."
Chapman will begin cardio and throwing off flat ground in eight to 10 days. He is expected to be out six to eight weeks.
Chapman's face began to swell and he didn't know the consequences immediately after be hit. It was questions about playing rather than healing came to him on the ground while paramedics attended to him.
"It was the first time in my life that anything like that happened to me," Chapman said. "I haven't thought about what will happen. I will have to get over it. My first thoughts are, I will have to throw more inside. I can't leave the ball out over the plate."
Chapman received a great deal of support from teammates, opponents, other Cuban players in the United States and many people around world.
"I feel happy that this many people came to me. All my teammates came to see me. All the Cuban players in this area came to see me. A lot of people prayed for me and contacted me on social media. That made me proud and happy," he said. "I didn't see my father on the mound that night but I saw that he was there when I saw the video. You couldn't asked for more than to have your father there. I chose not to send for the rest of my family. I didn't want to put them through stress."
Chapman watched the video several times.
"After watching the video many, many times, every time I see it I feel happy. This could have been something worse. The way I feel now, I have no pain right now. I put a picture on Instagram. So many people around contacted me to see how I was. I couldn't contact them all so I put out the picture to let them know how good I felt."
The Reds are using the last week of spring training to find a closer to replace Chapman, who will be one of six Reds' players to start the season on the disabled list.
Follow us on twitter.com/foxnewslatino
Like us at facebook.com/foxnewslatino