Is U.S. Professional Soccer Poised To Reach Its True Potential?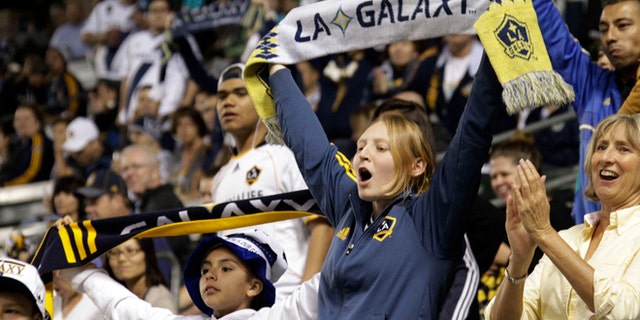 NEWYou can now listen to Fox News articles!
The 19th season of Major League Soccer began on Saturday afternoon in Seattle with a taut game between last season's champion, Sporting Kansas City, and the hometown Sounders.
The match was decided in a frenzy with less than a minute left in stoppage time. Clint Dempsey's header caromed off the crossbar and straight to Seattle newcomer, Chad Barrett, who calmly netted the game-winner.
Even if you haven't been paying attention to MLS the last few years, a growing number of people have started to care. Really care.
But while individual MLS markets have developed strong loyal followings, it hasn't achieved a more general level of attention that the NFL, NBA and Major League Baseball command.
For instance, the 2013 championship game, a 1-1 (7-6) win on Pearl Harbor Day that ended with Real Salt Lake's Lovel Palmer missing a penalty kick against Sporting K.C., barely registered on the national radar. A quick scan of dozens of front pages from newspapers across the country shows that many, like the New York Post and Baltimore Sun, chose to report on the game only in their "in brief" or "sports shorts" items.
As for TV viewership, the MLS playoffs averaged 300,000 viewers, a healthy jump of 9 percent from 2012, according to the Nielsen company's 2013 Year in Sports Media Report. But no MLS game was in the Top 10 telecasts of soccer games in terms of ratings. English Premier League, Gold Cup, Confederations Cup matches, World Cup qualifiers and even friendly matches all drew bigger numbers than the MLS did.
But MLS has two major advantages over its soccer and non-soccer sports competitors: It has a growing fan base, and that fan base skews young. Nielsen's figures show that 40 percent of the MLS television audience is younger than 34. And the last ESPN Sports Poll Annual Report found that soccer was the second-most popular sport among 12 to 24 year olds. (American football is tops.)
To say that those numbers have caught people off guard is an understatement. Even Dan Courtemanche, executive vice president at MLS, admitted to Fox News Latino, "We were pleasantly surprised by [the ESPN poll], and it bodes well for the future of the game."
Among those ranking themselves as "avid" fans, however, MLS scored 18 percent — a virtual tie with Major League Baseball for fifth.
Rich Luker, whose Luker on Trends conducts the ESPN poll, told ESPN FC recently, "It is phenomenal that in just one generation [the MLS] has gone from zero adherents to tying MLB." He added that, "It was not so long ago we used to do focus groups and raise MLS to the room and hear crickets in response ... Over the last five years, our research shows even American [soccer] fans who were born in other parts of the world, like Europe and South America, are starting to respect MLS."
Like most sudden changes, this transformation didn't happen overnight.
Soccer Made in the U.S.
It may seem as if the explosion of American kids who play soccer during their school years is a recent occurrence, but it is something that's been happening for decades.
When 49-year-old Sam Gonzalez was growing up, the North American Soccer League — of the New York Cosmos and Pelé and the Tampa Bay Rowdies and Derek Smethurst — was the major U.S. soccer league, and he didn't pay it any attention.
As a preteen in South Florida, Gonzalez told Fox News Latino, "I would wake up weekend mornings to watch, 'Soccer Made in Germany,' which showed clips from Bundesliga games. That's how starved I was for soccer."
In many ways, Gonzalez should have been the perfect target for the MLS when that league opened for business in 1996: he was a devoted soccer fan who played in high school and at Miami-Dade College and Florida International University, he rooted for Colombia, where his roots are, and the United States in World Cup play.
Today he has three kids whom, he said, "I brainwashed early on."
He has even taken his family on European vacations and watched Atlético Madrid and Manchester United play.
But the U.S. leagues never captivated him. He went all of once to watch Miami's first MLS franchise, the Fusion. Why did he go that time? "Because they had a Colombian national team player on the team."
Unlike other newly organized sports like mixed martial arts or snow-boarding, there were already plenty of soccer fans in the U.S. They were immigrants who had grown up elsewhere and had mixed allegiances, or people who had grown up playing soccer in schools and travel teams, or people who had, for one reason or another, developed rabid attachments to teams and players in the English Premier League or the other top international leagues.
It would have seemed about the simplest thing in the world for MLS to tap into that fervor right away. But it didn't happen.
"I didn't ever think that MLS was a real league," said Nick Chávez, 29, who now blogs about the Manchester City/New York Yankees-owned MLS franchise, New York City F.C. A big fan of Real Madrid and the Costa Rican national team when growing up, Chávez admits that he was a bit of what he calls a "Euro-snob." "I watched Champions League and the World Cup, but MLS was like, 'I can't watch that crap,'" he said.
Then Chávez realized that, "if you follow the league, you are actually helping to change that perception."
It may also help that the league and its teams have been willing to pick up a few pointers from overseas.
Instead of insisting on Americanized team names like the Colorado Rapids, MLS franchises recently have opted for names more in keeping with European club names—Sporting Kansas City or Toronto F.C., for example.
Chávez also pointed out that the logos tend to be different now, too. "They used to have these extravagant pop colors, like NBA teams."
Possibly the biggest change is the move away from the multi-purpose stadiums that seated 50,000 or more and sat mostly empty. (There are still four multipurpose stadiums in use in the league, including Gillette Stadium in Foxborough, Mass., and RFK in Washington, D.C., but even those have artificially-reduced capacities when set up for MLS matches.)
Yang Goh, a 23-year-old magazine editor in Toronto, grew up an avid Tottenham fan. He first started getting interested in MLS while in grade school, but he found that "the old MLS model was to try to attract soccer moms and make it a family experience – to me it never seemed real."
But he is now a big supporter of Toronto F.C., and home games, Goh said, now feel like an "authentic soccer experience ... There is a supporter-only section, raucous atmosphere, singing, excitement."
Mariano Trujillo agrees. He is a former Mexican league star and now a soccer commentator for Fox Deportes for Champions League games. Toward the end of his career, Trujillo played for Chivas USA, which is based in Los Angeles.
"The league connecting to fans," he said, "is going well. In Seattle, games are completely packed. Stadiums are sold out, with people jumping, singing, dancing."
Trujillo mentioned a day a couple of years ago, when he was on the backup squad for Chivas. "I remember playing in a reserves game in Portland at 11 a.m. on a Wednesday. The stadium was 60 to 70 percent full. It was amazing," he said. "That would have been surprising in Mexico or Brazil."
A Rising Tide
The way Courtemanche sees it, the MLS is about to have a big moment. For one thing, it's a World Cup year, and, "I'm a firm believer that a rising tide lifts all boats."
He pointed out that nearly 25 million people in the U.S. watching the Spain-Netherlands final in 2010, and that more than 20 million watched the U.S. take on Ghana in Round 16.
The league, which is in the last year of its television contract, could be on the cusp of a big pay day. "We are in discussion with multiple partners and are hoping to finalize an agreement in the coming months."
He also points to the league's aggressive expansion plans — adding franchises in New York City and Orlando in 2015, Miami in 2016, and, most likely, Atlanta and Minneapolis after that.
Driving the change, he says, are two things: World class facilities and world class players, both foreign and home-grown. "We are the league of choice for many players," Courtemanche said. "Our training grounds, our resources, our use of data analytics are world class."
Add in the way "fans have organized themselves in a professional manner with chants and cheers over the last four or five years," and what you have, Courtemanche said, is an organization that is "on a path to be one of the best leagues in the world by 2022."
But for every MLS convert, there is still a naysayer. Someone like Gordon Dritschilo, a 38-year-old reporter in Rutland, Vermont. A lifelong Man U fan whose father once shared the pitch with U.K. legend George Best, Dritschilo makes a concerted effort to watch MLS games.
"A couple of times a year, I try," he said, "but it's boring. The pace is slow."
Trujillo disagrees about the pace. "It's physical and fast," he said, but acknowledged that "maybe the technique is not as great as in other leagues."
Which may be the Achilles heel of the MLS game. As Nick Chávez pointed out, "Europeans trust American players, but they don't trust American coaches."
In recent years, teams from the best European leagues have gone shopping for playing talent in the U.S., but coaches? About the only American working overseas is former U.S. national squad coach, Bob Bradley, who is the manager of Stabaek IF in Norway.
But Chávez envisions a future in which that's all changed. "There is a new generation of MLS coaches, people like Mike Petke [at New York Red Bulls] and Jason Kreis [who in December left Real Salt Lake to take the helm at NYC FC], who could become stars," he said. "I predict that it will happen."