Standard business: Chizik has Heels believing on defense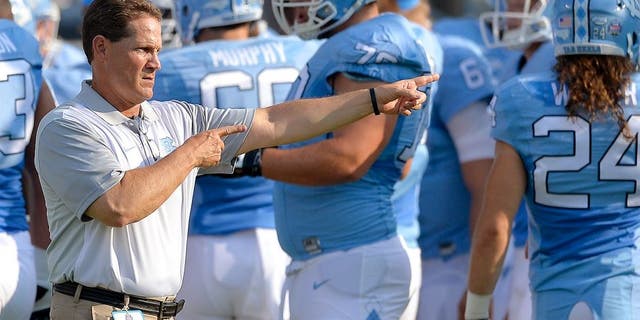 North Carolina defensive coordinator Gene Chizik has revamped a Tar Heels defense that was one of the worst in school history last season. Grant Halverson USA TODAY Sports
Something had to change.
In 2014, East Carolina, a scrappy Group of Five team, had handed in-state rival North Carolina a historic, 70-41, beatdown that was so bad it forced Tar Heels head coach Larry Fedora to reconsider who he was a person.
"It makes you re-evaluate everything," Fedora said after the game. "It makes you re-evaluate who you are, who I am, and who we are as a football team. And we'll find out a lot about who we are. We really will."
The 70 points surrendered to the Pirates that September day were the most allowed by a North Carolina defense in school history, as were the 789 yards of total offense. What Fedora would come to discover following the loss was that the Tar Heels were bad on defense -- historically bad.
North Carolina ended the year with a 6-7 record and ranked last in the ACC in scoring defense (38.9 ppg), pass defense (263.5 ypg) and rush defense (232.2 ypg). UNC also gave up a total of 495.7 yards per game, which ranked 115th nationally, and allowed opposing teams to break the 40-point mark in six games.
It's a far cry from the unit that's currently ranked 16th in the country in scoring defense and has powered North Carolina (7-1, 4-0) to the top of the ACC Coastal Division heading into Saturday's showdown with archrival Duke (6-2, 4-1).
"It's just confidence. It's a lot of the same guys, it's just strictly confidence," Fedora said. "It's totally understanding what's expected of them and trying to meet those standards each and every day."
Those standards were put in place by Gene Chizik, the man who was tasked with mentally and physically piecing together a UNC defense that was completely dismantled during the offseason.
Upon conclusion of the Tar Heels' final game last year, Fedora made good on his promise to re-evaluate everything, then proceeded to take a wrecking ball to his defensive staff. Gone was third-year defensive coordinator Vic Koenning and his 4-2-5 system, while every other defensive coach was either let go or resigned.
Once the dust settled, Fedora made what might turn out to be the best move of the offseason when he tabbed Chizik, the former Auburn coach who won a national championship in 2011, to rebuild the defense from scratch.
"Gene Chizik believes in competing at the highest level both on and off the field and is another highly regarded leader for our program," Fedora said at the time.
Chizik, who won his first national championship when he was a defensive coordinator at Texas in 2005, employed his 4-3 defense at Chapel Hill, but more importantly instilled confidence in his players
"He's great with strategy, but it's more about the mindset he brings to the defensive unit on a daily basis," Fedora said. "It's his attention to detail, setting standards and expecting guys to meet those standards. I'm pleased more with what he does on a daily basis than just an in-game strategy."
Fedora is also pleased with what he's done on game day. The Tar Heels field the third-best pass defense in the country (152.9 ypg) and yield a mere 17 points per game to rank 16th in the nation in scoring defense.
"Gene Chizik is an outstanding defensive football coach. They've done a really nice job," Duke head coach David Cutcliffe said. "The biggest statistic you look at is that they keep people out of the end zone."
Powered by sophomore strong safety Donnie Miles, whose 66 tackles ranks seventh in the ACC, North Carolina's secondary has been outstanding, holding teams to 5.6 yards per pass. A dramatic improvement from the 14.6 yards per throw teams gained last season.
As a unit, the Tar Heels flock to the ball like a pack of lions to a gimpy zebra at the Serengeti. Through seven games UNC has allowed only 12 plays of 15 yards or more, which at the current pace would be a drastic improvement from the 38 it gave up last season.
"They're not giving up explosive plays," Cutcliffe said. "They know exactly what they're doing. Their safeties are active in the passing game. Their linebackers are outstanding athletes.
"… Their back end has just been outstanding. Their corners, their safeties and 'backers just prevent big plays. … It's really a challenge to try to put points on the board. That's the biggest difference."
Indeed.