Stacy Lewis takes 1st step toward 3rd major title with strong 1st round at US Women's Open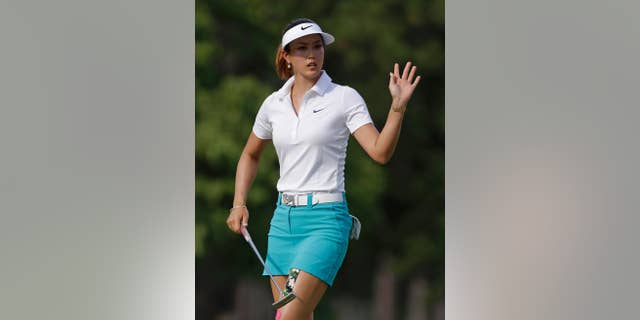 PINEHURST, N.C. – The tougher the course, the more Stacy Lewis enjoys it.
She's having a blast on Pinehurst No. 2 so far.
The top-ranked Lewis took an encouraging first step toward her third major title Thursday, shooting a bogey-free, 3-under 67 to take a one-stroke lead over Michelle Wie at the U.S. Women's Open before play was halted because of severe weather with 30 players still on the course.
"Once you get one under your belt, it's contagious," Lewis said. "You just want to win more and more. And a lot of times you're announced on a tee or introduced as how many Solheim Cups you've played on and how many majors you've won. Winning all of them is something I'd like to do some time down the road."
That means finally winning a Women's Open.
She hasn't finished in the top 10 at one since she was tied for third at Mission Hills in 2008, and her major victories have come at the 2011 Kraft Nabisco Championship and at last year's Women's British Open.
She called this "an easy day" — a reflection on her game, not the Pinehurst No. 2 course.
"I just have geared my game towards majors," Lewis said. "I love it when it's hard. I love it when you have to grind. I love it when you have to make 8- and 10-footers for par. It suits me and my game."
Pinehurst No. 2 was rough on the men last week during the U.S. Open and now it's being rough on the women.
This is the first time the men's and women's opens have been played on the same course in consecutive weeks.
The course measured 6,296 yards — a little over 1,000 yards shorter than it did a week earlier for the men — but the lack of cloud cover and sweltering, green-drying temperatures in the 90s meant it played just as tough, at least until the storms prompted the suspension of play. The scoring average for the women was 75.73 — about 2 1/2 strokes higher than the men averaged during their first round.
Of the players who finished their first round, only five shot in the 60s: Behind Lewis and Wie were former Women's Open champion So Yeon Ryu, Katherine Kirk and amateur Minjee Lee at 69.
"On this golf course, you make a couple of mistakes, you can easily shoot a high number," defending champion Inbee Park said after her 76.
Here are five things to watch for when play resumes Friday morning:
TOUGH LI: The youngest player to qualify for the Women's Open has some work to do to become the youngest to make the cut. Eleven-year-old Lucy Li was solid for 15 of 18 holes, but a triple bogey and two double bogeys left her 11 strokes behind Lewis and in need of a big day Friday to make it to the weekend. "I just need to get rid of the big numbers," she said.
NOT SUNDAY YET: Wie insists it's too soon to start thinking about winning her first major championship because "it's a long road until Sunday." But she certainly put herself in position to challenge for it, finishing with four birdies on the back nine. Wie's last major was her best — she finished second to Lexi Thompson at the Kraft Nabisco — and she has eight top-10 finishes in 12 events this year. "If I keep doing what I'm doing now, I'll be close," Wie said, "and hopefully I'll be there Sunday having an opportunity, and that's really all I can ask for."
THEY'VE STILL GOT IT: Ryu wasn't the only past Women's Open winner to start strong. Karrie Webb, the last player to win it two years in a row (2001-02) opened with a 70, as did 2010 champion Paula Creamer. "I think it helps a lot having to have won an open and then constantly giving myself opportunities," Creamer said. "You learn a lot." And 53-year-old Juli Inkster, who has said this Women's Open will "probably" be her last, shot a 71.
PARK IN REVERSE: Park won her second Women's Open title last year. She faces a tough path to her third. She was nine strokes behind Lewis after getting into trouble with a run of three bogeys in six holes and, later, with two double bogeys. "My plan has definitely changed," Park said. "Not so much about the trophy now anymore, just trying to keep it into play."
TOP AMATEUR: Minjee Lee was the only amateur to finish under par. The Australian who won the 2012 U.S. Girls Junior began and closed her round with birdies and had an eagle on the par-5 fifth. For a while Thursday afternoon, though, Pepperdine's Marissa Chow had the top of the leaderboard all to herself after moving to 4 under. But three straight double bogeys sent her tumbling, and she was at 3 over through 15 holes when play was halted.
___
Follow Joedy McCreary on Twitter at http://twitter.com/joedyap