Spring training promises intrigue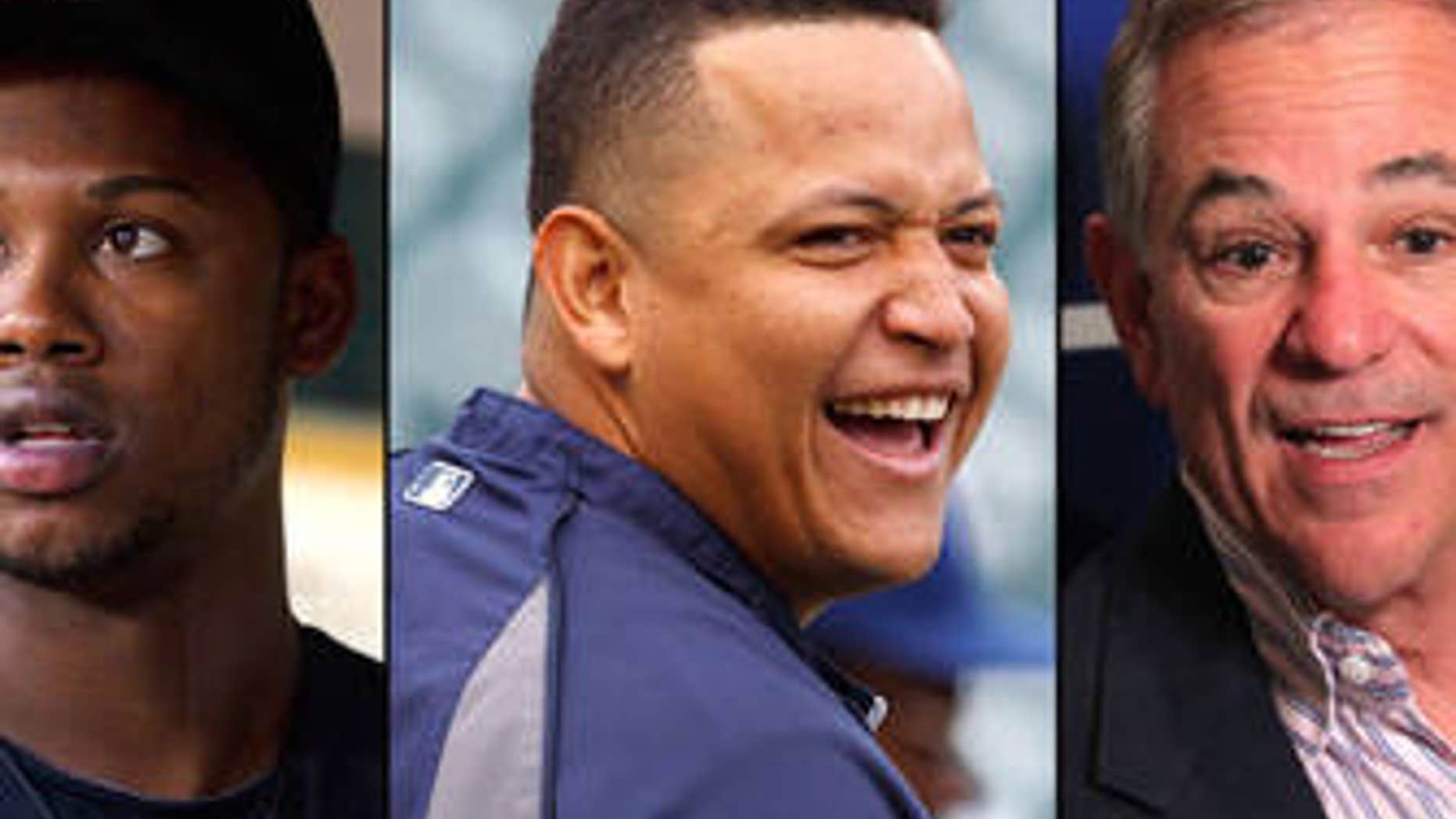 Here we go.
Spring training is upon us, and storylines abound.
The offseason is when big changes occur. The spring is when teams start toying with their new pieces, an exercise that is always fascinating.
In compiling a list of the things that most intrigue me, I stuck mostly to developments that will occur on the field, though Ryan Braun's appeal of a 50-game suspension for violating baseball's drug policy was too big a saga to ignore.
Frankly, my list is too short, but here goes.
Let the soap operas begin.
Ryan Braun
Simply put, the decision on his appeal by a three-person arbitration panel is the sport's biggest pending story, with an announcement likely in the next week.
Braun, in case you've forgotten, is the reigning National League MVP. If he is suspended, he still will be allowed to train with the Brewers and play in Cactus League games, which could make for some interesting scenes.
Something else to watch: Braun's public response if he is suspended. Would he give a detailed explanation for his actions? And would baseball challenge his version if the commissioner's office thought it necessary?
Braun likes to engage reporters, but the best guess is that he would address the media only once, limiting the distraction for his teammates.
The Red Sox. Ah, back to baseball. Sort of.
The first few days of Red Sox camp will be reserved for the "Fried Chicken and Beer Trials," with defendants Josh Beckett, Jon Lester and John Lackey all taking the stand.
Then again, new manager Bobby Valentine might not want to be upstaged.
Valentine, a legendary provocateur, already has told the Boston Globe that the players are bristling at his changes, saying that "a lot of people are frowning" over his spring training program.
What did the Red Sox expect after their historic collapse, free tee times courtesy of Bobby V?
As always, the Sox and all of their exaggerated dramas will be worth monitoring. The team might even stage a "Theo Compensation" party at their new spring home in Fort Myers -- that is, assuming a decision is ever reached.
As for actual spring training, yes, Valentine will do things differently. That's why the Sox hired him.
If the players don't like it, they should have worked harder to save Terry Francona's job.
Mike Matheny/Robin Ventura
These guys aren't just new managers. They're managers with zero previous managing experience.
Spring training shouldn't be a problem for either -- a coach generally organizes camp, and media scrutiny is minimal.
The players, though, will be watching.
Neither Matheny nor Ventura is far removed from his playing days. Both command respect, and are well-known within their respective organizations.
Still, stuff can happen.
None other than Cal Ripken Jr. once undermined the authority of a new manager, Phil Regan, by challenging changes to the team's cutoff plays. The circumstances were different -- Regan was 57 then, an outsider, new to the "Oriole Way." But the point still applies.
Once players smell weakness, look out. And players smell weakness quickly.
Yu Darvish
He doesn't throw a gyroball, so at least we won't have to go through that silliness again.
The frenzy over Darvish probably won't match the frenzy over the last supposedly great Japanese import, Daisuke Matsuzaka, who -- ahem -- didn't throw a gyroball, either.
Darvish, though, cost even more than Matsuzaka did -- a combined $111.7 million combined in contract and posting fee. And the media crush at Rangers camp will be impressive. The team expects close to 100 Japanese reporters, and plans to add a workroom, press seating and interview tent, as well as a new media entrance and parking lot.
How will Darvish adjust to the North American game? Check back after the regular season begins, and then again throughout his six-year contract. Matsuzaka was quite successful in his first spring with the Red Sox, but ultimately failed to fulfill expectations.
Yoenis Cespedes
Baseball people remain divided on the Cuban defector; one rival executive told me flatly, "He won't hit."
Cespedes, 26, certainly didn't distinguish himself in his brief stint in the Dominican Winter League. His performance in the Cactus League will be largely insignificant -- remember how poorly Ichiro started in his first spring? -- but you can bet scouts will be chirping.
The Athletics' four-year, $36 million commitment to Cespedes increases the pressure on him to produce immediately. If he does, perhaps the A's will try to extend his contract next offseason. They can also trade him later if they fear that he will bolt as a free agent; Cespedes' contract does not include a no-trade clause.
Hanley Ramirez. Will he create a fuss over his forced move to third base? Heap praise upon his new Marlins teammate, shortstop Jose Reyes? Do something Hanley-esque in between?
Manager Ozzie Guillen said of Ramirez on Thursday, "I don't think he's 100 percent on board. Not yet." But Ramirez, responding Friday on Twitter to a negative article in a Dominican newspaper, gave his strongest indication that his change in positions will be a non-issue.
"What will you say now since everyone knows I will be playing third base for the Marlins?" Ramirez asked in one tweet.
"Trying to tarnish my image with lies," he wrote in another. "Third base with the Marlins forever, baby."
Ramirez also appeared in excellent spirits Thursday, palling around with Reyes at the team's charity golf tournament.
Friends say that Ramirez has worked hard to recover from surgery on his left shoulder and badly wants to regain his status as an elite player.
So far, so good: Seems like his priorities are in order.
Miguel Cabrera
Unlike Ramirez, Cabrera actually is happy about moving to third, a position he last played regularly in 2007.
Many in the industry, though, doubt that Cabrera is agile enough to handle the switch back from first. In fact, many suspect that the Tigers' plan is a charade, and that Cabrera and Prince Fielder ultimately will share first base and DH.
I'll admit I'm skeptical. But I'm betting that the Tigers will do everything possible to make this work, and that Cabrera will, too.
Recent photos of Cabrera indicate that he is slimmed down considerably. He always has had great hands. And really, how high is the standard for defense at third, anyway?
The Cardinals won the World Series with David Freese at third last season. The Rangers made it to the Series with Michael Young the year before.
Cabrera should prove passable, if not Brooks Robinson.
Bryce Harper
He's only 19. He has yet to play at Triple A. Yet manager Davey Johnson already is talking up the outfielder for a spot on the Opening Day roster.
Don't count on it happening.
Even if Harper enjoys a monster spring, the Nationals have everything to gain by delaying his promotion until June.
Such a strategy, in addition to delaying Harper's free agency by one year, would ensure that he does not qualify for an extra year of arbitration as a Super Two player. The number of qualifying players with two-plus years of service increased from 17 percent to 22 percent under the new collective-bargaining agreement.
Not that it's necessary, but one way for the Nats to avoid the temptation to rush Harper would be to acquire a center fielder, something they've actually spent the entire offseason trying to do.
Jayson Werth could stay in right under such a scenario -- another plus. Mike Morse would move from left to first once Harper was promoted, and first baseman Adam LaRoche, if healthy and productive, could be traded.
The Angels' glut of first-base/DH types
As I wrote in December, Bobby Abreu looked like the Angels' odd man out even before the Angels signed free-agent first baseman Albert Pujols.
Angels GM Jerry Dipoto said then that Abreu's left-handed bat would help balance the Angels' predominantly right-handed lineup. But the Angels showed their hand with their willingness to move Abreu for Yankees right-hander A.J. Burnett. The deal did not happen because the Angels are on Burnett's no-trade list and he prefers to stay east for family reasons, sources said.
It's not out of the question that Abreu could open the season with the Angels -- Kendrys Morales has missed the past 1½ seasons with leg injuries, and Mark Trumbo is coming off a stress fracture in his right foot.
But even if Trumbo proves capable of handling third base -- a longshot due to the delay in his recovery -- something has to give.
Trading Abreu, who is due $9 million, would not be easy. A number of outfield/DH types remain on the open market -- Johnny Damon, Magglio Ordonez, Vlad Guerrero -- and all would come at less expensive prices.
Other spring-training moves
There actually could be a flurry. Right-hander Roy Oswalt remains a free agent, and a number of starting pitchers, most notably Nationals lefty John Lannan, remain available in trade.
The Rangers and Cardinals remain Oswalt's top choices, but neither team currently has an opening for a starter. Oswalt, 34, could sit out, wait for the right opportunity and join a contender after the season begins, one source said.
The Yankees are still busy; once they complete the trade of Burnett to the Pirates, they are expected to sign free-agent outfielder Raul Ibanez and infielder Eric Chavez.
The Athletics remain focused on adding a reliever -- a trade for Rangers right-hander Koji Uehara appears to be their first choice, with the signing of free-agent Mike Gonzalez a backup plan. The A's also are expected to sign free-agent DH Manny Ramirez, who will be suspended for the first 50 games.
Ah, Manny. A year ago he was in camp with the Rays, looking fit and telling writers, "Put in a good word for me." Little did anyone know, he was about to violate baseball's drug policy a second time and retire five games into the season.
That's spring training -- fun in the sun, storm clouds in the distance.
Here we go again.