SPENCER: What Code Of Conduct?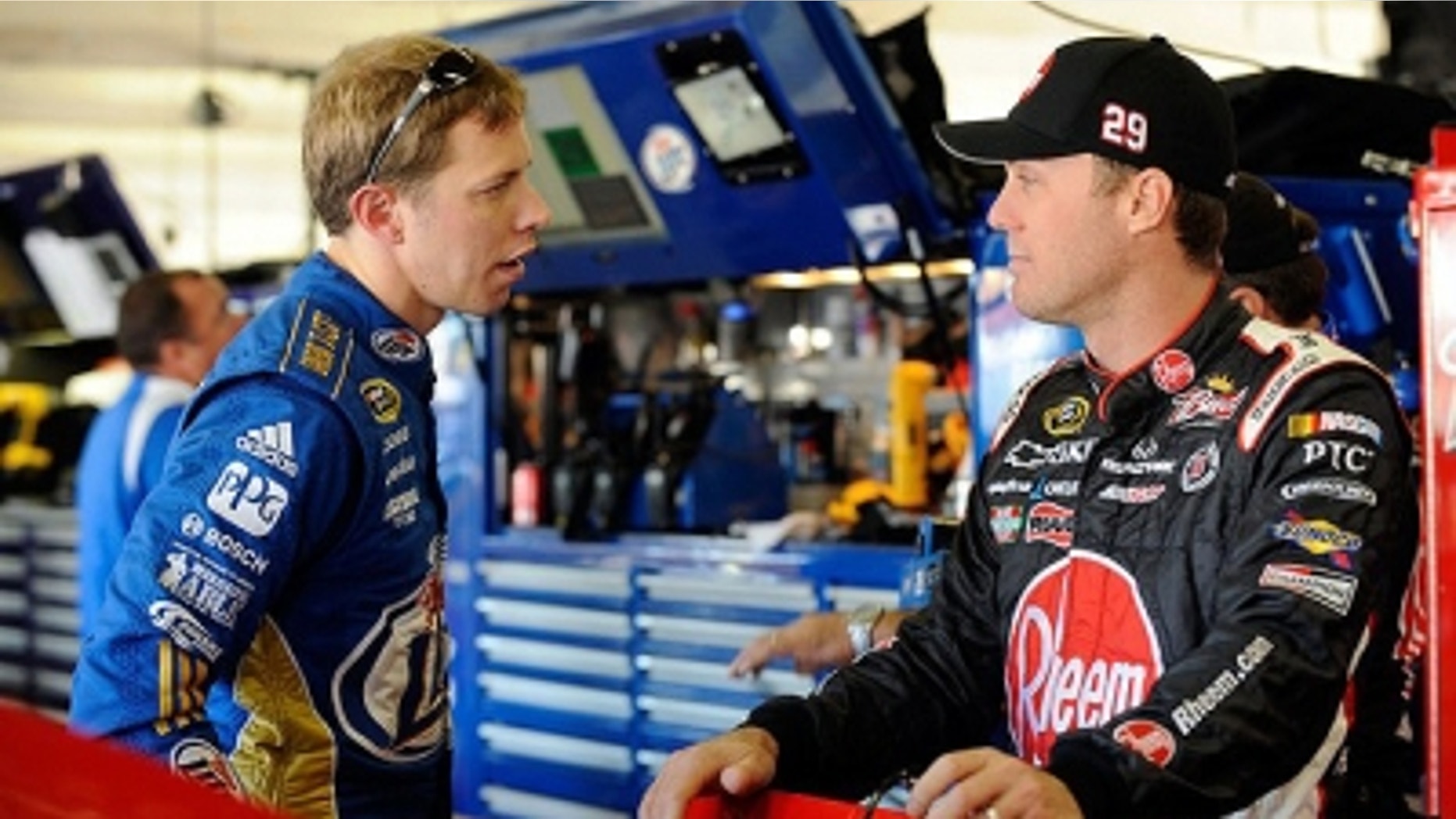 Last Saturday's NASCAR Nationwide Series race at Atlanta treated us to another episode of "drivers behaving badly."
In the latest installment, the offending parties were Brad Keselowski and Kevin Harvick. They each played both villain and victim (notice I didn't say "villain and hero") roles, and both were wrong at different times for different reasons. Keselowski, for deliberately throwing a water bottle out his window under green in an attempt to draw the caution flag, and Harvick for lightly smacking Keselowski's face when leaving their post-race media availability.
However, only one tried to wiggle and reason his way out of what he did wrong. Not only did Keselowski try to play dumb in his TV interview after the race, his toss of the water bottle was one of the most intentional attempts I've ever seen at trying to draw the caution flag. It couldn't have been more obvious. Did he forget he had an in-car camera? He was just a few laps away from needing to pit under green and didn't want to lose a lap doing so. So, he played dirty and chucked the bottle out the window. While NASCAR says the caution flag was not for the water bottle but rather for a piece of debris (that was up against the wall out of the racing groove), the caution flag cost Harvick an all-but-certain victory.
It is completely understandable and accepted to toss water bottles onto pit road under caution when exiting after a pit stop. But not on the track under green. That is not cool nor is it gentlemanly. Sure, guys have been throwing stuff out of their cars for years to get a caution when needed, but they oftentimes are caught and penalized. Recall the roll bar padding penalty Robby Gordon got a few years ago? Even the in-car camera caught Keselowski red-handed, but NASCAR didn't smack his hand.
The whole practice is just not right, and I'd like NASCAR to make a rule against it. I'm not big on overregulating the sport, but in this case, I'd like to see some enforcement. The sanctioning body had the perfect opportunity to set a precedent that deliberately trying to draw the caution is unacceptable, but they didn't take advantage of it.
NASCAR could have sent Keselowski to the tail end of longest line for the restart. Something. Anything. But yet they chose to remain inconsistent.
What happened was no different than an NBA player taking a cheap shot at another player with an elbow jab or a baseball pitcher throwing the ball inside and hitting the batter on purpose. It is not fair for one driver to affect the outcome of a race like this, but this scene will continue to play out until NASCAR demonstrates some consistency and enforcement. They need to make a rule stating drivers will be penalized for throwing objects on the track under green. If a driver wants a caution that badly, let's give him a break in the action. Bring him down pit road and hold him for a lap. There's your break.
Speaking of holding, I think we all held our breath for a few seconds while Keselowski and Harvick conducted their mandatory visit to the media center post-race to meet with the media. Seated alongside each other at the mic, the two traded barbs back and forth. But what really got everyone's attention was Harvick's parting shot. He tapped, or gently smacked, Keselowski's face upon exiting his seat, drawing nothing but a little smile from Keselowski. I'll hand it to the Penske Racing driver – he handled that very well. He has taken a lot of heat for not responding or retaliating against Harvick, but Keselowski did the right thing by staying in his chair.
Two wrongs don't make a right, and no driver should touch another. However, I sympathize with Harvick's frustration in feeling Keselowski had just cost him the win. I like the emotion we saw in Harvick but just wish he had kept his hands to himself. Take it from someone who learned the hard way.
By the same token, I'm guessing Keselowski won't be throwing any water bottles onto the track anytime soon, regardless of whether NASCAR rules against it or not. The public and driver backlash against that one action has been overwhelming, and very little of it was in his favor. If nothing else, that should tell him something about his actions. And if Keselowski is so brave as to try that trick again and it affects the outcome of the race, I don't think a water bottle would be the only thing laid out on the track.
Jimmy Spencer calls it like he sees it on NASCAR Race Hub on SPEED. He retired from driving with two NASCAR Sprint Cup, 12 NASCAR Nationwide and one NASCAR Camping World Truck Series victory, putting him in an elite group of drivers who have logged wins in all three of NASCAR's premier divisions. In 478 NASCAR Sprint Cup Series starts, Spencer amassed 28 top-five and 80 top-10 finishes. He won back-to-back NASCAR Whelen Modified Tour championships in 1986 and 1987 on the heels of 15 victories, becoming the first driver ever to earn consecutive titles in the series. He earned the nickname "Mr. Excitement" for his flamboyant and aggressive driving style early in his racing career.