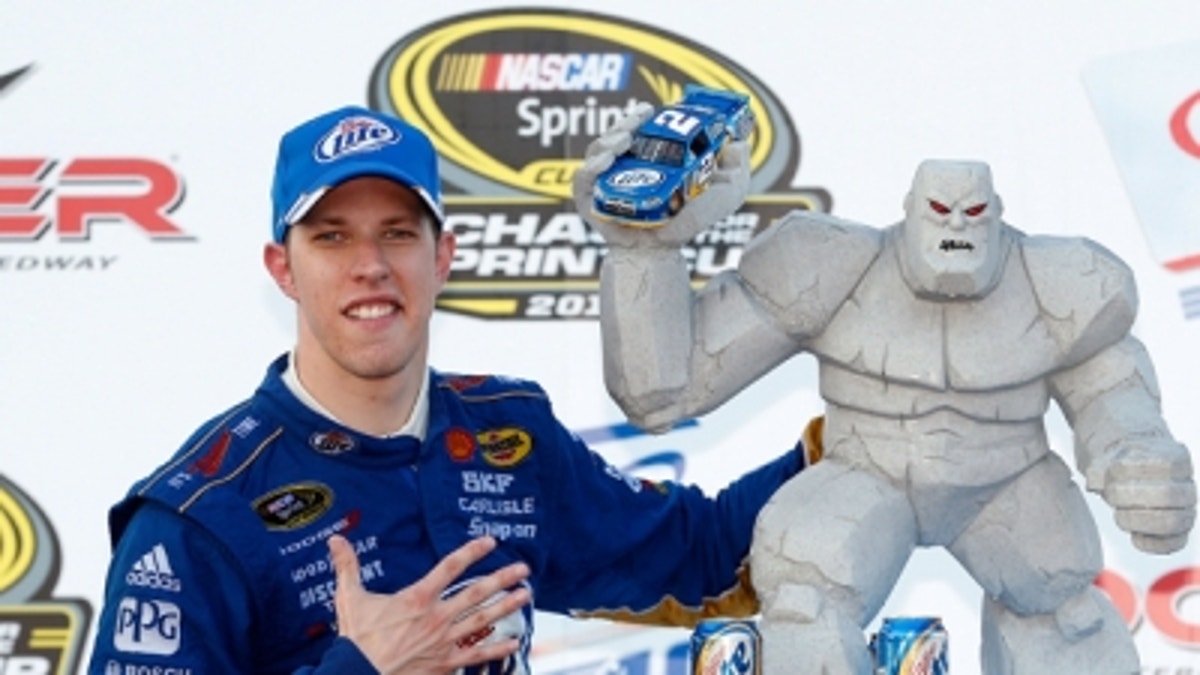 On Sunday the Chase for the Sprint Cup contenders weren't just racing for the win, they were running for the 2012 championship.
And for Brad Keselowski, slow and steady won the race.
No, Keselowski wasn't considered a favorite entering Dover International Speedway, but that didn't matter to him. His No. 2 Penske Racing team had the best strategy. While Keselowski's Dodge wasn't the class of the field, he just had to finish ahead of the Chase class — and he did.
Keselowski won the AAA 400 and regained the points lead with his fifth victory of the season.
Keselowski stopped for fuel during the fourth caution with just over 85 circuits remaining in the race. The radio chatter during the final caution on Lap 318 delivered the grim reality. "Eight to 12 laps short on fuel," was the message relayed. Even winning crew chief Paul Wolfe warned Keselowski he was 10 laps light.
Who would conserve? Who would be forced to pit? And who would gamble?
With the title on the line, five-time champion crew chief Chad Knaus refused to take any chances. Although Jimmie Johnson had gained the lead out of the pits on Lap 312 and carried it for 43 laps, Knaus told his driver with less than 50 circuits remaining to either back down his performance to 80 percent and sacrifice the lead or risk making a green-flag stop.
Johnson relinquished the lead on Lap 355 to Kyle Busch, who had led 267 circuits prior. But Busch and his teammate Denny Hamlin were in a similar position. However, neither driver conserved early enough in the run to make it to the finish. Busch sacrificed the lead to Hamlin when he pitted on Lap 390. Hamlin followed course on the next lap, giving Keselowski the lead — with 10 laps remaining — and eventually the win.
Jeff Gordon, Mark Martin, Johnson, Carl Edwards and Martin Truex Jr. rounded out the top six — the only cars to finish on the lead lap.
"That was no fun at all," Knaus told his driver.
Johnson agreed.
"It's a tough situation to be in but I'm more focused on the championship," said Johnson, who now trails Keselowski by five points.
Hamlin, who finished eighth — the first Chase driver off the lead lap — was equally frustrated at the style of racing but encouraged by the speed of the Joe Gibbs Racing cars. Still, Hamlin witnessed his deficit grow from six to 16 points behind Keselowski.
"You have to have the right strategy or you're (screwed)," he quipped, but the alternative — running out of gas — could have proved more costly. "It's so frustrating. All the hard work that you do — it just doesn't pay off. Same thing as Richmond, we just didn't have the fuel mileage. We choose to (have) the horsepower over the fuel mileage and some guys don't turn that way. When you have a race-winning car, you don't want to give up any of the horsepower."
Wolfe insists the team has never sacrificed "power for mileage" throughout the season and Dover was no exception. He just had to keep an eye on the competition around them in the closing laps.
"It's not always the fastest car that wins," Wolfe said. "At this point of the season, it doesn't really matter how you get to Victory Lane, it's just getting there. That's why I'm proud of the effort today."
Still, entering the final 10 races, Wolfe circled Dover on his calendar as the team's "weakest track in the Chase," which just pushed the group to work harder. When Keselowski yelled, "no weaknesses" after taking the checkered flag it was a rally cry of sorts.
He credited the "team effort" — pit crew, engineering and horsepower along with the right game plan — for helping him persevere in the end.
"I can't emphasize the word 'team' strongly enough because that's what this sport is," Keselowski said. "It's easy to get caught up in stat books and look at drivers and forget about teams."
Keselowski might not have been the story entering the race, but he certainly was after. He remarked on Twitter: "Hoping I brought the right attitude to win today. Judging by media, that's all it takes to win!"
One trait Keselowski has never been short of is attitude. But as Roger Penske reiterated for his driver, "let's just put the numbers on the board."
"I think they show what a team we had," said The Captain. "As he said earlier, we have seven more rounds here. Right now, I think he's doing a terrific job. I love the position we're in."
Playing favorites
NASCAR darlings Dale Earnhardt Jr. and Danica Patrick finished 11th and 28th, respectively. Earnhardt was two laps off the pace and remains seventh in the points standings.
Patrick completed 393 of 400 laps in her seventh career Cup start. She described her performance as "normal."
"I was a little bit slow to start," Patrick said. "The car was pretty tight to get going. That is a pattern for sure but it is better off that I start out a little tight and comfortable and we free it up rather than the other way around. We worked our way through it. The last run was decent. We made it better most every stop. That is a good starting place for next year when we get here and that is the point of these races."
Numbers game
6: Cars on the lead lap.
4: Top-five finishes for Kevin Harvick, who is currently ninth in the poinst standings.
9: Career Cup victories for Brad Keselowski.
19: Starts for Mark Martin in 2012, who is currently 25th in the points standings.
22: Top-10 finishes for Jeff Gordon in 40 Dover starts.
Say what?
Kyle Busch led 302 of 400 laps but a late-race stop for fuel dropped him to a seventh-place finish — the first car off the lead lap. Busch declined comment, but crew chief Dave Rogers explained the team's frustration.
"Kyle did a phenomenal job, but our numbers just said we couldn't make it. All race we're scanning everybody and every time the 2 (Brad Keselowski) or the 48 (Jimmie Johnson) would say they had to pit — it was five to six laps later than us. I knew they had better fuel mileage than us and I knew if it came down to a fuel-mileage race that we were going to be in trouble. We played our best cards and we came up short. There was no doubt that we had the fastest car today."