Soccer Roundup: Lionel Messi Tallies 84th Goal in Near Flawless Barca Season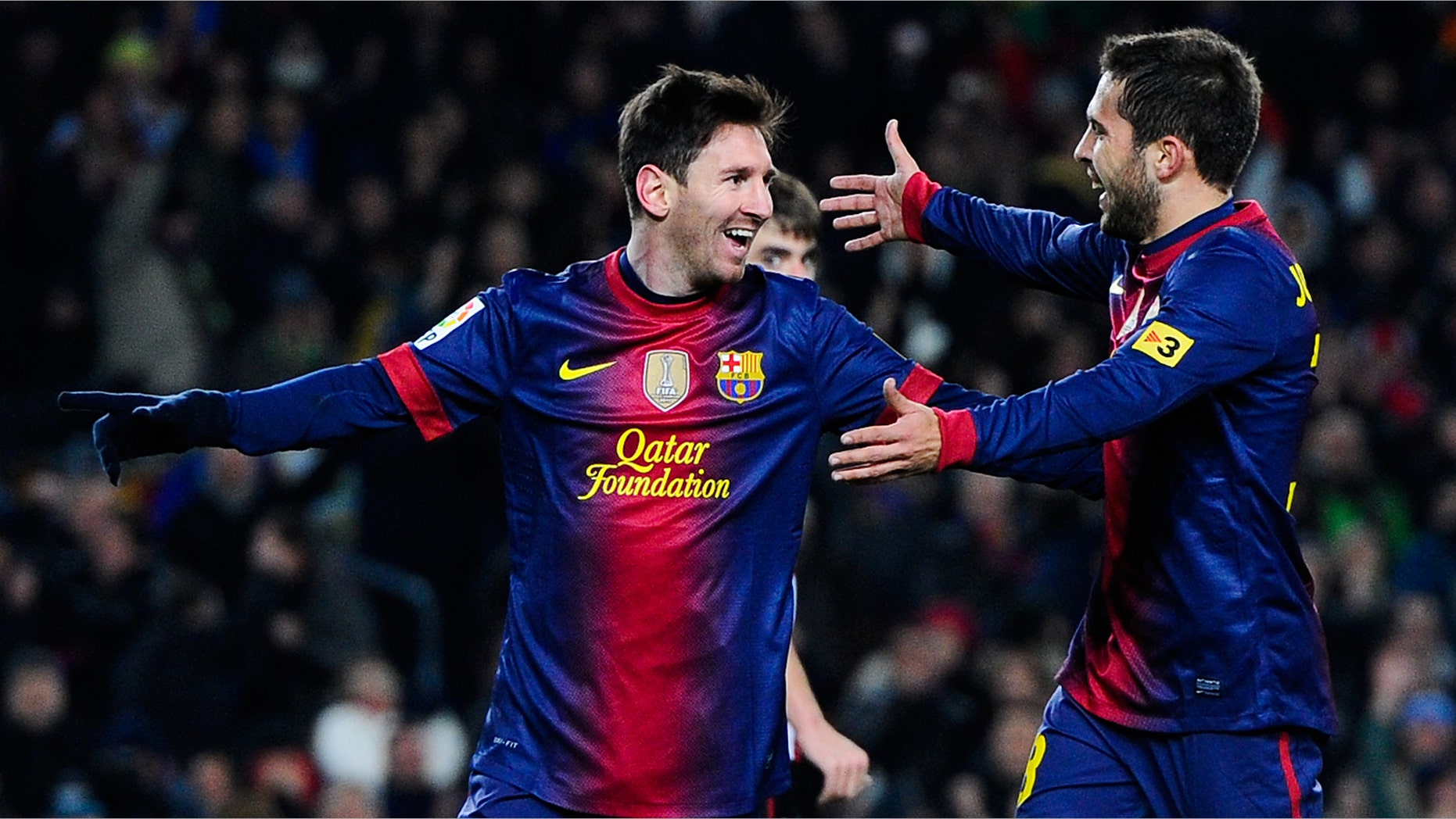 The Barca machine and Lionel Messi continued their roll through La Liga in Spain winning for an incredible 13th time in 14 games this season, the best Spanish start to a season ever after a 5-1 rout of Athletic Bilbao. Barcelona has accrued 40 out of a possible 42 points, with a 2-2 home draw with archrival Real Madrid as its only blemish.

The record was held by Real, which had collected 39 points in its opening 14 matches of the 1961-62 season.

The Argentine great twice found the back of the net to move within a goal of the record held by German legend Gerd Mueller, who tallied 85 goals in 1972. Messi can tie or even surpass Mueller when Barcelona meets Benfica (Portugal) in the UEFA Champions League on Wednesday.

Barcelona extended its lead over second-place Atlético Madrid to six points, which dropped a 2-0 decision at third-place Real. Madrid is 11 points adrift.

Tito Vilanova, in his first year as Barca coach, has directed this juggernaut. Not surprisingly, there were comparisons to former Barca coach Pep Guardiola, who had guided the team to 14 trophies during his tenure and 37 points in the first 14 games in 2010-11.

"Those four years will never be repeated for everything that was achieved, for the titles, the way we played," Vilanova told a news conference. "I feel proud because I was also part of that and I have only been in charge for a very short time.

"I am very happy to set the record of wins but I am more happy about the performance of the players, who knew how to control the game. Even though we were winning 5-1 we kept pressuring with the aim of scoring more goals. Playing like that for sure we'll be strong, we'll win a lot of matches and we'll be up there competing for titles."

Messi, who scored a goal in each half to give him 21 in 14 league games, and Gerard Pique and Adriano gave Barcelona a 3-0 halftime lead. Cesc Fabregas added a second-half score.

Real Madrid continued to dig out of its nightmare start as Portuguese international Cristiano Ronaldo ended a rare personal scoring slump with a 16th-minute goal. German Mesut Ozil scored in the 66th minute.

SPAIN

Carlos Vela

The Mexican striker put the finishing touches on Real Sociedad's 5-2 victory over Valencia in La Liga action. Vela converted a penalty kick a minute into stoppage time for Real. Spain's Roberto Soldado gave the hosts the lead with the first of his two goals in the second minute and added a second score in the 73rd minute. After the game, Valencia coach Mauricio Pellegrino was sacked.

Joel Campbell

On loan from Arsenal (England), the Costa Rican striker broke a 2-2 deadlock with a spectacular goal in the 77th minute to boost Real Betis to a 3-2 triumph over Deportivo Coruna.

Javier Aguirre

In his debut as Espanyol coach, the former Mexican National Team coach guided Espanyol to a scoreless draw at Granada. It was the team's first point in four games. "Anything you can get at this stage is good," Aguirre said.

ITALY

German Denis

Denis, an Argentine, tallied the equalizer in the 50th minute in Atalanta's 2-1 loss to Bologna. Denis' score in the 50th minute gave Atalanta a 1-1 tie, but Manolo Gabbiadini scored the game-winner in the 70th minute.

Santiago García

The Argentine's own goal helped Inter Milan to a 1-0 home victory over Palermo.

Edinson Cavani

The Uruguayan struck twice within a five-minute span in Napoli's 5-1 home win over Pescara. With Napoli leading, 2-1, Cavani slotted home a penalty kick in the 58th minute and gave the hosts a 4-1 advantage five minutes later.

Pablo Barrientos

Barrientos was given his marching orders in Catania's 3-1 home loss to A.C. Milan. When the Argentine was red carded in the 49th minute, Catania enjoyed a 1-0 advantage on the strength of Nicola Legrottaglie's 11th-minute score. After Barrientos was dismissed, Catania struggled mightily as Stephan El Shaarawy sandwiched two goals (53rd minute and two minutes into stoppage time) around Kevin-Prince Boateng's go-ahead score in the 56th minute.

ENGLAND

Carlos Tévez

An Argentine international, Tévez converted a penalty kick past U.S. National Team goalkeeper Tim Howard in the 43rd minute to help host Manchester City to a 1-1 draw with Everton. Tévez has lived dangerously this season as all four of his penalties this season have shot down the middle.

Juan Mata

Despite a new coach in Rafael Benítez, Chelsea's problems continued with a 3-1 defeat at West Ham United. Mata, a Spanish international, had given the visitors a 13th-minute lead before West Ham struck for three unanswered goals during a 28-minute span in the second half.

MEXICO

Richard Ruiz, Duvier Riascos

Only five years after its founding and 18 months after it was promoted to the first division, Tijuana earned its first league championship. Ruiz, a Mexican, and Riascos, a Colombian, struck within a two-minute span in the second half for Tijuana, which defeated Toluca, 2-0. Tijuana won the aggregate goals series, 4-1.

Johan Cruyff

The Dutch great was fired as a consultant by Guadalajara after he was hired in February. Guadalajara had been eliminated in the quarterfinals. "Guadalajara has decided to end its contract for services and advice with Johan Cruyff's consultancy by virtue of not having achieved the results and objectives set out at the beginning," the club said in a statement.

RUSSIA

Nicolás Pareja

The Argentine was one of two Moscow Spartak defenders who saw red in a 4-2 away loss to defending champion Zenit St. Petersburg.

ARGENTINA

Facundo Ferreyra

Ferreyra, the league's top goal-scorer, recorded a brace to power Velez Sarsfield to its ninth Argentine league crown with a game remaining. Sarsfield defeated Union, 2-0, at home to clinch the "Inicial" title.

FIFA CONFEDERATIONS CUP

México

México certainly has its work cut out for itself in the FIFA Confederations Cup next summer as El Tri were paired with five-time World Cup champions and host Brazil, four-time world champs Italy and Italy in Group A. Group B will be comprised of current World Cup and UEFA champion Spain, Uruguay, Tahiti and a yet to be determined Asian representative. The Mexicans will play Italy in Rio de Janeiro on July 16, take on Brazil in Fortaleza on June 19 and complete group play against Japan in Belo Horizonte on June 22.