Soccer Roundup: Chicharito Is Down, Rafa Marquez May Be Out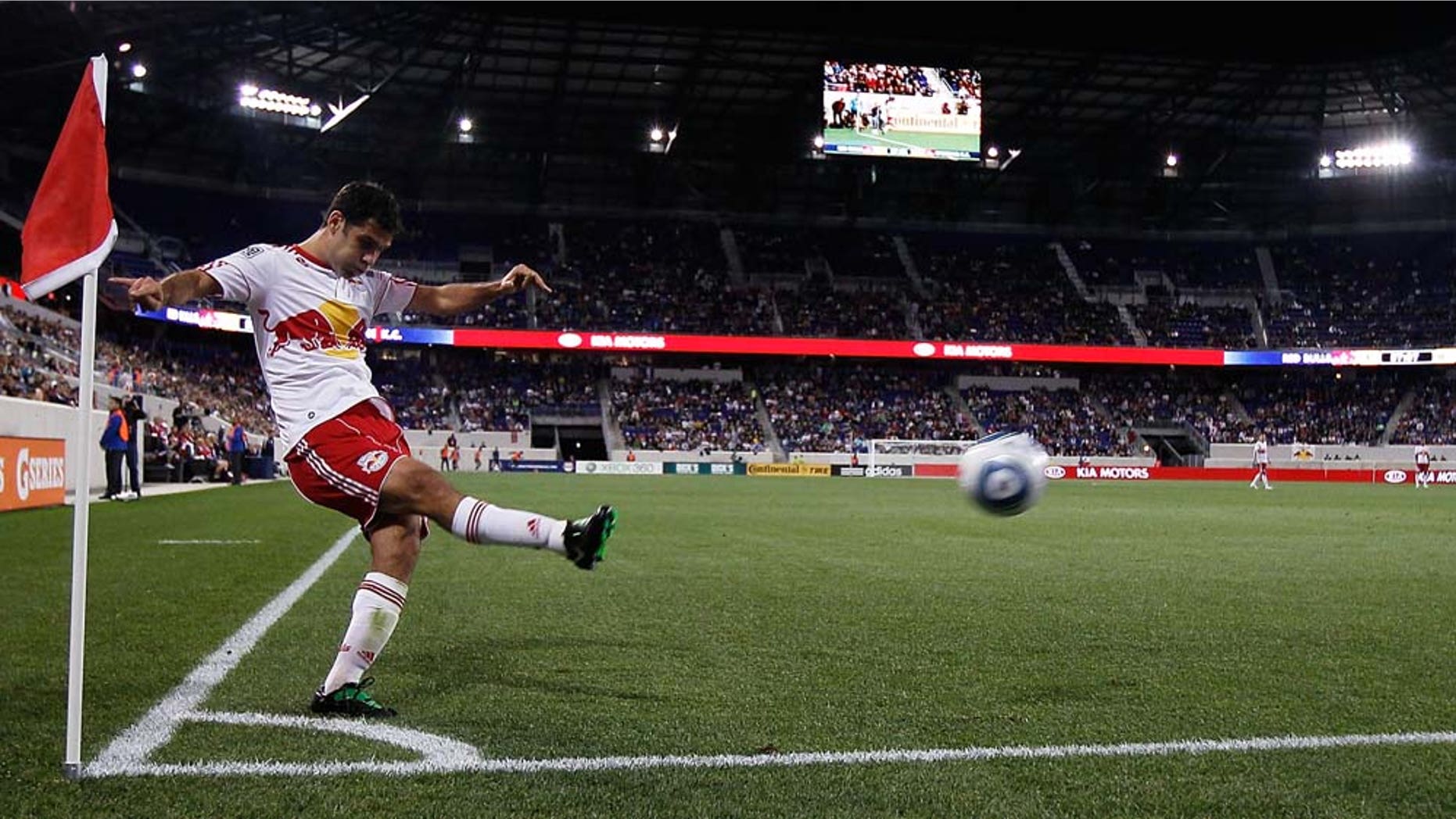 Mexican National Team captain and central defender Rafa Márquez is in jeopardy of losing his starting position with the New York Red Bulls.
Márquez was suspended by coach Hans Backe for the 2-0 Major League Soccer League win over the Portland Timbers on Saturday night for critical comments he made about his teammates last week.

Within a span of eight games, the Red Bulls recorded shutouts in games that Márquez missed; he was sidelined for the team's 1-0 victory over FC Dallas on Sept. 17 due to yellow-card accumulation.

Journeyman defender Stephen Keel, who has struggled at times this season, replaced the 32-year-old Márquez in both encounters and acquitted himself well.

Backe wouldn't comment on who he might play in the club's next game at Toronto FC on Saturday, but he heaped a lot of praise on Keel.

"You need that kind of central defender in the MLS, who is cleaner, battles all the time, goes for headers and doesn't give the strikers too much time to control the ball," Red Bulls coach Hans Backe said. "If you look at the other team, you can see Portland's type of centerback, too - big and hard working fighters."

Backe added that he wouldn't count out switching Márquez to central midfield, where he stood out for the Red Bulls in 2010. Márquez, who is more skillful than a physical player, has endured a disappointing season for the Red Bulls and has had the fans on his case in recent matches.

After the Red Bulls' embarrassing 3-1 home loss to Real Salt Lake last Wednesday, Márquez criticized his defensive partner Tim Ream.
"Tim is still a young player with a lot to learn," he told the Empire of Soccer. "He still has quite a lot to learn, and well, he has committed errors that are very infantile and cost us goals."

But Márquez wasn't finished.

"I'm focusing on really performance at my highest level," he said. "That doesn't mean that the whole back line can perform at that same level, so that's a problem. I think this is a team game and unfortunately there isn't an equal level between my teammates and I."

To be continued, for sure.

This latest episode in the Red Bulls' underachieving and controversial season is far from finished.

Javier Hernández

For the second consecutive week, Chicharito suffered an injury in a Manchester United game, a 1-1 English Premier League draw at Stoke City.
Hernández, who was forced out of United's 4-1 romp over Chelsea with a bruised shin last week, went to the sidelines in the 11th minute.

Ferguson, who did not have extensive comments about the injury after the match, bolted out of the dugout, claiming that Jonathan Woodgate's challenge on the Mexican standout was a penalty kick in the third minute. Hernández was replaced by veteran striker Michael Owen with what some media termed "a dead leg." Ferguson reportedly said it was not a dead leg.

Hernández and scoring partner Wayne Rooney, who also was injured, will miss United's home UEFA Champions League game against FC Basel (Switzerland) on Tuesday.

Fernando Torres

And for the second successive week, the Spanish international scored a goal and was involved in a controversial play for Chelsea. Torres tallied for the Blues in the 29th minute (and helped set up another) of their 4-1 win over Swansea City, but saw red -- as in a red card from referee Mike Dean -- 10 minutes later for his two-footed lunge on Mark Gower.

Chelsea manager Andre Villas-Boas backed Torres. "There's nothing for Fernando to apologize for,' he told reporters after the match. "It's the referee's decision. It was a good decision. It's part of the nature of the game and the referee has decided on that. It's a pity because the spectacle was promising."

In the loss to ManU last week, Torres scored a goal, but missed a sitter later in the match.

Héctor Moreno

Moreno scored for nine-man Espanyol in its 3-1 defeat to Levante, which won its third consecutive victory in the Spanish First Division. After Spaniard Ruben Suarez converted two penalty kicks to give Levante a 2-0 lead, Moreno found the back of the net in the 73rd minute.

Andres Guardado

Guardado played, but did not score in Deportivo La Coruña's 4-0 defeat to Alcorcon in the Spanish Second Division.

Jonathan dos Santos

Dos Santos played the full 90 minutes in Barcelona B's 2-2 draw with Recreativo Huelva (Spanish Second Division). He did not score.

Guillermo Ochoa

Ochoa was in net for Ajaccio's 1-1 draw against Brest. He made three saves, but he allowed the first goal by Nolan Roux, who tallied his first French Ligue 1 goal of the season.

Omar Bravo

The former Mexican international forward connected for Sporting Kansas City in its 1-1 Major League Soccer draw with the Philadelphia Union at Livestrong Sporting Park in Kansas City, Kansas. Bravo struck for his ninth goal of the season in the 56th minute. Kei Kamara chipped to the far post for Bravo, who finished from close-range past goalkeeper Zac MacMath.

Kansas City general manager and coach Peter Vermes explained Bravo's goal. "He tries to get on the end of things because of runs," he said. "He is not typically in the build up of the game. "He is the guy that gets on the end of stuff because his running off the ball is so good. He got on the end of the goal which is normally what he does."

ARGENTINA

Nicolas Gaitán

Gaitan scored a late equalizing goal to boost Benfica into a 2-2 draw at Porto in a classico as the two teams remained atop the Portuguese Premier League. Both clubs have accrued 14 points in six games.

Javier Pastore

Pastore, the record-signing midfielder, tallied for the second week in a row, this time twice as Paris St. Germain moved into a tie with Olympique Lyon for the top spot in French Ligue 1 behind a 3-1 home win over Montpellier. Both teams have earned 17 points in eight games and have the same exact goal differential (14 goals for, seven against).

Rodrigo Palacio

Palacio, a forward, who was called up by the Argentine National Team last week after a three-year absence, lifted Genoa into the lead late in the first half with his fourth goal in as many games. Genoa, however, could not hold onto it as Chievo rallied for two second-half goals en route to a 2-1 victory in Italy's Serie A.

Alejandro Gómez, Gonzalo Bergessio, Mariano Andujar

This South American trio played key roles, good, bad and ugly, in Catania's 1-1 draw with unbeaten Juventus. Gomez sent a low cross to Bergessio, who scored in the 21st minute. Andujar, a goalkeeper, misjudged a shot from Juve striker Milos Krasic and it was turned into the equalizing goal in the 49th minute.

PERU

Claudio Pizarro

Pizarro struck for two goals, including the stoppage-time winning goal, to boost Werder Bremen to a 2-1 home win over Hertha Berlin and a second-place tie with Borussia Moenchengladbach in Bundesliga. Pizarro also tallied in the 23rd minute to tie the game.

Michael Lewis, who has covered international soccer for three decades, can be reached at SoccerWriter516@aol.com.