Six points for Week 4: What's going with NFL kickers lately?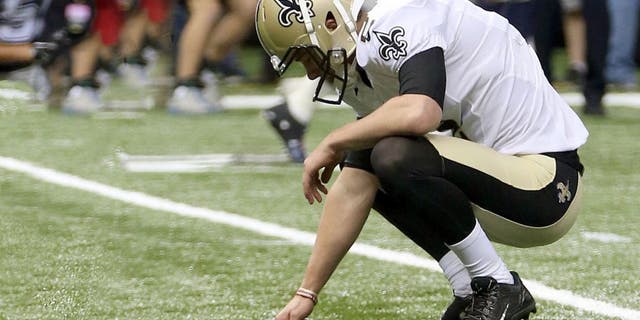 NEWYou can now listen to Fox News articles!
Jay Feely always felt most comfortable during a game if he could get a piece of the tackle on the opening kickoff. Unlike many kickers, Feely enjoyed the contact and it got his adrenaline going.
That's one way for a kicker to get into the flow of a game. The other is by hitting an extra point to get the feeling of a successful operation without the pressure of, say, a 50-plus-yard field goal.
Except the extra point isn't as simple as it used to be.
And in watching some missed kicks the past few days -- from then-Steeler Josh Scobee's late struggles on Thursday to the Saints' Zach Hocker's doinking a potential game-winner off the left upright at the end of regulation Sunday night -- Feely believes the NFL's moving back the point-after attempt might be having an effect on field goals as well. His theory, which is shared by a few of his kicking brethren, is the disappearance of the confidence-building, easy, 20-yard extra point has taken away a free live rep and put kickers more on edge for the entire game.
In short, he thinks it's messing with their heads.
"It just helped in general to have no pressure, to have a play where you can go out there and not worry about the result and focus on your form. That helped you get grooved in because you have to do something terrible to miss it," the 14-year veteran, sort-of-retired kicker and current college football analyst told FOX Sports last night by phone, after kickers missed 11 field-goal attempts during the afternoon games. "It reminds me a lot of the play calling for a quarterback at the beginning of a game when you try to get him in a groove and you throw a couple of slants or screens or different things like that to allow him to get comfortable in the game.
"But now, it's not like that at all. There's pressure on that kick, so you can't relax at all and you can't take that in-game practice to get comfortable."
There's no true scientific way to quantify what Feely is theorizing. In fact, the numbers don't necessarily back up the claim. Through the first four weeks of the season, kickers have made 83.6 percent of their field goals, which is only slightly worse better percentage than through Week 4 last year (84.7 percent) and a tad better than 2013 (82.7).
Of the 11 kickers who missed a field goal during Week 4 action, eight of them had already made a kick in the game, so they had already gone through a successful operation that should have built their confidence.
But Feely still believes kickers are, and will be, more on edge in general because of the new extra-point rule. A 33-yard kick will almost always be a knee-knocker because an extra point is still supposed to be automatic in most people's minds.
"They expect you to be 100 percent," former Giants, Chiefs and Buccaneers kicker Lawrence Tynes said. "They just made the position harder. It's a lack of experience and a lack of players knowing how to deal with pressure. And it's the turn of October. Wait until November or December. Then, add in grass fields like Chicago or Cleveland. It's going to get righteous."
There's no doubt the NFL got what it wanted to make the extra point more exciting. Through four weeks, kickers are 283-for-300. Last season at this point, there were only two missed extra points.
But the question is whether the added pressure on the extra points is affecting field goals, or whether the struggles of youngsters like Kyle Brindza (the Bucs' kicker, who is employed ... for now) and Jason Myers (who didn't get a vote of confidence from Jaguars coach Gus Bradley after missing two field goals) and even veterans such as Scobee (cut by the Steelers) have simply been a run of bad kicking.
Feely believes taking away the easiest kick has made the tough ones even harder. He likened it to the way an offensive coordinator designs a game plan to include short, high-percentage throws for a quarterback early in the game so he can get into a rhythm. If the quarterback starts chucking bombs to start the game and either misses badly or gets picked off, his confidence for the rest of the day would likely be affected.
Feely's theory was met with both support and resistance when he tweeted it out on Sunday.
"I got a bunch of responses on Twitter like, 'Oh, who cares? Stop making excuses.' I'm not making an excuse," he said. "Your job is to make a kick. That's not an excuse at all. It's just that you want to ask a question, 'Why are kickers struggling?' That's why."
This is something that will bear watching as the season moves along. For now, expect teams to continue to search for more reliable kickers. After the Texans, Eagles and Steelers held kicker workouts last week, there will likely be a few more tryouts and changes. Philly might be one of the teams looking to make another move because Caleb Sturgis, signed last week to replace the injured Cody Parkey, missed an extra point and a 33-yard field goal. That's four lost points in a 23-20 loss to Washington.
Former Redskins kicker Kai Forbath -- the runner-up in workouts in Philly, Houston and Pittsburgh -- should probably be waiting by the phone the next two days.
And maybe the Ravens should hurry up and extend the contract of Justin Tucker, who is maybe the best and most reliable kicker in the game. After his 52-yard game-winning field goal in overtime on Thursday, Tucker is now 12-for-12 on field goals to either tie or put his team ahead in the fourth quarter or overtime. And five of those kicks have been from 44 yards or longer, including a 61-yarder in Detroit two seasons ago.
Tucker (10-for-11 on field goals and 9-for-9 on extra points this season), scheduled to be a free agent after this, isn't one of the kickers struggling with the new rule this season.
"Jay hit it on the head. He's right," Tynes, who once shook off two bad misses to kick a 47-yard field goal to win the NFC Championship Game in frigid Lambeau Field, said of Feely's theory. "These guys are just ... I don't want to say weak-minded but they are, almost. They don't have the mental toughness to deal with it. They knew the rule change in advance. Deal with it. You miss one or two a year, that's where you should be. You make all of your extra points, you had a good season."
CREDIT WHERE IT'S DUE
There was a lot of talk out of the New York Giants' locker room on Sunday about how it's time for the team's defense to start getting credit. The Giants allowed the second-fewest points in the league this weekend in their 24-10 victory at Buffalo, and it came against a Bills team that had scored 27 or more in its first three games.
The Giants forced two key turnovers, one of which was a terrific interception by second-year linebacker Devon Kennard to set up the team's first touchdown. They also held the Bills to just 55 yards rushing.
The Giants' defense is not an incredibly talented unit. It got even less talented when Jason Pierre-Paul blew off pieces of his hand in July. The absence of Pierre-Paul and fellow defensive end Robert Ayers is killing their pass rush, yet they're still playing good defense.
That's a credit to coordinator Steve Spagnuolo, who is attempting to rebuild his reputation as a very good coach. Spagnuolo went 10-38 in three seasons as head coach of the Rams and then spent one season with the Saints during their Bountygate scandal in which any defensive coordinator would've struggled.
Now back with the Giants, Spagnuolo has this defense playing well above its heads. Even in losses to the Cowboys and Falcons, the unit played well, save for some late plays that proved to be the difference. And for all those saying his success in his previous stint as the Giants' coordinator was due merely to outstanding talent and a ridiculous pass rush, he's showing so far this year he can get a defense to play well without either.
SHADY UPDATE
Speaking of the Bills, I reported on "FOX NFL Kickoff" on Sunday morning an MRI on LeSean McCoy's hamstring last week revealed he's dealing with a new strain in his hamstring. The previous strain, which he suffered in August, had healed. It's not uncommon for a player returning from a hamstring injury to suffer a tear in a different part of the muscle, and that's what happened to McCoy in the days leading up to last week's game against the Miami Dolphins.
A source said the MRI showed McCoy's latest strain is roughly as significant as his first one. The recovery time for that injury was about three weeks. The estimated time for McCoy to recover fully from this latest tear is three to four weeks, the source said.
The key word there is "fully."
McCoy said last week he wouldn't return to the field until he's 100 percent. That was surely in reference to the game in Miami, where there was some discussion between him, the coaches and the medical staff regarding whether he should play. Though McCoy was listed as probable for that game, he knew he wasn't in top form. After he ran for only 16 yards on 11 carries, McCoy went for the MRI that showed the new strain. Frustrated by the setback, he vowed not to return too early once again.
The Bills have three more games in October and then have a bye to start November. As long as McCoy remains intent on being fully recovered before returning, there's a chance he won't be on the playing field until Nov. 8 for Buffalo's second meeting with Miami.
BUY INTO THE BENGALS?
At what point do we start paying attention to the Cincinnati Bengals as a legitimate contender? Do we wait for January? After all, a team that's made the playoffs in five of the last six seasons yet hasn't won in the postseason will have to do more than win its first four games -- against teams that don't have winning records, it should be noted -- before anyone takes them seriously.
Right?
"No biggie. Just a 4-0 start," tackle Eric Winston wrote in a text message Sunday evening. "Nothing to see here."
Winston was laying the sarcasm on pretty thick, but in his nine NFL seasons, he's learned what happens in September is virtually meaningless. The Bengals can start making a serious statement over the next two weeks with a home game against the Seattle Seahawks and a road game in Buffalo. They also have two games to come against the division rival Steelers, as well as road games against the Arizona Cardinals and Denver Broncos.
Let's see where they stand after those games before we truly buy in. And even then, it won't be January.
SINKING PHILBIN

Joe Philbin's job is in jeopardy? No kidding.
Miami Dolphins owner Stephen Ross made it clear Philbin and the Miami Dolphins had to do better than the 8-8 record they posted last season if he wanted to see another contract. The Dolphins are 1-3 and their one victory was an ugly one in Washington.
Philbin was a very good offensive coordinator with the Green Bay Packers, but it's becoming clear he doesn't have the demeanor of a head coach, especially with the personalities the Dolphins have in their locker room. Between Jarvis Landry, Ndamukong Suh, Brent Grimes and some other big personalities, Ross and team executive vice president of football operations Mike Tannenbaum have to start looking for a stronger presence under the headset. That search obviously will be for 2016 and beyond. For now, it's merely a question of whether Philbin deserves any more time in 2015. It wouldn't be a shock if the answer is no.
MONEY DOWN THE DRAIN
My FOX colleague Peter Schrager and I don't agree on much, yet we were in lockstep on one thing on Twitter on Sunday: paying defensive linemen huge money is a waste.
The enormous contract the Dolphins gave Ndamukong Suh was just too big for my tastes. That's quarterback money. If you've got a top-notch quarterback, you're in the playoff mix every single season. How many playoff games have the Houston Texans played with J.J. Watt dominating the last two years? None. Exactly. And here they are again, playing quarterback yo-yo, all the while Watt is on his way to another Pro Bowl season. And he'll be available for the Pro Bowl because his team isn't going to the postseason. Again.
None of this is to disparage Watt at all. He can play for my team any day. And when Suh is motivated and focused, he can, too. But unless you're also paying a quarterback big money he deserves, all of that talent on the defensive line is all for naught.