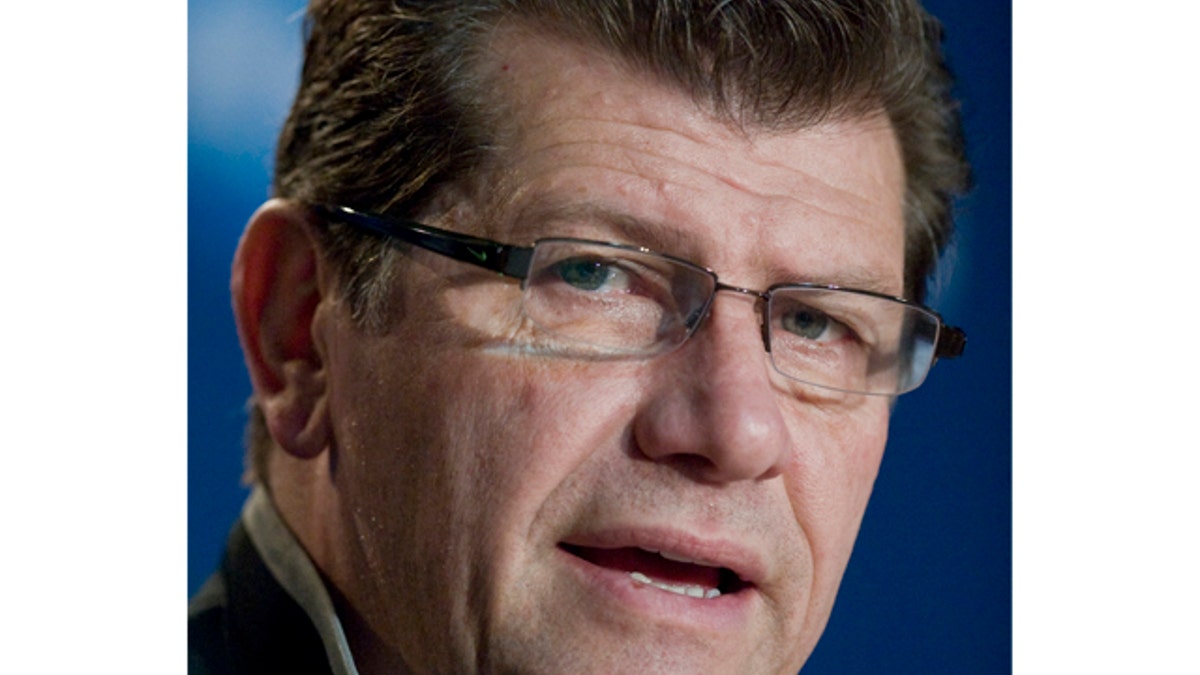 NEW YORK – A woman who works as an NBA security official has filed an employment discrimination lawsuit saying she was removed from an assignment to the 2012 Summer Games in London after she spurned an advance from Connecticut and women's national coach Geno Auriemma.
Kelley Hardwick filed her suit Monday in state Supreme Court in Manhattan, naming Auriemma, the NBA and USA Basketball as defendants. Auriemma called her account "beyond false" and said he would defend himself "to the fullest."
Hardwick is a former detective with the New York police department who started working for the NBA in security back in 2002. Her suit says that as part of her job duties, she managed security for the U.S. women at international basketball events, including the Olympics in 2004 and 2008.
It was at one of these tournaments, a 2009 trip to Russia, that she says she met Auriemma. According to the lawsuit, one night after Auriemma wedged his way into a conversation with Hardwick and a co-worker in a hotel lounge, he followed her to the door of her room and tried to kiss her.
"Plaintiff was startled but, utilizing her training as a police officer and security professional, reacted quickly by shoving him away and stating, 'What are you doing? You better check yourself before you get hurt!'" the suit says.
Hardwick says in the suit she told supervisors about the incident, but that nothing was done. In subsequent international trips, according to the suit, Auriemma avoided her but was uncomfortable with her being there.
In March, Hardwick says she learned of a conference call involving NBA officials in which Auriemma demanded that she be taken off the security assignment for the London Games.
In his statement, Auriemma said, "This claim is beyond false. I will defend myself to the fullest, and I'm confident that the truth will ultimately prevail. In the meantime, I remain focused on representing the United States this summer and getting our team ready to compete for the gold medal."
Auriemma is one of the elite coaches in women's basketball and has guided the Huskies to seven national titles — including four perfect seasons.
His election as the Olympic coach was announced in April 2009 and he led the national team to a world championship in 2010 that earned the U.S. an automatic bid to the London Games. Auriemma, who has won 804 games at Connecticut — including an NCAA record 90 straight from 2008-2010 — was an assistant on the 2000 Olympic team that won a gold medal in Sydney.
As part of the lawsuit, Hardwick also says that the NBA discriminated against her due to her gender, that she was denied promotions, raises, and employment opportunities because she was a woman.
NBA spokesman Tim Frank said the league doesn't comment on pending litigation. USA Basketball also declined comment.
Hardwick is seeking compensatory and punitive damages, as well as back pay.