Seasoned Blackhawks vs youthful Ducks highlight mix of experience in NHL conference finals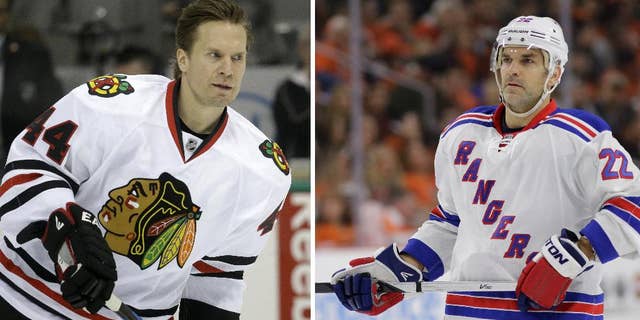 CHICAGO – When Blackhawks defenseman Kimmo Timonen made his NHL debut in 1998, Ducks defenseman Hampus Lindholm was 4 years old. Rangers forward Martin St. Louis had played in 1,154 games when forward Jonathan Drouin logged his first appearance with the Lightning in October.
It is part of an intriguing mix of youth and experience in this year's conference finals, beginning with New York hosting Tampa Bay on Saturday afternoon. Chicago visits Anaheim in Game 1 of the Western Conference finals on Sunday.
The Blackhawks are the oldest and most seasoned team remaining in the NHL playoffs, according to STATS, with an average age as of Friday of 29 years, 205 days among their players with at least one appearance in the 2015 postseason. They also lead the way with 1,706 career playoff games for the same group, compared to 692 for the Ducks.
"We like to think that it's going to help us," Chicago forward Patrick Sharp said, "and it's helped us to this point. A lot of ups and downs throughout the season, but we've seemed to come together at the right time and then play our best hockey.
"Sometimes that youth can help you this time of year. You know they got some fast players, some guys that are playing really well the first or second time through the playoffs. So it's however you want to use it. We like the experience on our side. Hopefully we can use it to our advantage."
The Rangers, who lost to Los Angeles in the Stanley Cup finals a year ago, are the next most experienced team, with an average age of 29 years, 20 days, and 1,235 career playoff appearances. They take on the youngest team left in the NHL playoffs, with an average age of 26 years, 92 days, for Tampa Bay.
"You take something every year from different players and different situations, different experiences," New York goaltender Henrik Lundqvist said. "So you learn from that. You add it all together, and as you get older, I think you get a better understanding of what it takes and how to prepare and how to get away from the game better."
Six of the 10 youngest players among the four remaining teams play for Tampa Bay, topped by the 20-year-old Drouin, who played in three games in the first two rounds. Nikita Kucherov, 21, is second on the team with six goals and 11 points in the postseason while playing on the second line with 24-year-olds Tyler Johnson and Ondrej Palat.
"I haven't seen a line that has as much chemistry as they have," teammate Anton Stralman said. "I think that there's a lot of parts that (are) starting to fall into place. I'm sure they're going to be a really good line for a lot of years."
Tampa Bay coach Jon Cooper said his players are learning with each game.
"We're writing our own history right now and it's a lot of fun to be part of this," he said. "But you have to be part of it, to experience going through these towns and every single time this team has passed the test. I don't see that changing."
The Blackhawks are in the conference finals for the third straight season and fifth time in seven years. They won the Stanley Cup in 2010 and 2013.
Timonen, 40, who was acquired in a February trade with Philadelphia, is the oldest player still in the postseason. He could take on a more prominent role against the Ducks after Michal Rozsival broke his left ankle in the second round against Minnesota.
With 97 career postseason appearances, Timonen fits right in with a group that has seen it all.
"I think at the end of the day when you talk about our experience we have in this room, I think that means the most when you get in tough situations," captain Jonathan Toews said, "whether you're down a couple goals in a game or you might be down a game or two in the series, regardless of the situation that you don't want to be in, we find ways to stay alive and to creep back into the position that we want to be in."
The situation with Timonen also shows the downside of experience, with his long career exacting a toll on his legs. The speedy Ducks, who have a fleet of athletic 20-somethings spread throughout their lines and defense, could try to attack Timonen when he takes the ice.
"We've got a lot of young guys that haven't been this far in the playoffs before, but at this point in the season, I think everybody is a veteran," Anaheim center Ryan Getzlaf said. "It's not about how much experience you have. It's more about your will and your competitive side, and I think we've got a lot of that, and I know Chicago does, too.
___
AP Sports Writer Tom Canavan, AP Hockey Writer Greg Beacham and AP freelancer Denis Gorman contributed to this report.
___
Jay Cohen can be reached at http://www.twitter.com/jcohenap