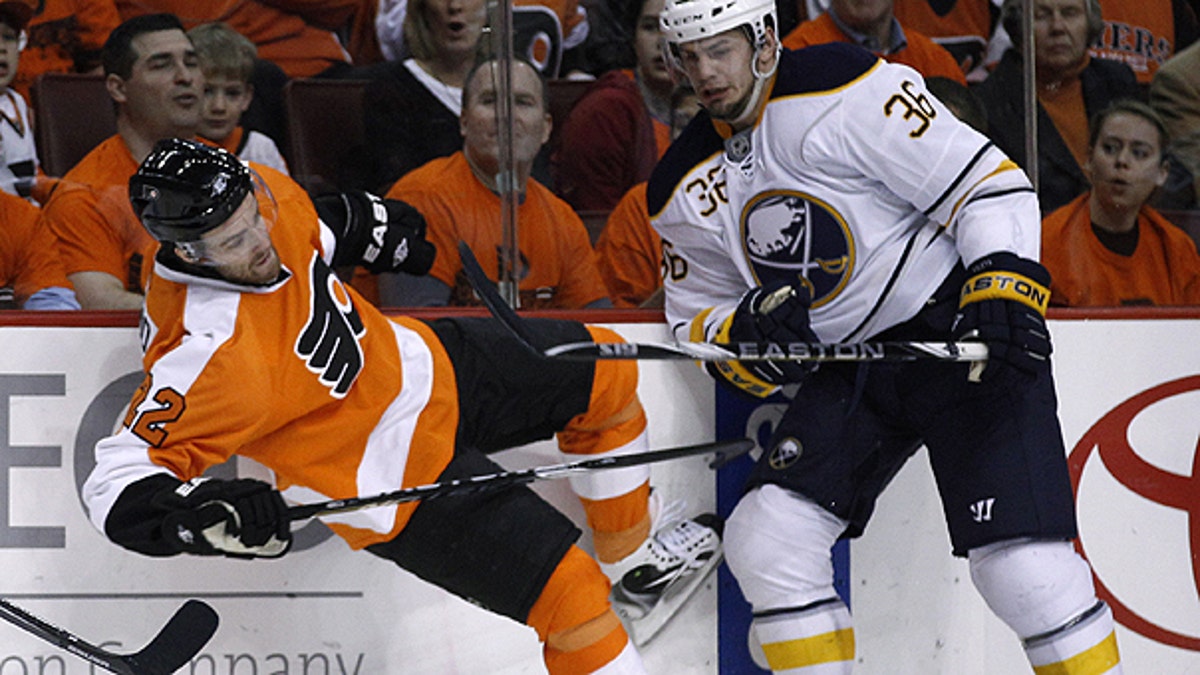 VOORHEES, N.J. – The Philadelphia Flyers loved the way they played Game 1. They hit hard and hit often, created scoring chances, and dominated the power-play attempts.
In fact, the Flyers believe if they can duplicate that effort over the rest of the series, they should defeat the Buffalo Sabres.
But there's one problem with that theory.
Goaltender Ryan Miller and the Sabres have put Philadelphia on notice they won't be bullied around by the Atlantic Division champions. Miller stopped 35 shots and was sensational in Buffalo's 1-0 victory on Thursday.
The Sabres scored a clutch rebound, held the Flyers scoreless on the power play — Philadelphia even wasted a 5-on-3 shot — and showed a hostile opposing crowd can't affect the hottest team in the Eastern Conference.
Game 2 is Saturday in Philadelphia. The Sabres expect to return to New York with a dominating series lead.
"We know we can be better," Sabres coach Lindy Ruff said Friday. "We played a strong game, but I think we can play a better game. Offensively, we didn't spend the time in the offensive zone we wanted. I think we've really got to get after this one."
While Miller carried the Sabres, they caught a break that Patrick Kaleta's third period goal was all they'd need to beat one of the top offensive teams in the NHL. Miller, the MVP of last year's Olympics, never had to make the acrobatic, "can you believe that!" type of save that goalies often have to stop during a Stanley Cup run.
But it was just the opener.
Miller didn't let in a rebound or a fluke goal, and had plenty of blue-line help even when the Flyers rushed three or four players at the net. He was 35 for 35, the kind of game that sparks a deep postseason run — and is tough to duplicate.
"He's a world class goaltender, world class player in this league," Kaleta said. "He has that title for a reason."
The Flyers intend to wrest it away from him.
They're about guaranteed to have to try to win again without defenseman Chris Pronger. Trying to return from a broken right hand, Pronger skated Friday and is day to day. He didn't shoot or practice with the team.
"It doesn't change a thing," center Danny Briere said. "Preparation is not any different if he's in the lineup or not. I won't change my gameplan if Chris is in the lineup or not. I have to focus on myself and it should be the same way with every single one of us."
The Flyers' main focus should be the power play. The Flyers were in the middle of the pack all season on power-play conversions and became worse over the last few weeks. The Flyers failed to convert all five power-play chances against the Sabres and missed out on a great chance to score when they held a two-man edge for 34 seconds.
The Flyers spent little time on the power play during a light practice Friday. Both teams practiced side-by-side on rinks at Philadelphia's practice facility in New Jersey.
Buffalo clearly wants to get more chances in the zone and rattle Russian rookie goaltender Sergei Bobrovsky. Bobrovsky made a flurry of stops early, then settled into a routine 24-save night. Kaleta knocked in a rebound for the only goal.
"We can make better plays than what we did," Kaleta said. "We have to have a better O-zone presence."
The Flyers won that battle, for whatever that stat was worth. The Flyers directed 74 shots toward Buffalo's net (35 on net, 16 blocked, and 23 missed) compared to 36 by Buffalo (25 on net, four blocked, seven missed).
"I don't think it's the game we have an issue with, it's the score," Flyers coach Peter Laviolette said. "But that's an issue. You're on limited time here in the playoffs. You only get so much of it to make your mark. If you don't make your mark, you don't get to go on and continue."
No team was more resilient in last year's playoffs than the Flyers. They trailed Boston 3-0 in the Eastern Conference best-of-seven semifinals and won the series. The Flyers won Game 7 after trailing 3-0. They kept playing all the way until a Game 6 loss to Chicago in the Stanley Cup finals.
This season, the Flyers have to rally again.
"Nobody likes being behind in the series," Laviolette said, "it's not what you prepare for."