Ryan Blaney, Matt DiBenedetto fast enough to qualify for 500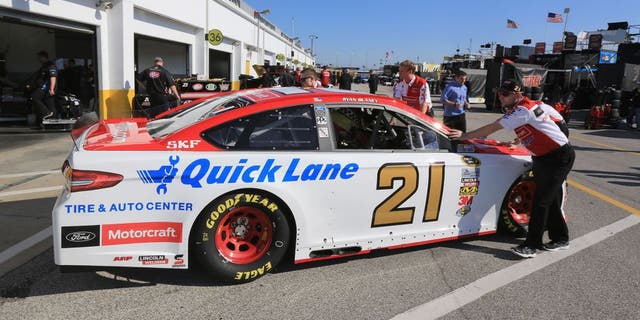 NEWYou can now listen to Fox News articles!
After all the social media chatter this week about Wood Brothers Racing not getting one of 36 NASCAR charters, stock-car racing's oldest team did what it does best on Sunday: It put a fast No. 21 Ford on the track.
And driver Ryan Blaney did his part, posting the fastest Daytona 500 qualifying time of any of the eight "Open" or non-Charter teams. That means Blaney is guaranteed a starting spot in next Sunday's Daytona 500. Matt DiBenedetto was second-fastest among the Open drivers, so he made the 500 field, too.
The exact starting spots for everyone other than pole-winner Chase Elliott and second-qualifier Matt Kenseth will be determined in Thursday night's Can-Am Duel qualifying races.
For Blaney, his qualifying lap of 194.746 miles per hour was a big accomplishment.
"It is nice to be locked into the race," said Blaney. "The biggest relief for us is to know you are locked in and are good to be able to race in the 500. That kind of lets us go race on Thursday a little bit more than we would have instead of playing it conservative if we weren't locked in."
The Wood Brothers last won the Daytona 500 in 2011 with Trevor Bayne driving, and Blaney could be a legitimate threat to win again for the team.
"I think our speed is pretty good," said Blaney. "We definitely aren't the fastest but we have good speed and I think we will dial it in and be good for the 500."