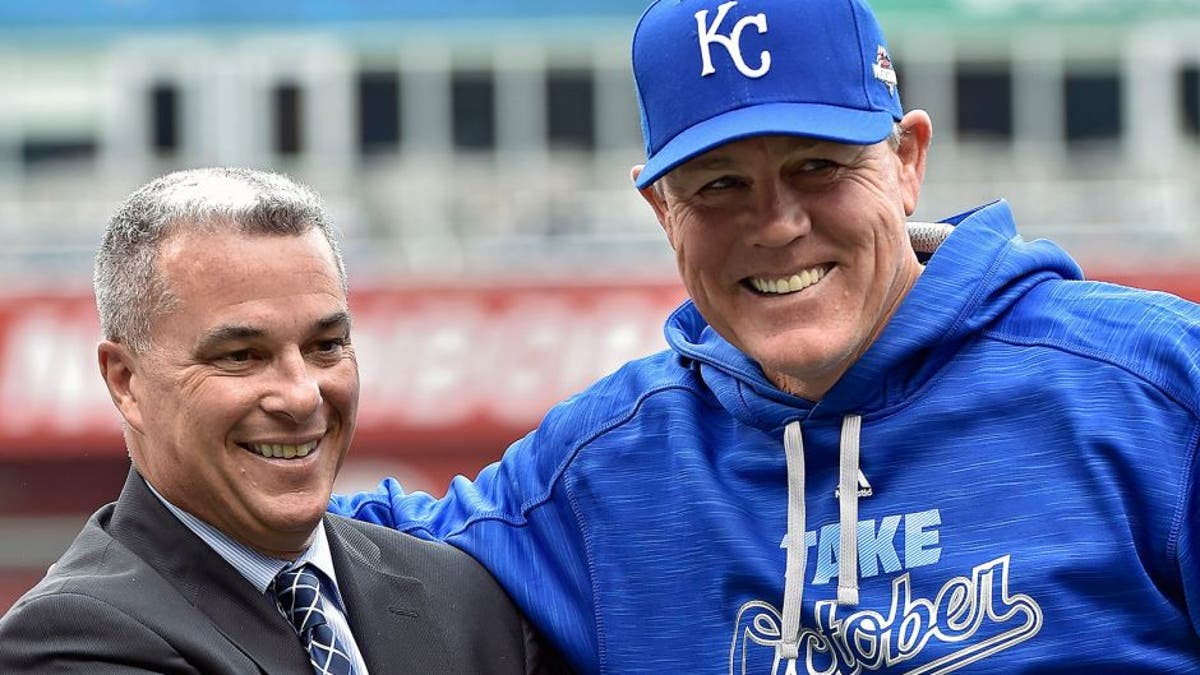 KANSAS CITY, Mo. (AP) -- Several times over the past year, Ned Yost floated the possibility of retirement when his contract to manage the Kansas City Royals expires after the upcoming season.
Then he realized he was having too much fun winning.
So after general manager Dayton Moore signed his own contract extension to remain in charge of the World Series champions, Yost decided to sign on for two more years. That means the 61-year-old Yost is committed to running the Royals' dugout through at least the 2018 season.
"(Once we won), Dayton and I, we didn't really start talking contracts until the last couple of weeks," Yost said Thursday at the club's spring training home in Surprise, Arizona.
"I'll have to get to the point in '18 when I'll have to evaluate it," he said. "But you work so hard as a group to develop a winner and it's hard to leave when they still have the ability to win. We think we have that opportunity through the next few years."
Most of the Royals' cornerstone players, including first baseman Eric Hosmer, third baseman Mike Moustakas and shortstop Alcides Escobar, are signed through the 2017 season. The Royals also re-signed outfielder Alex Gordon to a four-year deal this past offseason.
"We've basically got the same crew," Yost said. "They're motivated, excited to get going, but we want to win world championships for Kansas City and this organization."
The terms of Moore's contract were not disclosed. The general manager since 2006, he had signed an extension in November 2013 that would have expired after this year.
"This was in the works for a while," Moore said as pitchers and catchers reported to spring training. "Everybody understands there's a business side to what we do. It's just part of it. But Ned and I really felt it was important to make sure all the players were signed and taken care of, and once that's done, you focus on the stability of the leadership."
Moore, who grew up a Royals fan, took over a downtrodden franchise in 2006 that had only one winning season in a dozen years. The team's farm system was in shambles, fan apathy was at a nadir, and the only thing Kansas City had going for it was a ballpark considered one of the jewels of baseball.
Slowly, Moore began to rebuild the organization through the draft and with a newfound emphasis on international scouting. And over the years, he stockpiled homegrown players who have become the basis of three consecutive winning seasons and back-to-back trips to the World Series.
Kansas City won its first championship since 1985 when it beat the New York Mets last fall.
"You can't find an individual with a stronger work ethic or dedication to his craft," Royals president Dan Glass said in a statement. "He possesses all of the qualities you look for starting with his leadership, organizational vision and tireless dedication to the position."
A longtime Atlanta Braves executive, Moore has been in lockstep with Yost -- himself a former Braves bench coach -- since promoting him to manager of the Royals during the 2010 season.
After getting off to a slow start, Yost has become one of the most popular managers in franchise history. Whereas he once used an alias to order coffee at Starbucks because he didn't want anybody to give him grief, these days Yost can't go anywhere in public without fans asking for a picture.
Last year, he passed Whitey Herzog to become the winningest manager in Royals history. He got his 900th career victory on Aug. 15 and could reach 1,000 at some point this season.
The Royals lost starter Johnny Cueto and second baseman Ben Zobrist to free agency but otherwise return the almost their entire roster from last season. And with the signing of Ian Kennedy to bolster their starting rotation, they believe they have a chance to make another deep playoff run.
"You know, we're in a really peak period in Kansas City," Yost said. "We've got an outstanding organization with a great leader in Dayton, and we've got great players. They're fun to be around. It's something I looked at and wanted to be part of for a couple more years."