Royals finish sweep of Twins, secure home field throughout playoffs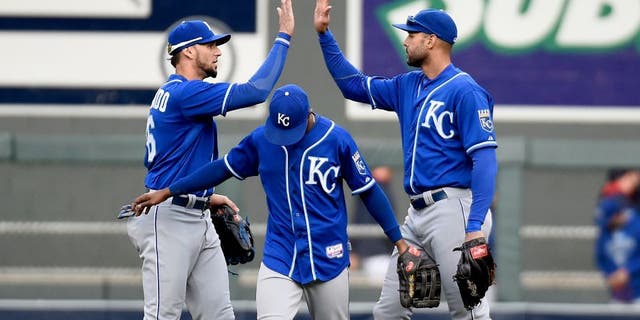 NEWYou can now listen to Fox News articles!
MINNEAPOLIS -- Last year, the Kansas City Royals were the October darlings, winning their first eight postseason games to reach the World Series for the first time since before many of their players were born.
They won't be able to surprise anybody this year. They'll be the favorites to repeat as American League champions.
Salvador Perez added to his career-high home run total, Johnny Cueto pitched five solid innings and the Royals secured home-field advantage throughout the postseason by beating the Minnesota Twins 6-1 on Sunday.
The Royals (95-67) posted their best record since the 1980 team went 97-65, besting the Toronto Blue Jays by two games for the top seed.
''I had a lot of confidence that we were going to do it, because these guys just seem to find a way to accomplish what they set their mind to,'' manager Ned Yost said. ''We went through that little bit of a rough stretch and got it straightened back out and won our last five games.''
The Royals, who had the second-best road record in the AL at 44-37, proved last year that playing an extra game at home isn't a prerequisite for postseason success. But they're delighted to be able to start this run at Kauffman Stadium.
''It means a lot. We're built for our ballpark as a team,'' first baseman Eric Hosmer said. ''What the fans do for us, the way they make the atmosphere there, it makes it tough for opposing teams to come in.''
Perez hit his 21st homer in the third inning, one behind Kendrys Morales and Mike Moustakas for the team lead. Cueto (4-7 with Royals, 11-13 overall) allowed one run on six hits and four walks.
The right-hander, whose transition to the AL since a trade from Cincinnati has hardly been smooth, struck out the last two batters to leave the bases loaded in the fourth after giving up an RBI single to Danny Santana.
''He's ready. Everybody's ready. I think everybody was to the point where they were ready to get the season over so that they could go,'' Yost said.
Ricky Nolasco (5-2) started for the Twins for the first time since May 31 after a right ankle injury sidelined him for the summer, but he lasted only 2 2-3 innings. Alex Gordon hit an RBI double and Alex Rios followed with a two-run double in the second, sticking Nolasco with a career-worst 6.75 ERA, though he logged only 37 1-3 innings.
Max Kepler got his first major league hit for the Twins (83-79), who stayed in wild-card contention until the next-to-last day on the schedule and enjoyed a winning record for the first time in five years. Despite that, their attendance dipped this year, the product of an eroded season-ticket base. They drew 2,220,054 fans, an average of 27,408 per game. Last year's average was 27,785.
''It's a better feeling because I think we're headed in the right direction, but ultimately we're still disappointed in not making the playoffs,'' third baseman Trevor Plouffe said. ''We think we had the team to not only make the playoffs but make a push in the playoffs.''
STARTERS FINISH STRONG
Over their last eight games, covering 48 1-3 innings, the Royals rotation posted a collective 1.49 ERA. Edinson Volquez relieved Cueto with two hitless innings, getting him to 200 innings for the first time in his career.
TRAINER'S ROOM
The Royals kept center fielder Lorenzo Cain out of the lineup for the third time in four games because of a bone bruise on his right knee, but Yost said Cain should be ready for postseason action after a four-day break. Cain dealt with a similar injury last year in October and batted .333 in 15 postseason games.
UP NEXT
The Royals will begin their AL division series at home on Thursday and Friday against the winner of the wild card game between the New York Yankees and Houston Astros. Yost has not yet announced his rotation, but Yordano Ventura is on track to start in Game 1, with Cueto likely following him in Game 2 and Volquez the best bet for Game 3.