Rousey wants to break down gender barriers in UFC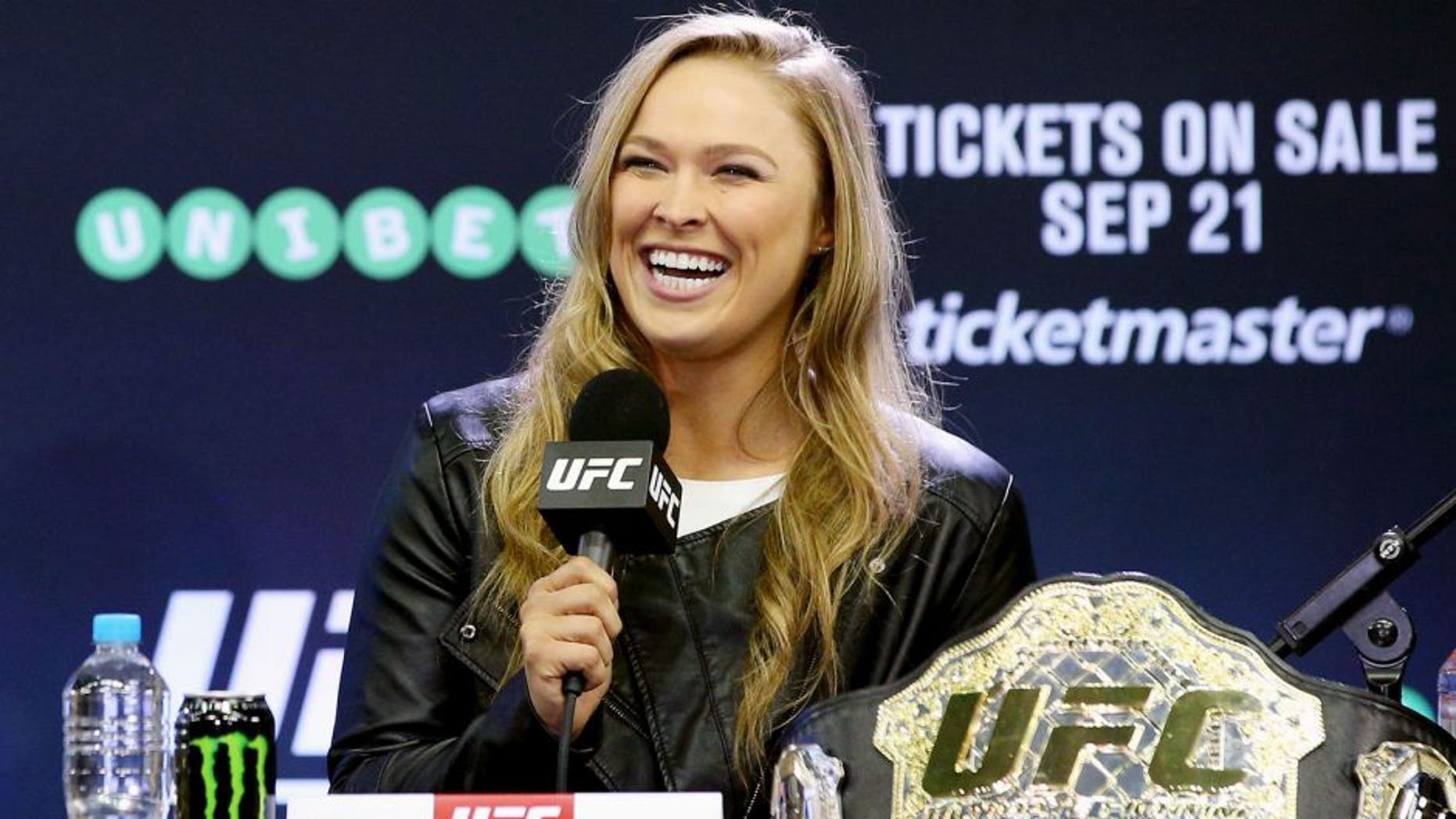 Ronda Rousey continues to break down walls with everything she's doing inside and outside the sport of MMA, but her current mission is to destroy the gender barriers that she believe still exist in combat sports.
Rousey has been a champion for women regarding any number of subjects including body-image issues and her famous rant about never being a "do nothing b--ch."
Now as she stands on the precipice of not only being the highest paid athlete on the UFC roster, but headlining a card in Melbourne, Australia that's expected to break the promotion's all-time attendance record with 70,000-plus fans.
But as much as Rousey wants to be the biggest and best fighter of all time, the one thing she wants to eliminate is the need to put the word "woman" in front of all her accomplishments.
"I think just do whatever we can to take the word 'woman' out of it," Rousey said at the UFC 193 news conference in Australia on Tuesday. "I don't hear everyone saying 'men's this,' 'men's that' or the 'men's press conference.' People aren't here today because they love women -- it's because they love fighters.
"We're fighters. It's not the women's UFC bantamweight, it's not the women's UFC strawweight. I'm the bantamweight champion, (Joanna Jedrzejczyk) is the strawweight champion and these people are here because they love fights."
Rousey was so adamant about her feelings on the subject that she requested from now on when UFC announcer Bruce Buffer introduces her fights that he no longer identify her as a women's champion.
UFC president Dana White said Rousey asked and he responded by telling Buffer to exclude the gender identification whenever he's announcing her fights in the future.
"When (Bruce) Buffer announces it, it's not women's bantamweight championship anymore," White said. "It's just the bantamweight championship."
In less than three years fighting in the UFC, Rousey has become one of the most profitable stars the promotion has seen with her success in the Octagon as well as her recent turn as a Hollywood actress where she's starred in films such as "Furious 7" as well as signing on to star in the upcoming "Road House" remake from MGM.
When it comes to fighting, Rousey is only three wins away from tying Anderson Silva for the all-time record of title defenses (10) in UFC history. She's already produced the highest pay-per-view buys for the company in 2015, and with her third fight this year scheduled for November there's a chance she could shatter her own record in just a matter of weeks.
So where women's fighting wasn't even in the UFC as recently as four years ago, Rousey says there's no longer a need to identify them by gender because the best fighters in the world are just the best in the world.
"That's what I'm really happy to see happening," Rousey said. "The fact that we're women is obvious. It's not a novelty anymore. It doesn't need to be said.
"We're women. I really don't hear them mention the guys being men so much and hopefully it won't even be part of the conversation anymore."