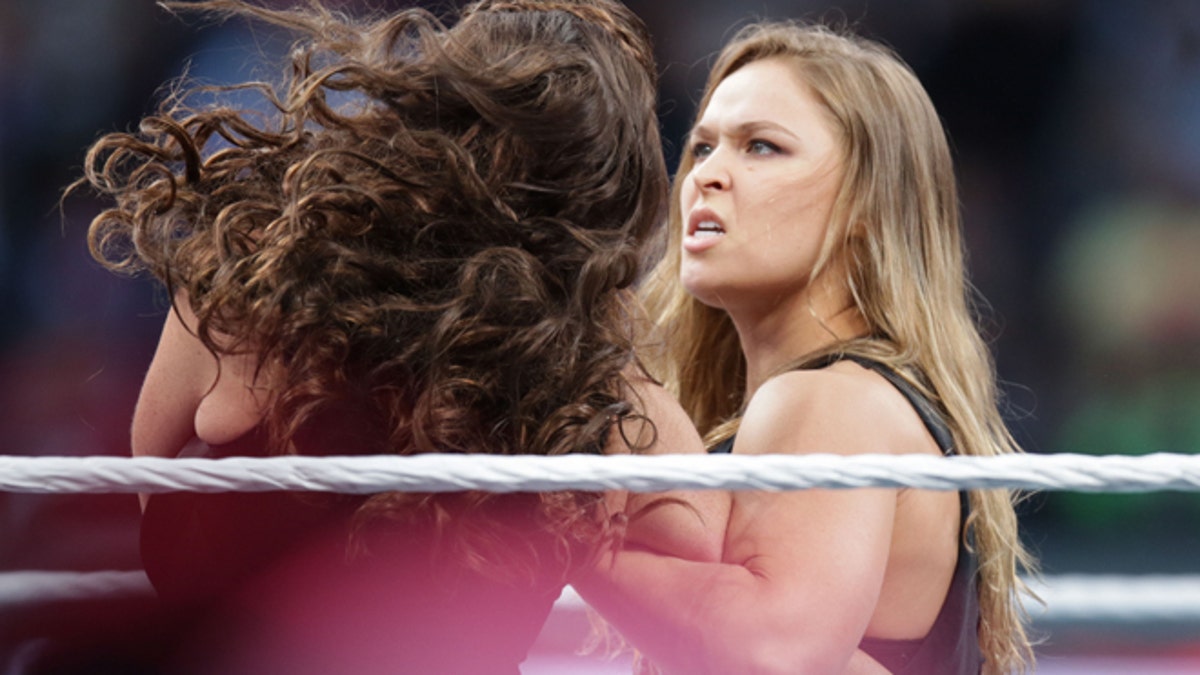 Officially, the attendance at Levi's Stadium in Santa Clara, California, for the Wrestlemania 31 event was 76,976. But you can add two unexpected visitors to that figure.
The wrestler-turned-actor, Dwayne "The Rock" Johnson, and undefeated UFC bantamweight champ Ronda Rousey—both of whom appear in "Furious 7," which opens nationwide on Friday—hopped into the ring and faced off against the duo known as "The Authority," Paul "Triple H" Levesque and his wife, Stephanie McMahon.
And Rousey theatrically took care of them both.
According to the WWE.com account of the encounter, first in the ring was Johnson, a longtime foe of Levesque's who still inspires waves of excitement in fans, despite having retired (mostly) from the ring in order to chase Hollywood stardom.
After McMahon slapped Johnson in the face and dared him to strike a woman, the former wrestler spotted Rousey in the crowd, and said, "I would never hit a woman, but I have a very good friend who would be more than happy to."
McMahon screamed at the woman who is possibly the most feared MMA fighter in the world today, "Get the hell out of my ring!"
"You need to understand something, Steph," Rousey responded. "Any ring I step into is mine. If you want me to leave, how 'bout you make me?"
Johnson then grotesquely suggested to McMahon that Rousey would "reach down your throat, pull your insides out and play jump rope with your fallopian tubes."
That prompted Levesque to throw himself at the WWE outsiders. Rousey disposed of him with a judo flip, then turned around and put McMahon into an arm lock.
The whole performance thrilled Rousey's nominal boss—because, really, who would want to claim that title?—UFC president Dana White.
"3am in London watching @rondarousey kill it with @therock at Wrestlemania," he tweeted.
According to Brad Slater, Rousey's agent, White was aware of the appearance ahead of time.
"I work with Dana [White]," Slater told the website MMAFighting.com. "I always, always call him and make sure he is OK with anything we ever do in movies, television and otherwise."
In fact, Slater said that the Wrestlemania took months to work out.
Rousey's next fight—in the octagonal ring, that is—is scheduled for Aug. 1 in Rio de Janeiro against Bethe Correia.
Like us on Facebook