Ron Rivera gives Panthers extended break after four-game slump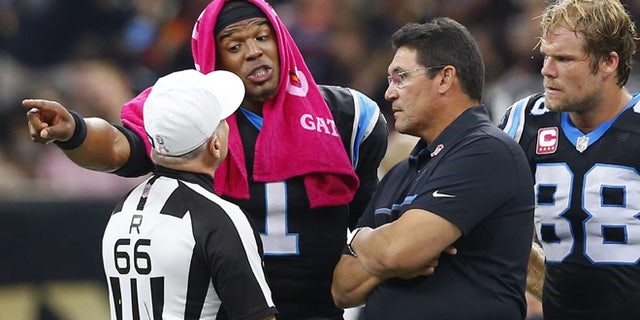 NEWYou can now listen to Fox News articles!
The Carolina Panthers need a break to shake them off their four-game slump, at least according to coach Ron Rivera.
After Sunday's 41-38 loss to the New Orleans Saints, Rivera said his team will not be getting any extra practice this week and instead is getting an extended break.
"I'm going to bring the guys in and we're going to work the first two days next week and then we're going to get them out of there," he said, according to the Charlotte Observer. "I told them I want them to get away from it, don't read anything, don't watch anything, don't listen to anything. Just get yourselves ready to come back focused in and start right back to work the following Monday."
The Panthers' next game in Oct. 30 against the Arizona Cardinals — and this break comes at the "perfect time," Rivera said.
"We have a chance to get away from it, shake it off and then come back refocused and ready to roll," he said. "That's the only challenge that we have left."
Carolina (1-5) lost its fourth straight despite the return of quarterback Cam Newtown, who missed last week's loss to Tampa Bay because of a concussion.
Newton passed for 322 yards and two touchdowns. He also ran for a 2-yard score and threw a 2-point conversion to Devin Funchess that tied the game at 38 with 2:58 left, completing a comeback from an early 21-0 deficit.
However, Newton was also intercepted by Sterling Moore in the back of the end zone, stalling a promising first-half drive.
Newton had little to say afterward, offering terse, vague answers to media inquiries or simply saying, "next question." His demeanor nonetheless left little doubt how displeased he was with yet another close loss.
Meanwhile, the quarterback's coaches and teammates made it clear Newton's performance was the least of their concerns.
"He made some really good decisions," Panthers coach Ron Rivera said. "When you score 38 points, you need to give yourself more of a chance to win."
Panthers linebacker Luke Kuechly credited Carolina's offense for playing well and added, "We just have to tighten some things up defensively. We just have to make a play."
Saints quarterback Drew Brees broke another NFL record with his latest 400-plus-yard passing performance. He passed for 465 yards and four touchdowns while Wil Lutz kicked a 52-yard field goal with 11 seconds left to beat the Panthers.
With his 15th 400-yard game, Brees broke a tie with Peyton Manning for the most all time in the regular season.
Tight end Josh Hill scored the Saints' final TD on a difficult, leaping 8-yard catch that was initially ruled incomplete.
But coach Sean Payton challenged the call and officials ruled on review that Hill had possession long enough for a completion before defensive back Zack Sanchez knocked the ball from Hill's grasp.
Brees didn't seem bothered that the Saints needed all of his prolific production to win and nearly squandered a three- TD lead.
"These are defining wins. These are wins you can draw from as the season goes along and really get a lot of strength from," Brees said. "It gives you great confidence and poise when situations arise in the future."
The Associated Press contributed to this report.