Panthers Coach Ron Rivera credits Hispanic roots, military upbringing as vital to his success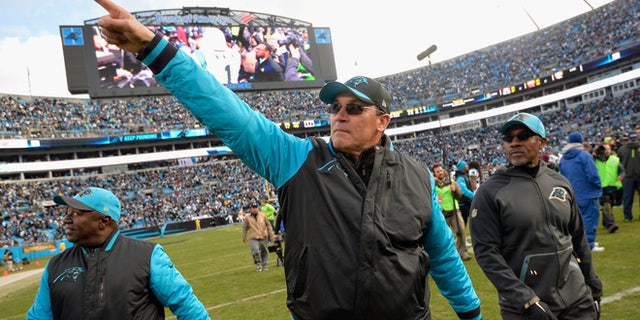 Meeting in person with the Carolina Panthers' head coach, Ron Rivera, you immediately understand why his players give their all for the team and why people want to follow him. He is a formidable leader. He is motivational and inspiring in his approach to life, to leadership and to football. Rivera's dedication to the Panthers, his discipline in coaching and his drive to succeed have brought the Panthers to a league-leading 16-1 record and to this Sunday's NFC Championship game vs. the Arizona Cardinals in Charlotte.
Yet despite of his success, Coach Rivera is down-to-earth. He credits his roots with being vital to his success, sharing how growing up in a Hispanic military family helped make him who he is today.
"On one side I'm getting a strong and deep sense of family, tradition and culture," he says. "On the other side I'm getting this discipline and pride that you get growing up and living on Army bases."
Growing up in this environment, Coach Rivera learned the importance of dedication, discipline and drive. With these traits, it's not surprising that he had great success as a football player in both college and in the NFL.

An All-America linebacker at Cal, Rivera became one of the pioneering Hispanic players in the NFL when he was drafted by Chicago in 1984. After nine seasons and a Super Bowl championship with the Bears, he retired as a player and moved on work as a sports commentator.

In 1997, he got his start coaching with the Bears as a defensive quality control coach, and from there he worked his way up the ranks in Chicago, Philadelphia and San Diego before becoming head coach of the Carolina Panthers in 2011.
The Panthers had a losing record for three of his first four seasons and Rivera credits the adversity of those years with significantly impacting how he leads. For our interview, we sat at his desk in the head coach's locker room, not in his formal office two stories up.
"As you can see, by being here in my locker room, it's also an office." He explains, "One of the lessons I learned as I was going through adversity is that in order for me to deal with things, handle things and help with things, I had to be truly available to the players. I had to have an open-door policy."
Moving a desk into his locker room to be available to the players is one of many examples of how Rivera lives out the Panthers' organizational values of its owner, the former NFL player Jerry Richardson. These values include hard work, harmony, listening, teamwork and respect.

It's on this foundation Coach Rivera has built his leadership approach.
"You have to take ownership for what you do," he says, "and I have to take ownership for what I do."

Pulling up his weekly presentations to the team, Rivera showed me how every one of them starts with a slide that says "Control Your A.P.E – Attitude, Preparation, Effort." This emphasis on self-empowerment and responsibility has created a team culture of positive attitude, intense preparation and maximum effort.

It has also resulted in the best record in the NFL this year.
Wrapping up the interview, I asked him, "What advice do you give about success? In response, he shared three nuggets of wisdom.
"The biggest thing, and I get this from my father, is to stick to your core values. Don't ever forget where you came from," he says. "Something that I've also learned and believe is that if you want something in life, go get it – because they are not going to send a limo. And finally, I know this much: you truly don't have all the answers. You have to communicate, collaborate, listen and discuss."
Walking out of the locker room, it occurred to me that regardless of whether or not the Panthers win on Sunday and get to the Super Bowl, Rivera's dedication, discipline and drive – as well as his "Attitude, Preparation, Effort" – make him a success.