Rockets hope to rebound in Game 6 vs Spurs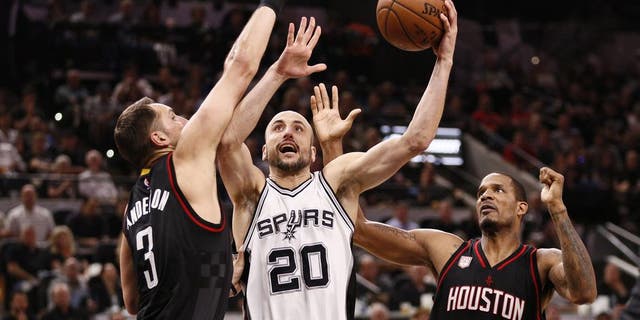 HOUSTON -- Despite this Western Conference semifinal having featured the losses of respected veterans Tony Parker and Nene to season-ending injuries, the Houston Rockets' postgame locker room late Tuesday night might have been the scene of the most lamenting and greatest remorse displayed by the combatants.
With the Rockets set to host Game 6 at Toyota Center on Thursday night, they will have to live with the fact that they could have closed out the Spurs at home instead of facing their first elimination game of this postseason. Undone by a critical errors and empty possessions down the stretch, Houston coughed up a nine-point lead and enabled San Antonio to claim a 110-107 overtime win and a 3-2 lead in this best-of-seven series.
"We let one slip away," said Rockets guard James Harden, who posted a triple-double of 33 points, 10 rebounds and 10 assists but shot 1 for 6 with four turnovers over the last 10 minutes of the game. "Execution (and) rebounding are probably the two primary things we let slip away. But we still have an opportunity in Game 6 to protect home court and bring it back (to San Antonio) for Game 7."
Houston surrendered 18 offensive rebounds to the Spurs and slipped into an offensive slog as the game closed, scoring 22 points during the fourth quarter and overtime. Without Nene, who was lost two minutes into Game 4, Rockets coach Mike D'Antoni opted for a seven-man rotation. The results were unfavorable.
Harden and guard Eric Gordon logged 43 minutes apiece, with guard Patrick Beverley (41 minutes) and forward Trevor Ariza (40) also playing at least 40 minutes. As fatigue mounted offensive execution waned, with the Rockets standing around and settling for tough shots instead of challenging the Spurs' scrambling defense.
"Probably got tired," D'Antoni said of the lack of pace and production. "We just couldn't quite push it. We had our opportunities with about three minutes to go in the game to knock a couple 3s down I thought were good shots. We just didn't make the big play at that moment.
"We've got to find the energy to get ready for the next game and try again."
Despite leading the series and standing one victory away from a showdown with the Golden State Warriors in the conference finals, the Spurs have their own set of concerns. Coach Gregg Popovich altered his starting lineup, inserting veteran Patty Mills at lead guard after opting for Dejounte Murray for Games 3 and 4. Murray did not play in San Antonio after being the first choice to replace Parker.
All-star forward Kawhi Leonard injured his right ankle on Tuesday night and sat out overtime, finishing with 22 points and 15 rebounds in 38 minutes. Leonard pledged to play in Game 6, but uncertainty has gripped the Spurs again.
On Wednesday, the Spurs officially listed him as questionable for the game.
"You never know with him. His facial expressions don't change, so it's hard to tell if he's experienced any pain," Spurs guard Danny Green said of Leonard. "But, he looked OK. He was walking. I think he got an X-ray. I think everything was good, but I'm not a doctor. We'll see how it goes … when we travel."