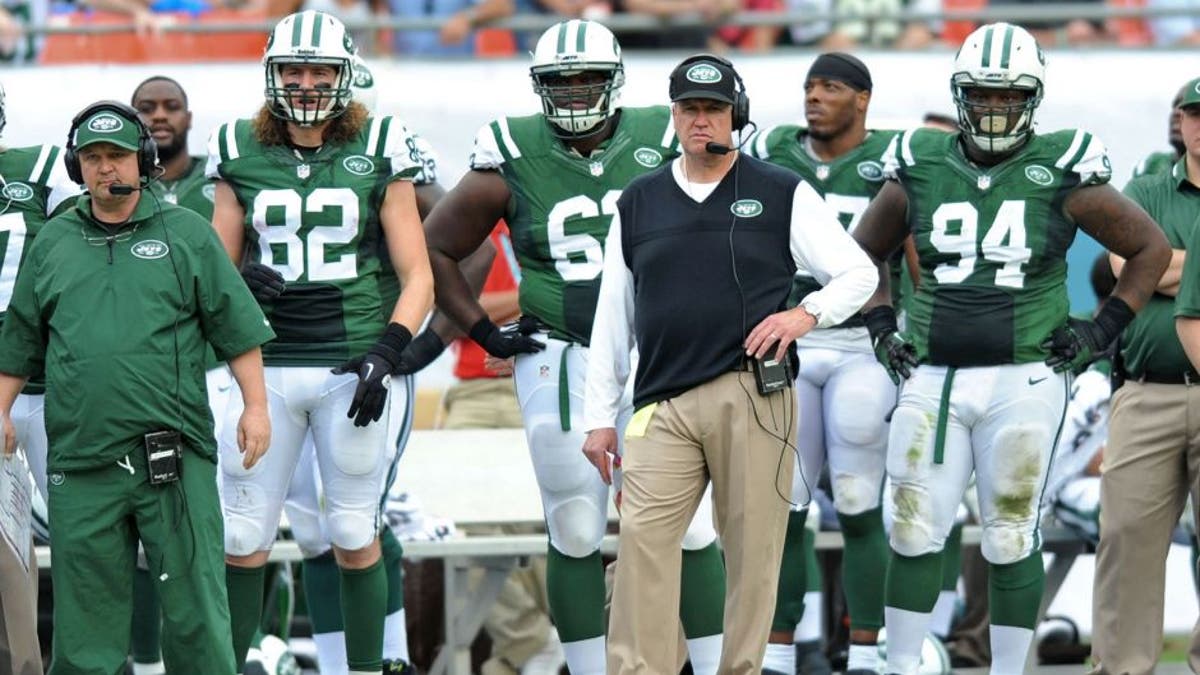 Nothing about the New York Jets' season in 2014 was particularly positive. They finished the season 4-12, last in the AFC East, and failed to determine if Geno Smith is a franchise quarterback.
After a season that dragged on with little hope of improvement, owner Woody Johnson cleaned house and cut ties with head coach Rex Ryan and general manager John Idzik.
While Ryan knew the move was coming, he wasn't particularly happy about it. After practice on Thursday, Ryan gave details about the falling out that occurred between he and the Jets.
"Oh, it was brutal," Ryan said, via Newsday. "I knew I had the commitment from the players and I had the commitment from the coaches. But I don't think you can say that across the board organizationally.
"I get it. I know what it means. It wasn't my first rodeo, and I knew what it meant, that they were going to move away from me and the coaches," Ryan continued. "But it [ticked] me off because I thought the team was a hell of a lot closer and, if given the opportunity, we could have done something. It's behind me now and I move on, but am I hurt by it? Oh, hell yeah. I hate to [expletive] lose, and I also don't like the fact that the commitment wasn't across the board."
Knowing that the front office and ownership didn't have complete faith in him, Ryan had a hard time dealing with the situation. And according to Ryan, he and Idzik were never on the same page, which ultimately led to their demise.
Ryan just wishes he went to Johnson and told him about the lack of a relationship between he and Idzik.
"At the end of the day, it was my responsibility and I take full responsibility for what happened," Ryan said. "I should have handled it differently myself. If I would have done that, maybe things would have been different. But I've grown from it and I've learned from it. I blame myself because all I had to do was tell the man."
After finishing the year 4-12, Ryan knew the end was coming for his time with the Jets. He understands that it's hard to keep your job as a head coach when you win four games. But even after being fired, he's convinced the owner is committed to winning -- which could be taken as a shot at Idzik.
"Look, Woody, by his actions, proved that he wants to win," Ryan said. "He had no choice but to fire me. We all knew that. You win four games in this league, you're going to get fired. That's the way it should be. Woody wanted me to have long-term success, but it never happened. I wasn't the last guy hired. I'm a team person, so I'll do what's asked of me.But there were some things that weren't right and I allowed it to happen."
Now with the Buffalo Bills, Ryan is prepared to start over and put his time with the Jets behind him. He wouldn't go as far as to say the Bills will win the Super Bowl year one, but he's confident in the team -- especially because everyone's on board.
"I talk about the pursuit of it. But I'll guarantee you one thing: Our team will be prepared and we will play as hard as any team in this league. We are going to be on board with this football team. Does that mean we're going to win it all? I hope so."
(h/t Newsday)