Reports: Peterson's probation terminated early, DA may fight it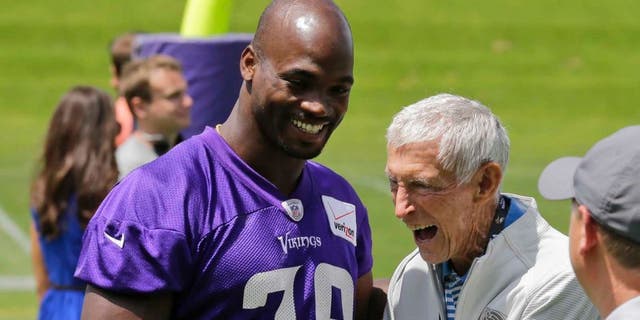 With the Minnesota Vikings just days away from kicking off the 2015 preseason, star running back Adrian Peterson on Wednesday learned his probation has been terminated after only nine months, several outlets are reporting.
Peterson pleaded no contest in November to misdemeanor reckless assault and received two years of probation to avoid jail time. He was originally charged with a felony stemming from an incident in the spring of 2014 in which he disciplined his 4-year-old son with a switch from a tree in Houston.
According to ABC-13 in Houston, a judge terminated the probation. ESPN reported that Judge Kelly Case determined the 30-year-old Peterson fulfilled all the conditions of his probation.
In his original plea, Peterson agreed to the probation, a $4,000 fine and 80 hours of community service.
Peterson's attorney, Rusty Hardin, told the Minneapolis Star-Tribune on Wednesday night that his client applied for early termination after finishing one-third of his probation, and that Case signed the early termination order late last week.
TV station KHOU-11 reported that Montgomery County District Attorney Brett Ligon plans to appeal the ruling, saying that Case signed the order without giving prosecutors a chance to argue against Hardin's motion and that he believes Peterson did not fulfill all requirements, most notably filming a public service announcement about child abuse.
"We were trying to turn a negative situation into a positive, and the judge waiving that requirement kind of robbed us of the opportunity to take a bad situation and turn it into something good for the community," Ligon said.
He also contends the motion to terminate was signed just one day after it was filed without a hearing.
"The fact of the matter is the State didn't have an opportunity to be heard, the State didn't have an opportunity to object," Ligon told the station, adding there may be other terms of the plea which Peterson did not fulfill.
"Well, I don't want to get in a fight with him about it," Hardin told the Star-Tribune when asked about Ligon's claims. "They had an opportunity to object. They did not, and the judge granted it. … And now apparently they're upset. And it's their right. But it's over and done with. And now Adrian is going to go play football."
Peterson and the Vikings restructured his contract on July 21, giving the running back $20 million in guarantees over the next three seasons. Peterson played in only one game last season before the child-abuse case derailed his season.