Remembering Kurt Busch's miracle championship run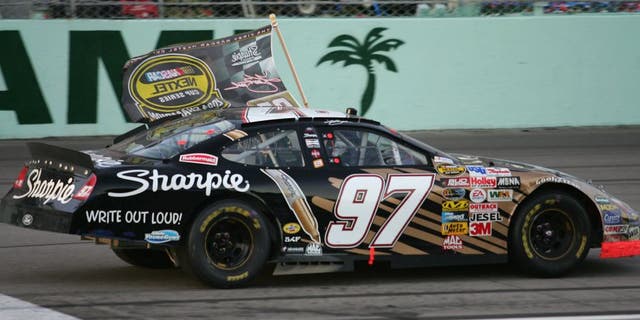 The first Chase for the NASCAR Sprint Cup happened way back in 2004 and it ended with one of those finishes where truth is far, far stranger than fiction.
In fact, Kurt Busch's championship at Homestead-Miami Speedway in 2004 falls into the category of being so improbable that you couldn't dream up a more outlandish ending if you tried.
If you go back 12 years to Homestead-Miami Speedway, no one had any idea what to expect in the first edition of the Chase.
There was no established strategy except go out and win, which is exactly what lightly regard seventh-seed Kurt Busch did in the first Chase race at Loudon, N.H.
Four races into the Chase, Jimmie Johnson crashed at Kansas and fell 247 points behind Busch, the equivalent of about 62 points in today's system - more than one full race in points.
After Kansas, it appeared Busch, in just his fourth full season in the NASCAR Sprint Cup Series was a shoe-in to give his then-car owner Jack Roush a second consecutive championship. Of course, in NASCAR, nothing is ever that easy.
What followed in the final six races of the '04 season was a combination of high drama and unfathomable tragedy: Johnson would win the next two races at Charlotte and Martinsville to pull himself back into title contention.
But prior to the Martinsville race, the crash of a Hendrick Motorsports airplane killed 10 people, including team owner Rick Hendrick's son and brother.
Johnson and the 48 team put on an amazing rally, racing through crushing grief to win the next week at Atlanta, where Busch suffered a rare engine failure.
A sixth-place finish by Johnson at Phoenix, followed by his fourth race victory of the Chase at Darlington, set up an unforgettable last race of the year.
In the finale at Homestead, Busch lost a right-front wheel on the 93rd of 267 laps, miraculously missing hitting the outside pit wall by less than a foot, somehow staying on the lead lap and rebounding from 28th place to finish fifth.
Johnson ended up second to Greg Biffle in the race and second in points as Busch took the championship by eight points over Johnson and 16 over four-time champion Jeff Gordon.
" I'm overwhelmed," Busch said after his victory, "I'm completely exhausted about what these final 10 races meant.
"But it's a true testament to what a team has to do, to what a driver has to do, to what an owner sees as a leader, in the way you have to compete at your top level for 10 races against the 10 toughest competitors. That's what this season meant for us, was these final 10 races."
And with the victory, Busch secured a place in NASCAR history.