Redskins CB Deangelo Hall practices Monday, plans to play Thursday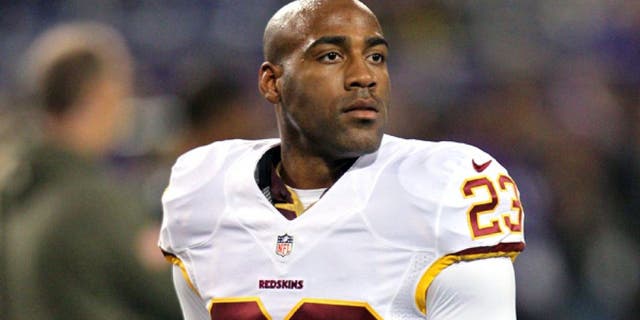 When the Washington Redskins open the preseason this Thursday, it was expected that they would be without starting cornerback Deangelo Hall, who injured his groin late last week. Instead, Hall had a speedy recovery, practice on Monday and is on track to play in the preseason opener.
Hall was inserted right back with the first team defense upon his return to practice. With Bashaud Breeland on the shelf for at least another few weeks, Hall is entrenched in the starting role as long as he can stay healthy.
Earlier, before Monday's practice, Hall gave an outlook for his potential participation in Thursday's preseason opener. That outlook is only brightened by Hall's participation in Monday's practice.
Hell, I better be playing," Hall told reporters when asked if he wants to get his first taste of live action this Thursday, per the Washington Post. "They haven't told me otherwise. So, I'm gearing to suit up, man. I can't wait to put that uniform on. We don't know how long we're going to be playing yet. We'll probably talk about that in a day or so and kind of give us a script of what they think we're going to do. But, yeah man. [Shoot], I can't wait to get out there."
(h/t Washington Post)