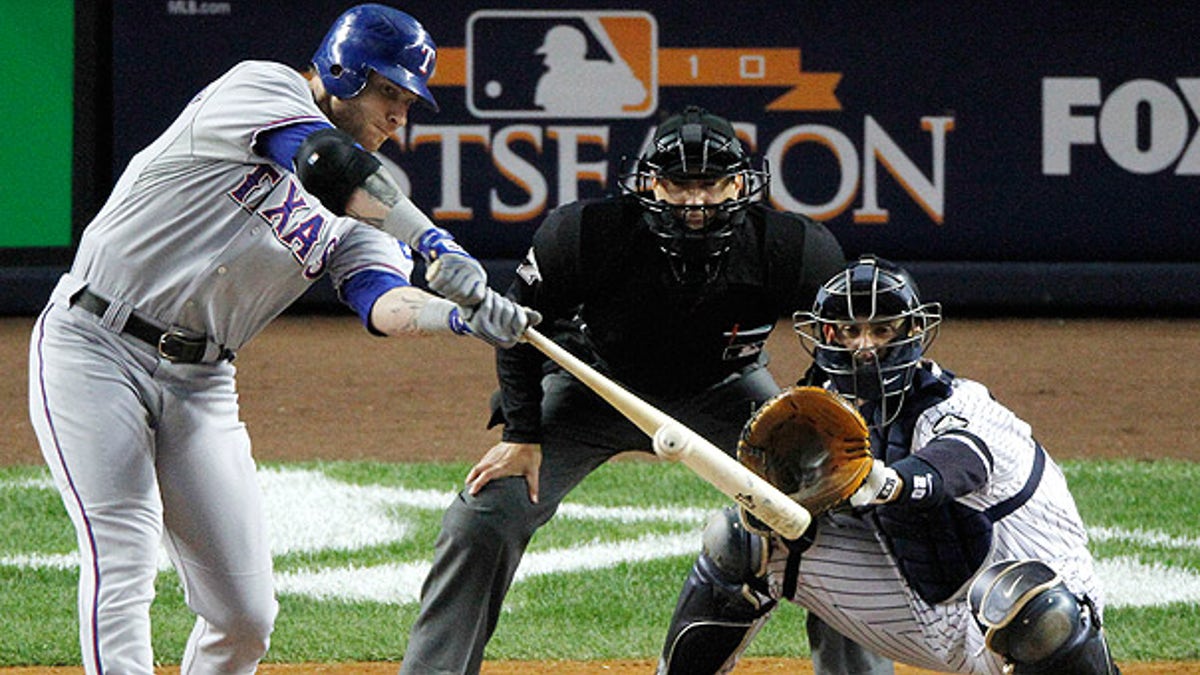 NEW YORK – Cliff Lee was even better than before in the postseason, and that was no small feat.
The ace of October went through the New York Yankees like a buzzsaw again, striking out 13 and pitching the Texas Rangers to an 8-0 victory Monday night for a 2-1 lead in the best-of-seven AL championship series.
Josh Hamilton hit an early two-run homer off Andy Pettitte and started a six-run outburst in the ninth with a leadoff double. Lee allowed only two singles in eight innings and became the first pitcher to reach double digits in strikeouts three times in one postseason.
Mr. Automatic improved to 7-0 with a 1.26 ERA in eight postseason starts. Three of those wins have come against the power-packed Yankees, including two in last year's World Series for Philadelphia.
New York won the other four games to take home its 27th championship, but now faces a tall task if it plans to repeat. The Yankees must win three straight against the resilient Rangers to advance without facing Lee in a decisive Game 7 at Texas.
Game 4 is Tuesday night and the Yankees say they will start struggling right-hander A.J. Burnett, who hasn't pitched since Oct. 2. Tommy Hunter goes for Texas in his first career start at Yankee Stadium.
Pettitte, the ol' pro seeking his 20th postseason win, did his best to match Lee. But the longtime New York left-hander hung a first-inning breaking ball that Hamilton yanked over the short porch in right for his second homer of the series.
Texas broke it open in the ninth against an ineffective David Robertson, getting RBI singles from Nelson Cruz and Bengie Molina, plus a two-run single by Mitch Moreland.
Rangers closer Neftali Feliz flung his 100 mph fastball in the ninth and finished the two-hitter in front of a nearly empty ballpark, adding two strikeouts to increase Texas' total to 15 — one shy of a postseason record for Yankees batters.
New York's two hits matched a postseason low also set in Game 4 of the 1958 World Series and Game 3 of the 2001 division series.
Michael Young had three hits for the Rangers, who are 4-0 on the road in these playoffs. Texas won all three games at Tampa Bay in the first round, including a pair of masterful performances by Lee.
Derek Jeter, Alex Rodriguez and the Yankees fared no better. Cutters, curves, sliders — they couldn't touch Lee, who pumps in one strike after another like a robot programmed to do so.
Lee was so dominant, New York hitters were left shaking their heads in the dugout or questioning calls by plate umpire Jim Reynolds.
Robinson Cano showed bunt, Brett Gardner tried another headfirst dive into first base. None of it worked.
Gardner singled leading off the sixth and stole second, but Lee never rattled. He struck out Jeter for the second time, then induced routine grounders from Nick Swisher and Mark Teixeira, who is 0 for 11 in the series.
Lee has been spectacular in the postseason, striking out 67 and walking only seven in 64 1-3 innings. Even after throwing a season-high 122 pitches, he was going to pitch the ninth until Texas broke it open.
Lee retired his first 11 batters, striking out seven, before missing high with a full-count fastball to Teixeira. It was the left-hander's first walk in 19 2-3 innings this postseason, drawing a loud roar and a standing ovation from some in the sellout crowd of 49,840.
Rodriguez drove the next pitch to deep left-center, but Cruz reached down for a running catch that ended the fourth.
Jorge Posada fisted an opposite-field single into shallow right with two outs in the fifth for New York's first hit.
Young singled on the ninth pitch of his at-bat in the first inning and then Pettitte hung a 2-1 breaking ball to Hamilton in the middle of the plate. The slugger was a bit off balance on his front foot, but strong enough to pull the pitch about 330 feet to right field, clearing the inviting porch at Yankee Stadium.
Fellow lefty CC Sabathia made a similar mistake on a slider to Hamilton in the first inning of the series opener and he lined it to right for a three-run homer. Hamilton also drew four walks in Game 2, two of them intentional.
Pettitte set down 15 of 16 after the home run, with the only blemish coming on Young's two-out infield single in the third. He threw 61 pitches through the first three innings, 17 to Young in his first two at-bats.
Pettitte, who owns postseason records for wins, innings and starts (42), allowed five hits in seven innings. He struck out five and didn't walk a batter.
A top contender for AL MVP, Hamilton barely missed another two-run shot when his sixth-inning drive was caught at the right-field fence.
Gardner hit a bouncer to first in the third and tried to beat the play with a headfirst dive — nearly an exact replica of his infield single that sparked New York's late comeback in Game 1.
This time, Lee was quick to cover and Gardner appeared to miss the bag with his hand, perhaps pulling it away to make sure he wasn't spiked. First base umpire Angel Hernandez called Gardner out on a close play, and the Yankees didn't argue.
NOTES: The Rangers have homered in all eight playoff games this year, longer than any streak they had during the regular season. ... Pettitte gave up only two homers to left-handed hitters during the regular season, both to Tampa Bay's Carlos Pena. ... Hall of Famer Bob Gibson had three consecutive games with at least 10 strikeouts for St. Louis in the 1967 and '68 World Series. ... A security official tackled a fan who ran onto the field in the top of the fifth before the man even made it into fair territory. He was quickly restrained and led away.