Pros and cons: Our experts split on decision to bench Colin Kaepernick for Blaine Gabbert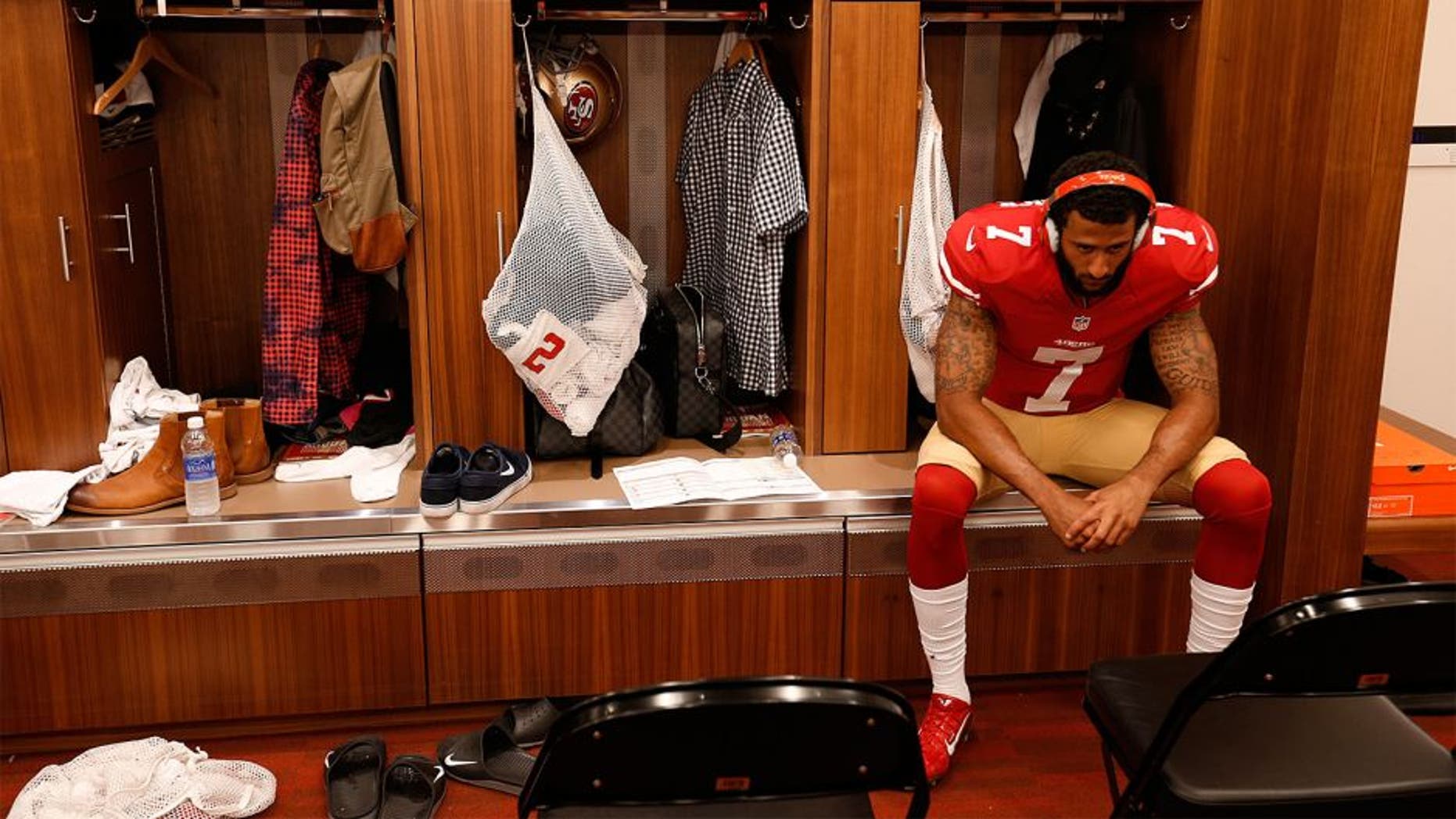 The 49ers' decision to bench Colin Kaepernick for Blaine Gabbert may be the spark the struggling quarterback needs to jumpstart his career.
Kaepernick, who guided the 49ers to the Super Bowl at the end of the 2012 season, has had one of the more precipitous falls from grace in recent memory (cough, Robert Griffin, cough).
Speculation on Kaepernick's future --€" he signed a team friendly six-year, $114M before last season -- has begun, and two of our NFL experts are torn.
"If you were going to bench Colin Kaepernick, you should have did it a few weeks ago. He's now that type of guy who can go out and give you that spark you're looking for," FOX Sports Live analyst Shawne Merriman said. "Blaine Gabbert is not your guy right now."
In the video above, Champ Bailey disagreed, and thinks the 49ers may actually be trying to salvage Kaepernick rather than discard him.
"I do like the decision to bench Colin Kaepernick," Bailey said. It's not about Blaine Gabbert. It has nothing to do with him. It's all about Colin Kaepernick. Finding a way to take a step back.
"This is about long-term success for Kaepernick. ... He's their franchise quarterback."
Is there a way to fix Kaepernick?
"He made his money being a threat with his legs," Merriman said. "That's what they need to do more."
Kaepernick has been benched for his birthday, as he turns 28 on Tuesday. In a strange twist, it was three years ago in November 2012 when Kaepernick was promoted to replace Alex Smith and he wound up leading San Francisco back to the Super Bowl and a three-point loss to Baltimore. Kaepernick made his first career start on Nov. 19, 2012, for former coach Jim Harbaugh.
Former first-round pick Gabbert completed 23 of 28 passes in the preseason -- for an 82.1 completion percentage -- for 203 yards, one touchdown and no interceptions and a 108.8 passer rating. He has stood by locker mate and friend Kaepernick, and they have regularly eaten lunch together, especially last week when a report said Kaepernick was alone "on an island" in the locker room.
Kaepernick is taking a seat at least this week for a franchise searching for any possible spark after another dismal day on offense. The Niners are 0-3 in the NFC West. They have their bye week next week.
"It needs a jolt, and needs it from every position," fullback Bruce Miller said. "I know that we can play better at all 11 spots and until we do that and play together as a group, I think it's fair to say that every position is under review because we've got to play together as a group, not as individuals."
Kaepernick has passed for just 286 yards the last two games for the Niners (2-6), raising questions for weeks now whether a big change was needed. Perhaps more than just the quarterback, too.
Gabbert was impressive in the preseason for San Francisco. Jacksonville selected him 10th overall in the 2011 draft.
--Information from the Associated Press was used in this report