Phillies slip by Marlins to take two-game series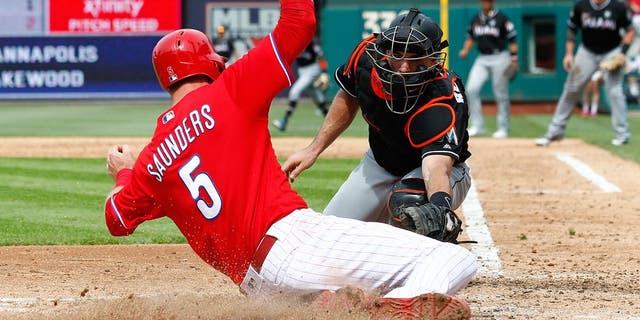 PHILADELPHIA (AP) -- Jeremy Hellickson allowed one run over six innings to lead the Philadelphia Phillies to their sixth straight win, 3-2 over the Miami Marlins on Thursday.
The Phillies started their streak with a win against the New York Mets, then swept a three-game set from Atlanta and took two in an abbreviated series with the Marlins. The Phillies (11-9) are two games above .500 for the first time this year.
Hellickson (4-0), the 2011 AL Rookie of the Year with Tampa Bay, pitched like the ace the Phillies needed -- not just to keep them respectable, but possibly to dangle as attractive trade bait at the July 31 deadline to secure a prospect or two toward their rebuild.
Hellickson got 10 groundball outs in six innings and struck out one. His only run allowed came on J.T. Realmuto's two-out double in the sixth. He's yet to allow more than two runs in his five starts and lowered his ERA to 1.80.
Hector Neris worked a scoreless ninth for his third save.
Edinson Volquez (0-3) allowed three runs in 5 2/3 innings and walked four.
The Marlins dropped the final two games of a roughly 7,162-mile road trip that had stops in Seattle and San Diego. The Marlins were forced to stay about 30 miles away in Wilmington, Delaware, because the top hotels in Philadelphia were booked because of this weekend's NFL draft.
The Phillies scored a run in the second and third innings and Brock Stassi's RBI triple made it 3-1 in the sixth.
Christian Yelich's run-scoring single off Pat Neshek in the seventh -- the third Phillies pitcher of the inning -- pulled the Marlins to 3-2. Neshek struck out Giancarlo Stanton with a runner on base to end the inning.
DRAFT CENTRAL
NFL fans ready for Thursday night's draft showed in their favorite team's gear for some day baseball. There was a fan in a Marcus Mariota jersey, and Steelers, Bengals, Jets, Browns and Chiefs shirts and jersey were all spotted on the concourse. Eagles fans broke out the "E-A-G-L-E-S!" chant.
ROSTER MOVE
The Marlins claimed RHP Joe Gunkel off waivers from the Dodgers and sent him to Double-A.
INJURED BROADCASTER
The Marlins said Spanish-language announcer Rafael "Felo" Ramirez was hospitalized. Ramirez fell stepping off the team bus back at the hotel Wednesday night. Ramirez, who has called Marlins games since the inaugural 1993 season, was in stable condition.
SHORT STARTS
Don't look for the Marlins to lead the league in complete games.
Marlins manager Don Mattingly has a bit of a quick hook and has no problem using his bullpen for three or four innings to close out games.
"We were built for this," he said. "This is the way we put our club together, knowing that we were going with eight relievers, so we're getting more innings out of our bullpen. We're set up for it. I don't mind letting guys go, honestly. I much prefer them going six or seven. I don't know if we have anyone that you're going to see go nine."
UP NEXT
Marlins: LHP Adam Conley (1-1, 3.00 ERA) opens a three-game home set against the Pittsburgh Pirates.
Phillies: Send RHP Jerad Eickhoff (0-1, 2.44) to the mound for the start of a three-game series at the Los Angeles Dodgers.