Patriots coach Belichick rails against Microsoft Surface tablets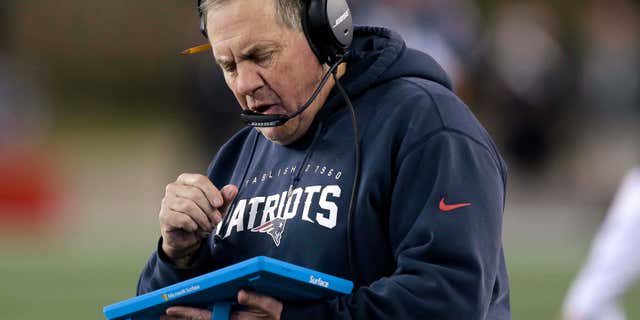 Bill Belichick is throwing in the towel in his ongoing fight with the use of tablets on the sideline.
Responding to a question in a conference call Tuesday about headset issues the Patriots had during last week's win over the Bengals, Belichick said he "can't take it anymore" with the tablets, adding there isn't enough consistency in the performance of the devices.
"I've given them as much time as I can give them," Belichick said of the tablets. "They're just too undependable for me."
The decision comes after Belichick was caught on camera slamming down a sideline tablet following a Bills touchdown during their Oct. 2 matchup.
He also railed for several minutes about ongoing issues with NFL technology, including the communication system between coaches in the press box and those on the field, as well as the coach-to-quarterback play calling system, which Belichick said "fail on a regular basis."
"There are very few games that we play, home or away, day, night, cold, hot, preseason, regular season, postseason, it doesn't make any difference; there are very few games where there aren't issues in some form or fashion with that equipment," he said.
NFL spokesperson Alex Riethmiller said in a statement the league will continue to work with strategic partners like Microsoft to make sure the best systems are in place to help clubs execute their game plans.
"Implementing their technology on our sidelines has increased the efficiency and speed of collaboration between coaches and players to an all-time high," Riethmiller said. "Within our complex environment, many factors can affect the performance of a particular technology either related to or outside of our partner's solutions."
Belichick said part of the problem is the number of different pieces of equipment that operate on various connections and frequencies. He also said that because it's NFL-issued equipment, they don't have the opportunity to work with it during the week in practice to work out potential issues.
"We get the equipment the day of the game, or I'd say not the day of the game but a few hours before the game and we test it and sometimes it works, sometimes it doesn't," Belichick said. "Usually by game time it is working but I would say not always."
NFL teams were supposed to have more improved Microsoft Surface 4 tablets to use for still images and strategizing in games this season. Tablet use for in-game video playback was approved by the NFL for use in preseason games with the idea that teams could experiment with them and provide feedback for improvement.
Around the league, opinions on use of the tablets vary . Coaches like Carolina's Ron Rivera said in August he felt the tablets created an unfair advantage, while Denver's Gary Kubiak and Atlanta coach Dan Quinn have praised them.
The Patriots were able to utilize video technology in two preseason games.
But going forward, Belichick won't be using them at all. He said he's going to stick with low tech, printed images taken of plays during the game to help with in-game strategy on the sideline.
"It's a personal decision, I'm done with the tablets," he said. "I've given it my best shot. I've tried to work through the process but it just doesn't work for me."