Pair of top-15 matchups for Big 12; No. 11 Oklahoma home for 1st time in more than month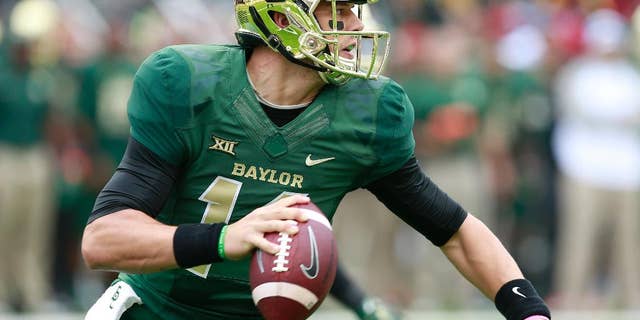 A few things to watch in the Big 12 Conference, with Week 8 featuring two top-15 matchups Saturday — No. 11 Oklahoma home against No. 14 Kansas State, and No. 12 TCU hosting No. 15 Oklahoma State.
GAME OF THE WEEK: No. 14 Kansas State at No. 11 Oklahoma. The eight-time Big 12 champion Sooners (5-1, 2-1 Big 12) can't afford a second loss if they want to be serious contenders for a spot in the new four-team college playoff. Kansas State (4-1, 2-0), whose loss was to Auburn, is playing its first conference game against a winning team. The Sooners' first home game in more than a month is coach Bob Stoops' 11th meeting against K-State coach Bill Snyder. Stoops played at Iowa when Snyder was on staff there, and then Stoops was on Snyder's initial staff at K-State, coaching for the Wildcats from 1989-95. Stoops is 8-2 against Snyder.
BEST MATCHUP: West Virginia QB Clint Trickett and Baylor QB Bryce Petty head-to-head against two of the league's top passing defenses. Trickett is the Big 12 leader, and third in FBS, with 362 yards pass a game (12 touchdowns, four interceptions). Petty, who missed 1 1/2 games injured, has 15 TDs with three interceptions and is third in the Big 12 with 307 yards a game. The defense for the No. 4 Bears allows only 195 yards pass per game, with opposing teams completing less than half of their passes. West Virginia gives up just 214 yards a game through the air.
INSIDE THE NUMBERS: Kansas LB Ben Henney had 3 1/2 tackles for loss in a loss last week to Oklahoma State. He is the league leader with 1.67 TFLs per game. ... Texas Tech QB Davis Webb, the Big 12 leader with 19 TD passes, has thrown multiple touchdowns in seven consecutive games. He has been sacked only twice in six games this season.
LONG SHOT: Iowa State at Texas. Forget that close call last year in Ames when the Longhorns scored the winning touchdown in the final minute after a disputed call, and that both teams are 2-4 overall this season. The Longhorns, who have won seven of the last 10 in the series by double-digits, have been stellar on defense, allowing 317 total yards per game and making it hard for Baylor and Oklahoma to move the ball the last two weeks. Iowa State needed two fourth-quarter touchdowns for a Homecoming win over Toledo last week.
IMPACT PLAYER: Oklahoma State junior Tyreek Hill has returned a kickoff for touchdown in consecutive games, the first player in school history to that. Hill has also rushed 38 times for 196 yards (5.2 yards per carry), caught 18 passes for 183 yards (10.2 yards per catch), averaged 8.7 yards on 17 punt returns and 28.1 yards on 16 kickoff returns.
___
Compiled by AP Sports Writer Stephen Hawkins in Fort Worth, Texas.
___
Follow Stephen Hawkins on Twitter at www.twitter.com/hawkaptexas.