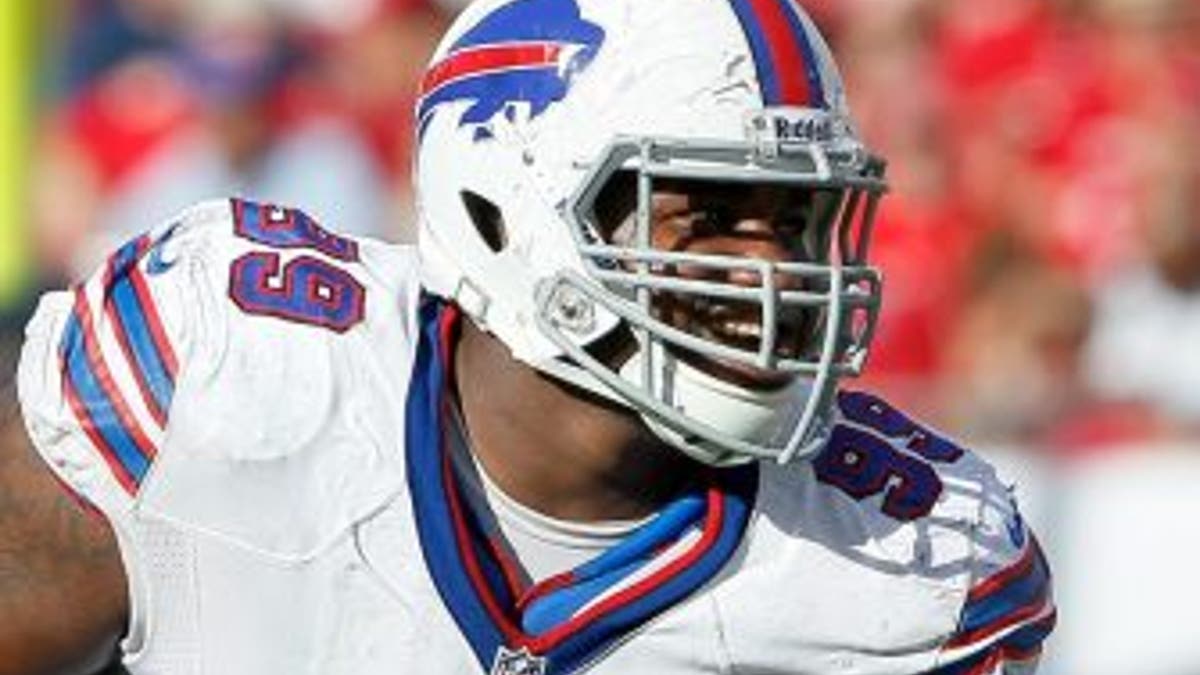 Until Monday night, Marcell Dareus' fast and furious lifestyle hadn't caused the 330-pound defensive tackle any problems within the Bills' training facility. But when head coach Doug Marrone and Dareus had a lengthy discussion, it led to a "mutual decision" that had the Bills' 2011 first-round pick not attending the remainder of the team's voluntary OTAs.
Dareus, who was taken into custody last week and charged with reckless endangerment and participating in an illegal speed contest last Friday, will return to Orchard Park for mandatory minicamp beginning on June 17.
"I just want to make sure that I'm clear that everyone understands that I believe in Marcell and I will do everything I can to make sure that we can get him on the right track," Marrone said, via the team's transcript.
Marrone also noted that the team has a "responsibility" to try to help him and that Dareus would remain on the team even if he didn't have Pro Bowl-caliber talent. This, of course, comes of the heels of Dareus' arrest on May 6, when he was charged with two felonies relating to drugs.
While a suspension for violating the league's personal conduct policy could be looming, Marrone made it clear that his priority is in the best interest of Dareus by assisting in any way possible, including standing by him at a time of need.
"Don't get me wrong, my job is to win and winning is important, but it's not as important as trying to help somebody," Marrone said. "I'd rather lose games and do the right thing in my mind, not everybody else's mind, not the media's mind and not the public opinion's mind. My mind. I'd rather do the right thing and I can live with myself. At the end of the day, I'm the one that is going to have to live with myself."
Dareus has started 45 games over the last three seasons, racking up 7.5 sacks in 2013. His production on the field has outweighed his troubles off of it before these two incidents. The Bills exercised the fifth-year option of Dareus' deal in March, but the $8.06 million salary for 2015 is only guaranteed unless he sustains an injury. If he were to be released before the beginning of the 2015 league year, Dareus would be completely off the books.
Translation: It's a make-or-break year on and off the field for the former No. 3 overall pick.
Speaking of the fifth-year option …
When Lions defensive tackle Nick Fairley learned that the team didn't exercise his option, he was motivated and called it a "good thing." The decision by general manager Martin Mayhew seems to have rung a bell as Fairley has reportedly flashed a much more slender physique after re-dedicating himself in the offseason.
Fairley, now tipping the scales around 295 pounds, has made the most of the team's wait-and-see approach by shedding nearly 30 pounds, according to MLive.com's Kyle Meinke.
"I went to Subway, actually," said Fairley, who cut out three or more trips to fast food restaurants a week. "I did the Subway diet. Started taking pounds off."
Fairley has caught the eye of first-year defensive coordinator Teryl Austin, who has reinvigorated the energy of that unit.
"He looks good," Austin said, via the team's transcript. "He's lost a lot of weight. I think the key will be when he leaves here and then when he comes back in camp, if he's still in that great shape with his weight down. It's going to be great for us."
Chiefs offense 'hitting the ground running'
The last time the Chiefs' offense was in operation, quarterback Alex Smith threw for 378 yards and 4 touchdowns in a 45-44 AFC wild-card loss to the Colts.
Since then, Smith has been staying sharp and veering away from the debate if he should be paid like a top-tier quarterback. Instead, the 10th-year veteran has been in the weight room and working on his stroke.
"When I was younger, you could take some time off, and maybe you needed to mentally," said Smith, via the team's transcript. "Now you enjoy it and it just becomes so natural, there really is no time off. You're working out year round getting stronger, working on your arm and working on your feet. It never ends. I don't feel like as you get older that you can really take the time off that you used to."
For Smith and his teammates, the OTAs act as a period where coaches and coordinators install their offense and players get the timing and rhythm down with each other. It's been a seamless process, according to Smith.
"Not just myself, but I feel like as on offense, we've done a good job of really hitting the ground running," Smith said. "That has to do with us running that same stuff and all of that stuff is in and we've just kind of kept building on it where we left off as an offense. I think there were a lot of things we were good at, we were pretty multiple and we were tough to defend, so I think just kind of continuing that growth."
Tampa Bay RBs will be splitting some carries
Third-round pick Charles Sims has been everything the team had hoped for when running backs coach Tim Spencer first spotted the 6-foot-2 running back at the Senior Bowl. Spencer, who uncovered Matt Forte during his days in Chicago, noticed rare talent and similarities between the running backs. Sims, along with Mike James and Bobby Rainey, could be in the mix more than expected.
"I think you have to alternate," offensive coordinator Jeff Tedford said, via Rick Stroud of the Tampa Bay Times. "Even when we had two, 1,000-yard rushers [at California], J.J. Arrington was a 2,000-yard rusher and we had a couple times guys had a thousand yards apiece. But I don't believe that one back can carry the load. It's just too physical. I think you probably need to have two to three guys to bring different things to the table. But I think you at least need to have two to be able to spell them here and there and keep them healthy and that type of thing. That's the goal to try and create some depth right there where there's not a dropoff when one guy comes in and another guy goes out. There's no dropoff. We just keep going."
While Doug Martin has been cleared after rehabbing back from a torn labrum, the running back by committee approach will only help the 25-year-old's longevity in the league.
Cardinals sign Daryl Washington's replacement
It was only a matter of time before the Cardinals made a counter-move to the league's decision to suspend linebacker Daryl Washington for the entire season after he violated the substance-abuse policy. Enter ninth-year veteran Ernie Sims, who played the last two seasons in Dallas.
Sims, the No. 9 overall pick in the 2006 NFL Draft, has become a bit of a journeyman since he was lauded with high praise from out of Florida State.
Sims will be added to a middle linebacker rotation that consists of 2013 second-round pick Kevin Minter and 13-year veteran Larry Foote.
FOX Sports Arizona's Craig Morgan does a nice job detailing the one-year deal.