Opinion: Barcelona's Lionel Messi Has No Rival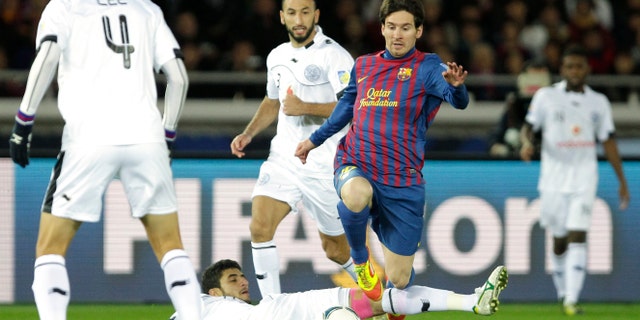 So, just what are the odds of Barcelona winning a big game in a big competition by a big margin without having the magnificent Lionel Messi score a goal?
100-1?
500-1?
1,000-1?
Well, that's what happened in Barca's 4-0 demolition of Al Sadd (Qatar) in the semifinals of the Club World Cup on Thursday. While the spotlight always shines on that Argentine international, there is plenty of talent and goal-scoring prowess to go around on that La Liga power.
Yet, just Messi's presence in the lineup will send shivers down the spines of any opposition. While he did not find the back of the net, his sheer brilliance created the third goal by Seydou Keita and he almost scored off a bicycle after he forced the Al Sadd goalkeeper out of the net (for the record, Adriano struck twice and Maxwell added the fourth goal).
The triumph set up the final just about every soccer supporter on this planet had wished for – a confrontation between the best soccer team and Santos, a pretty damn good side in itself.
Some observers see this tussle as a confrontation between Messi and Neymar, a ridiculously talented 19-year-old, to determine who is better – and perhaps who is the best player in the world.
That's ridiculous.
Barring a stunning announcement at the FIFA Ballon d'Or Gala in Zurich, Switzerland on Jan. 9, Messi, who has won the honor two years running, should win the Puskas Award as the best men's player in the world, even if the other two finalists are Neymar and Manchester United's Wayne Rooney.
At 24, Messi is in his prime. His endless resume already includes three UEFA Champions League titles, five La Liga championships, and an Olympic gold medal, among other honors.
As talented as he is, Rooney is a hot head and should lose points for his two-game suspension from next summer's European Championship.
Neymar? As good as he is – and his potential is on the upside – he still has a long way to go in proving himself to the world. Playing for a top-flight European team would be an important start, and dealing with the everyday pressures of a challenging league schedule and the Champions League would be another important step. Demonstrating his individual brilliance, winning a few league titles and going far in the UEFA Champions League would put him in the same orbit as Messi.
So, Neymar still has a long way to go.
Of course, he could take some vital first steps in joining the Argentine international with a spectacular performance or goal or two or even a Santos triumph on Sunday.
It certainly won't be easy.
Barca has an array of talent that is second to none and the Spanish side should prevail, even without the fabulous David Villa, who broke his left leg on Thursday. The team certainly has more than enough depth and firepower to win without Villa in the short run. Over the long haul, however, with important La Liga matches and Champions League encounters coming up, that remains to be seen how the team will fare without La Liga's leading goal-scorer, as Villa is expected to be sidelined for at least five months.
And then there is the question of him playing for defending World Cup champion Spain in the Euro Championship this June.
The question that begs to be answered about Barcelona is whether it is the best club team of all time.
Not yet, but Barcelona certainly orbits with some of the best.
While it is easy to declare what is happening now is the greatest, many fans have short memories because there have been some talented teams we have enjoyed watching or have read about over the years.
How about Real Madrid, which captured the first five European Cups – the forerunner of the Champions League – from 1956-1960 with the legendary Alfredo DiStefano and Ferenc Puskas (notice that the award Messi is in contention for is named after the Hungarian great)?
How about the lethal A.C. Milan teams with the delightful Dutch connection of Marco van Basten, Ruud Gullit and Frank Rijkaard that won it all in 1989 and 1990?
Or how about Bayern Munich, which captured crowns with Franz Beckenbauer leading the way in 1974, 1975 and 1976?
Barcelona is on an incredible run itself, having captured the championship in 2006, 2009 and 2011. A fourth title in seven years would be absolutely astounding.
So, what does Barca have to do to take itself to yet another orbit?
Well, winning on Sunday would be a start.
And taking a victory lap around Allianz Arena in Munich, Germany, on May 19 would go a lot further. That is the date of the Champions League final.
But first things first: Barcelona must triumph on Sunday. I'm not a betting man, but I certainly wouldn't bet against them or Lionel Messi.
Michael Lewis, who has covered international soccer for more than three decades, can be reached at SoccerWriter516@aol.com.
Follow us on twitter.com/foxnewslatino
Like us at facebook.com/foxnewslatino