Ohio State Signing Day summary: Rankings, trends and more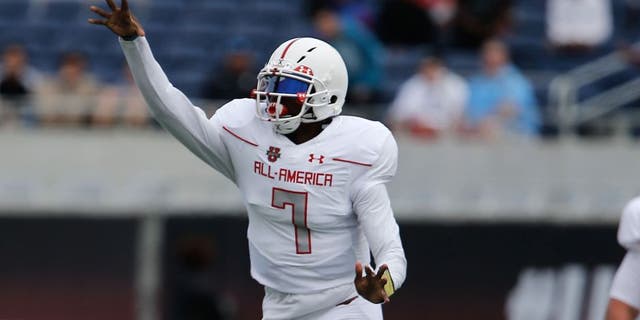 Ohio State had little drama on National Signing Day, and that was fine with Urban Meyer.
(Though he did have a few bones to pick with the NCAA over some recruiting regulations.)
He signed yet another top 10 class, one he insists will have more members see the field immediately than has often been the case with true freshman since he got to Columbus.
Only time will tell if that turns out to be the case, but there seems to be plenty of raw material to work with nonetheless.
Scout.com national class ranking: 8
Big Ten ranking: 1
Top-rated prospect: Nick Bosa is the No. 5 recruit in the country, a five-star defensive lineman from Fort Lauderdale St. Thomas Aquinas.
Biggest areas of need potentially addressed: Secondary, offensive line, wide receiver, running back
Early enrollees: Group of seven includes receiver, running back who could press for early playing time
Best long-term buy: There are a lot of candidates here, but Meyer's insistence many true freshmen will play complicates matters. We'll go with Demario McCall. The speedster from North Ridgeville, Ohio, had an injury-plagued senior season but is regarded as an electric talent. He might have to wait his turn to show it, though, as Ohio State already is deep at the slot position.
In state? This is a key element of talent acquisition for every school even though some live in different neighborhoods than others.
Ohio State signed 10 Ohioans (counting Tyler Gerald, a Portsmouth native who finished his career at IMG Academy in Florida) but had mixed success among the top players in the state. While Ohio State signed the No. 1 prospect, Gahanna Lincoln defensive end Jonathon Cooper, Nos. 2 and 3 (Tommy Kraemer and Liam Eichenberg) both went to Notre Dame. The fifth-ranked player in the state, St. Clairsville linebacker Brendan Ferns, reportedly eliminated Ohio State because it didn't have his desired major and ended up choosing West Virginia.
Of the 20 four- or five-star prospects in Ohio, seven are set to be Buckeyes, though not all of those headed elsewhere had Ohio State offers.
Overall, the class is 40 percent Ohio natives, less than last year (44 percent) but more than 2014 (39 percent). That leaves the percentage of Ohio signees under Meyer at 42.4 percent, roughly the inverse of what it was when Jim Tressel was the head coach of the Buckeyes.
Ranking trend: Ohio State has had the top class in the Big Ten six years in a row, and Meyer has signed a national top 10 class every year since he was hired in late 2011.
Ohio State's four-year national average is 4.0, and the Buckeyes' average during the 15 years Scout has been doing rankings is 8.3. The 15-year average Big Ten rank is 1.5.
The last time Ohio State's class was not ranked in the top 10 was 2010, when an 18-member class finished No. 20.